Here's How One Health System Is Training Housekeepers and Other Staff for Roles in Patient Care
Learn how one healthcare system is addressing healthcare staffing shortages proactively through a unique education program for employees.
Bon Secours Health System's Upward Mobility Education Program offers training and funding for staff members wanting to further their education.

Many employees choose to become healthcare workers and join the workforce in their hospital of employment.

Bon Secours's education benefits include experienced guidance counselors, pre-pay education, and a culture of employee investment and growth.
While many healthcare workers desire to advance their education and skills, the endless red tape, varying prerequisites, and a lack of knowledge and opportunities may prevent them from pursuing their goals.
The Bon Secours Mercy Health offers unique educational employee benefits, including its Upward Mobility Program, which encourages current employees to return to school for healthcare positions.
The Need for Retention Innovation
The Upward Mobility Program offers employees an opportunity to further their education, increase their income, and continue to make a difference in a hospital system they are already familiar with.
Jeffrey Johnson, director of workforce pipelines for Bon Secours Mercy Health, said that the program was started in part to prevent staffing shortages that other hospital systems experienced throughout the pandemic.
"It allows us to grow an educated, qualified, high-quality healthcare team. It's the right thing to do," Johnson said.
According to Johnson, the COVID-19 pandemic helped the hospital cement its commitment to employee growth and retention, including the Upward Mobility Program.
Nursing shortages frequently made headlines throughout the pandemic, and Bon Secours wanted a proactive solution to the problem.
"You can never go wrong investing in your people. They're the ones taking care of the patients, helping the community, and fulfilling our Bon Secours mission," Johnson said.
How the Program Works
Employees can access these education benefits on the first day of employment and need only maintain a per diem status while in school. Most hospital systems require a minimum of one year of employment before an employee can use education benefits.
Johnson shares that they have hired an entire HR team dedicated to helping employees access and understand their educational opportunities.
"It's not good enough to simply tell folks they can access higher education. Some people have financial constraints, and others have a knowledge deficit. So you need to offer tailored advice and support," Johnson said.
Current Bon Secours employees can speak to their manager and meet with an HR specialist to discuss their interests and understand their program options.
Another unique aspect of the program that removes employee barriers is that the education funds are often prepaid.
Employees can also choose to attend a school of their choice or one of the four schools affiliated with the Bon Secours hospital.
Once employees complete their education program, they must work at least part-time for the hospital for 18 months.
Upward Mobility Program Impact
Since the Upward Mobility Program launched two years ago, Johnson said numerous employees have taken advantage of the educational opportunities. Program graduates can work as nurses, certified medical assistants, and patient care technicians.
Johnson noted the best part is that employees can continue to grow professionally and pursue other degrees in the future. This added benefit incentivizes them to stay with the same hospital and grow their careers long-term.
Chelsey Ross was a housekeeper at Bon Secours who always dreamed of a healthcare career but felt stuck. When she received an email with information about the Upward Mobility Program, she jumped at the opportunity.
"It meant a lot to me that Bon Secours was reaching out to me about going back to school and showing me the programs I needed to do, the steps I needed to take," Ross added. "It was all very easy."
Ross received a certified medical assistant certificate and plans to attend nursing school.
A Retention Blueprint
Programs such as the Upward Mobility Program are becoming increasingly attractive to many healthcare systems and other employers struggling to keep staff.
Bon Secours has created a blueprint for hospitals wanting to grow and retain staff through generous education benefits for employees.
You might be interested in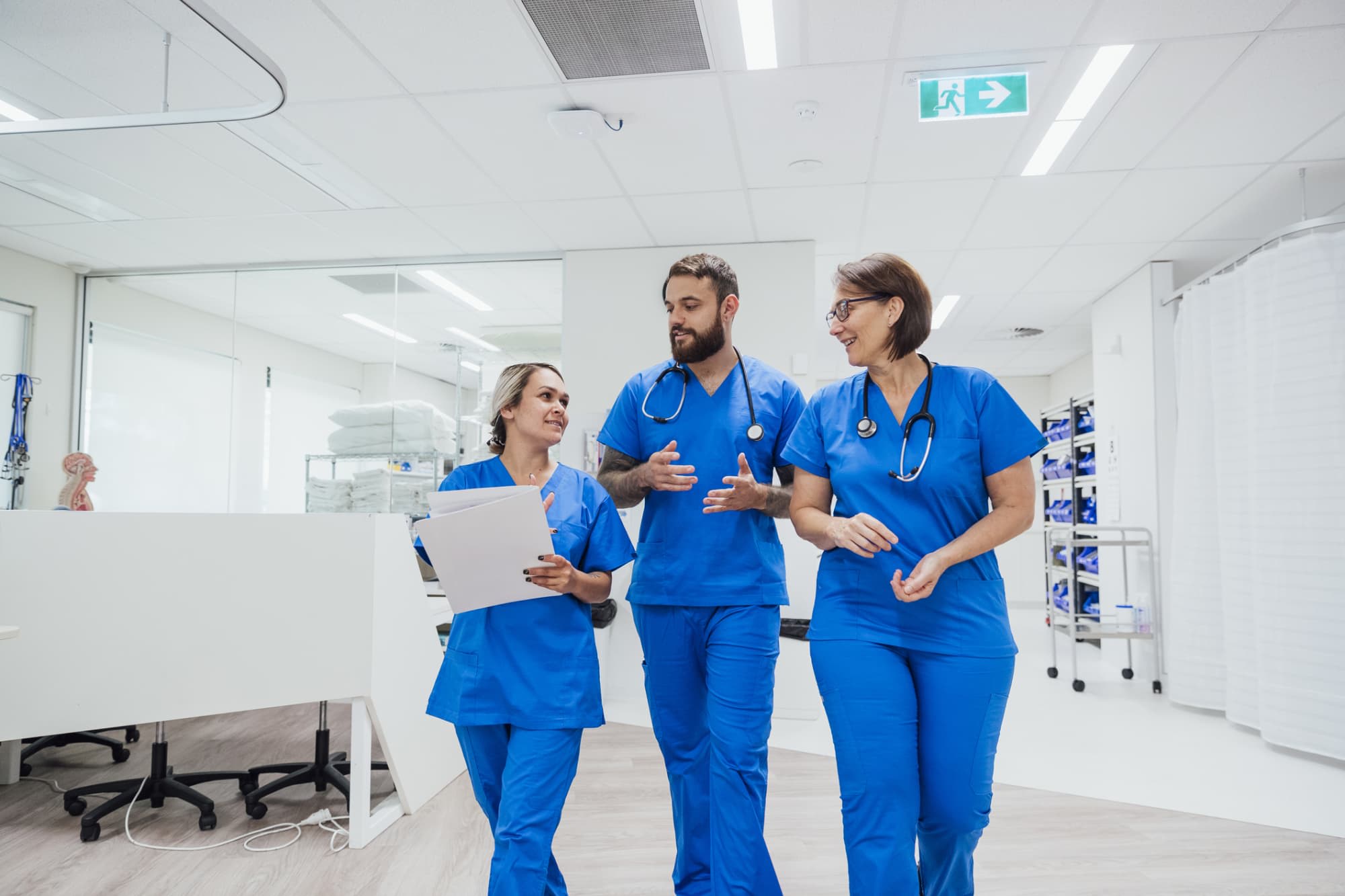 How Many Nursing Jobs Are There in the US?
Nursing is the largest healthcare profession. Discover the number of nursing jobs in the U.S. and learn how to become an RN.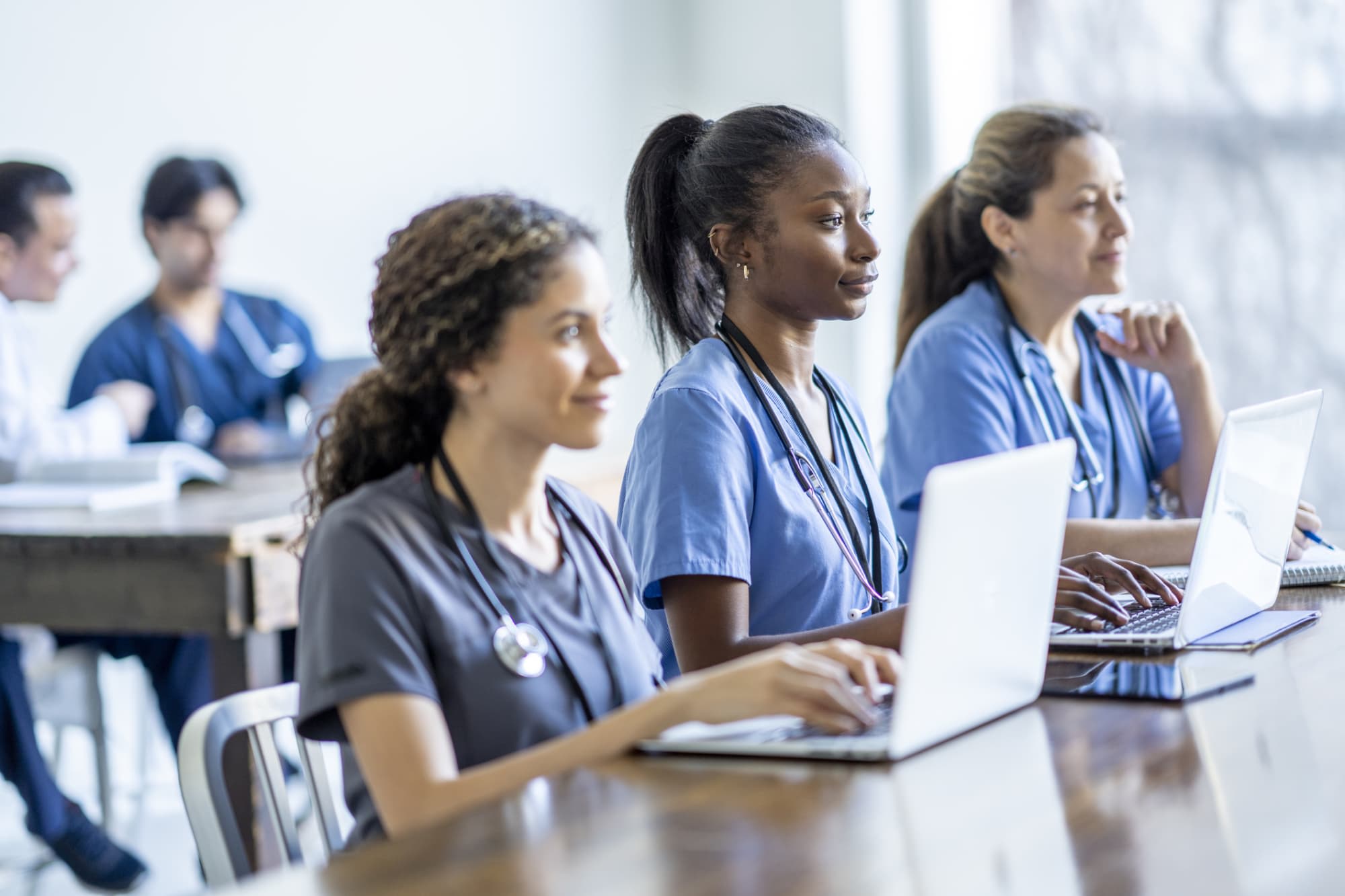 Free Nursing School: What You Should Know About the Nurse Corps Scholarship Program for 2024
Nursing students with limited financial options might consider the HRSA Nurse Corps Program for free nursing school and a two-year work commitment.
NurseJournal.org is an advertising-supported site. Featured or trusted partner programs and all school search, finder, or match results are for schools that compensate us. This compensation does not influence our school rankings, resource guides, or other editorially-independent information published on this site.
Are you ready to earn your online nursing degree?
Whether you're looking to get your pre-licensure degree or taking the next step in your career, the education you need could be more affordable than you think. Find the right nursing program for you.