Bachelor of Science in Nursing (BSN) Overview
This guide will help you understand BSN programs and the opportunities a BSN degree can provide.
NurseJournal.org is an advertising-supported site. Featured or trusted partner programs and all school search, finder, or match results are for schools that compensate us. This compensation does not influence our school rankings, resource guides, or other editorially-independent information published on this site.
Are you ready to earn your online nursing degree?
Opportunities With a Bachelor of Science in Nursing
partial online offering
clinical hours required
Good career mobility
Most administrative and supervisory positions require a BSN.
Path to advancement
Grants entry to master's or doctoral nursing programs, leading to career advancement and higher salaries.
Job potential
With a BSN, a range of specialized nursing jobs outside of the traditional floor nursing is available.
Skills Learned
Clinical and leadership skills, case management, community participation, nursing care of children and adults.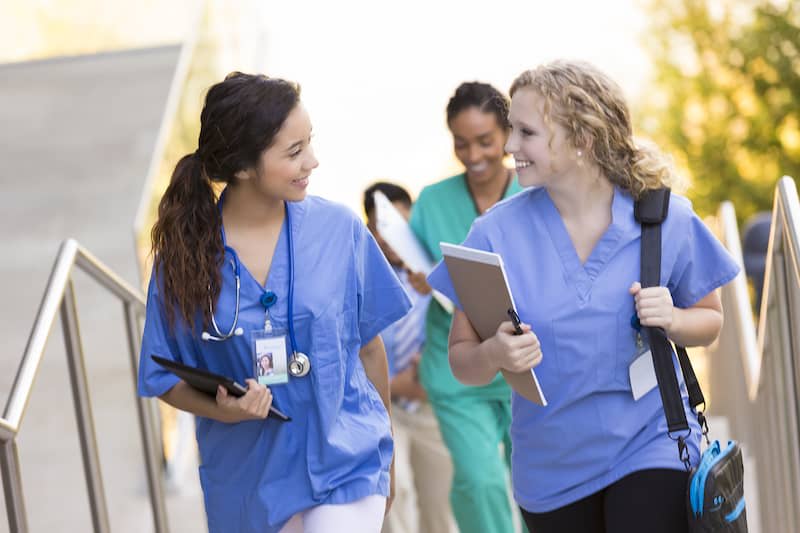 Featured BSN Specialties
Beyond working in hospitals as RNs, individuals with a BSN degree find careers as geriatric nurses, OBGYN nurses, and neonatal nurses. Check out the descriptions below to learn more about these specialty occupations.
*SOURCE: U.S. Bureau of Labor Statistics, PayScale
How Much Will I Make With a Bachelor's Degree in Nursing?
*SOURCE: PayScale
How to Get a BSN
Decide Type of BSN Program
There are several types of BSN programs, including traditional, bridge, and online. Figure out what works best for you.
Find BSN Program
After deciding which factors are important to you in a school, use our
degree finder
to find programs that fit your criteria.
Apply to BSN Programs
Common application requirements include GPA, essay, references, CV or resume, volunteer experience, and prior coursework.
Secure funding for BSN programs
Attend BSN classes
Complete the required courses and obtain clinical hours to get hands-on experience. Learn how to work independently with your own patients.
Graduate with a BSN
Congrats on earning your degree! Now you can take the NCLEX-RN and become a registered nurse (RN), or continue your education and get your MSN.
Featured Online RN to BSN Programs
Types of Bachelor's Degrees in Nursing
Admission Requirements for a BSN Program
A BSN applicant's admission requirements depend on their status as a student. Schools set different criteria and credit requirements for freshmen, transfer students, and international students. However, most BSN degree programs maintain the following common admissions requirements for all students:
High school or college transcripts
SAT or ACT scores
A CV or resume
A GPA of at least a 2.5 or 3.0
Schools often expect applicants to have completed classes in microbiology, physiology, chemistry, and anatomy. Some institutions may give preference to candidates with volunteer service experience.
Core Concepts in a BSN Program
Bachelor's of science in nursing programs include two phases: a didactic portion, which is taught in classrooms, and a clinical learning experience. Through lectures and reading assignments, students learn to promote safe solutions and good health, prevent and manage disease, reduce risks, and improve patient outcomes. Candidates gain foundational knowledge through core courses such as:
Anatomy
Community health nursing
Pharmacology
Leadership and management
Research and statistics
Pathophysiology
Psychology
Upper division courses explore speciality areas such as gerontology, global public health, maternal-child care, and pediatrics.
Clinical & Lab Components in a BSN Program
BSN programs may require students to spend time in a hospital, clinic, or lab stimulation setting in which they work an actual shift. During clinical experiences, candidates work under licensed RN mentors as they deliver medications, assess and diagnose patients, plan interventions, and monitor outcomes. By the end of the program, students can work independently with their own patients. Clinicals offer the opportunity to:
Shadow working RNs
Apply classroom skills on patients
Network with future employers
Build confidence
What to Expect From an Online RN-to-BSN Program
Students earning their RN-to-BSN or second degree BSN have the option of attending an online program instead of traditional face-to-face classes. Online RN-to-BSN degrees let students take core classes in anatomy, pharmacology, and psychology remotely. While distance learners do not have to meet on campus for their foundational courses, they must complete clinicals or labs in their local communities. During a program's clinical component, students work in labs or at their local hospitals, clinics, or nursing care facilities. Students are often required to find their own clinical experiences.
Nothing, aside from the format, differentiates online degrees from traditional programs. Online learners receive the same degree and education, learning from professors who work on campus. Instructors use online learning platforms to meet live with students or assign online work.
Learn more on this page about how online programs work.
Should I Get a Bachelor's Degree in Nursing?
Your personal financial situation, time constraints, and family obligations may impact your decision to pursue a 4-year degree. Take a look at the pros and cons of pursuing a bachelor's degree in nursing:
Advantages to a BSN
Greater career mobility. Most administrative and supervisory positions require a BSN.
Grants entry to master's or doctoral nursing programs, leading to career advancement and higher salaries.
The critical thinking skills imparted by a BSN translate to improved patient care and safety.
Disadvantages to a BSN
Baccalaureate study means that candidates spend four years in a program before generating income.
Tuition for four years is significantly more expensive than for two, and often means additional years of student debt.
In nursing positions that do not require a bachelor's degree in nursing, a BSN does not necessarily equate to a higher starting salary.
---
---
Reviewed by:
Nicole Galan is a registered nurse who started on a general medical/surgical care unit and then moved to infertility care where she worked for almost 10 years. She has also worked for over 13 years as a freelance writer specializing in consumer health sites and educational materials for nursing students. Galan currently works as a full-time freelancer and recently earned her master's degree in nursing education from Capella University.