What is an advanced practice registered nurse or APRN? An APRN is a clinician with a registered nurse (RN) license who has also earned a master's in nursing in one of the following specialities: certified registered nurse anesthetist (CRNA), certified nurse midwife, clinical nurse specialist, or nurse practitioner.
What Does an APRN Do?
MSN required
certification optional
The role of an advanced practice nurse falls between an RN and a physician in such areas as training, autonomy, responsibilities, and compensation.
For instance, advanced practice nurses have considerable autonomy since they can diagnose and treat conditions and prescribe medications. In some states, they must work under the supervision of or in collaboration with a physician. They often supervise RNs.
Advanced practice nurses typically hold these key skills and responsibilities:
Primary Responsibilities
Acting as a primary care provider
Disease and condition management (making diagnoses and ordering treatment)
Oversight of staff, including RNs
Key Skills
Empathy
Continual learner
Good decision-making under pressure
Scientific aptitude
Communication skills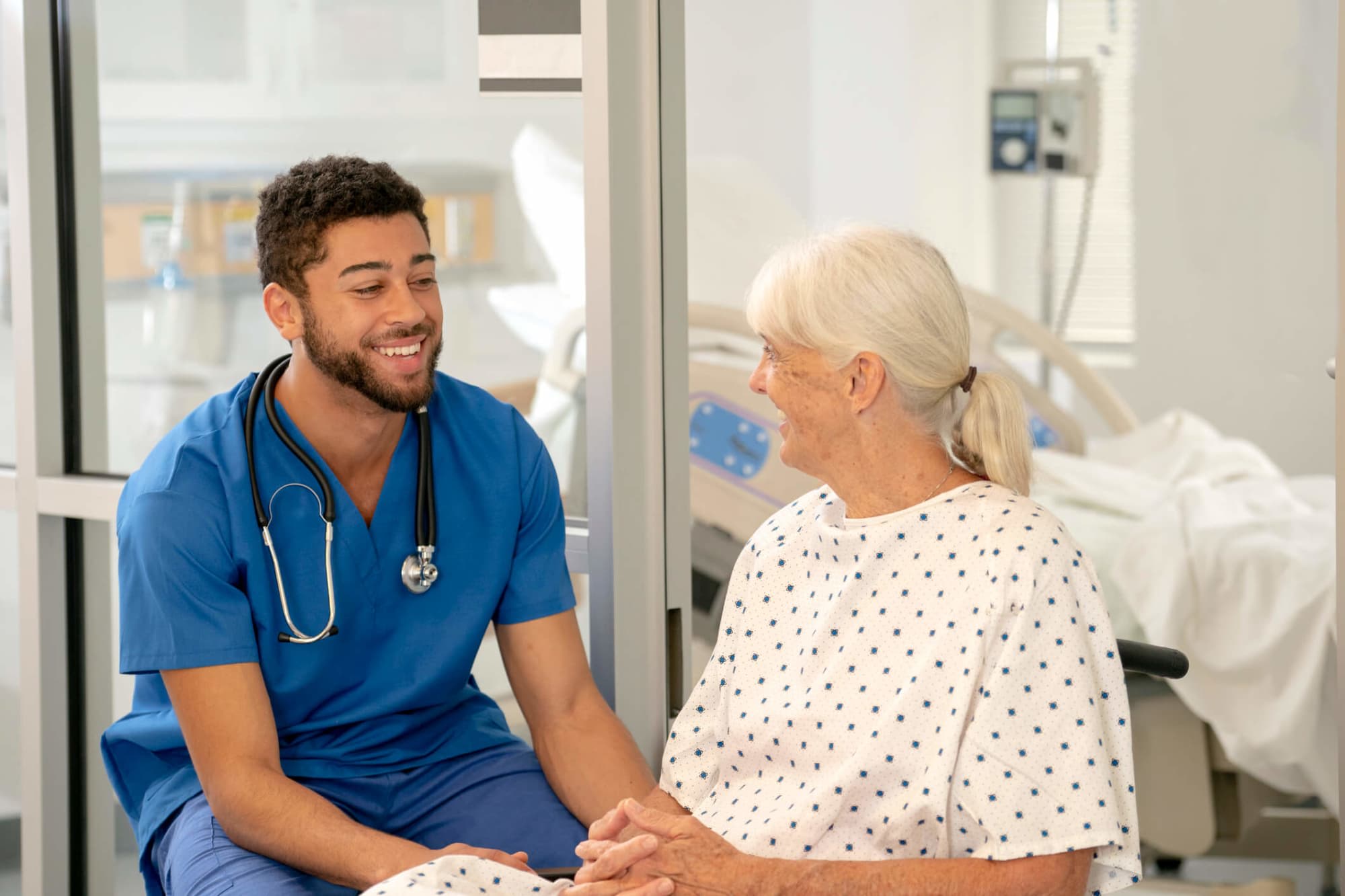 Ariel Skelley / Photodisc / Getty Images
Where Do APRNs Work?
Depending on their speciality, advanced practice nurses may work in hospitals, private physicians' offices, birth centers, surgical centers, clinics, or residential care settings. APRNs might find work in these common settings:
Private Practices
---
APRNs can act as a primary care provider, diagnose and treat health conditions, and supervise RNs.
Hospitals
---
Advanced practice nurses might administer medication, lead nursing departments, and diagnose and treat health conditions.
Birth Centers
---
APRNs oversee births, involve physicians or transfer to a hospital as needed, and educate pregnant women and parents on caring for a newborn.
What Is the Difference Between an APRN and RN?
APRN
---
High levels of autonomy; can practice independently in most states with limited physician supervision in others
Can make diagnoses and order treatments
Can prescribe medications, including controlled substances
Minimum six years of college with master's degree in nursing
Requires education and certification beyond RN
RN
---
Limited autonomy and independence; must practice under direct supervision of a physician or an APRN
Cannot diagnose conditions or prescribe medications; carries out physician or APRN treatment plans
Minimum two years of college with an associate degree in nursing (ADN)
Requires RN license
Can be an entry-level position
How to Become an APRN
Advanced practice nurses must have an RN license, a graduate degree in nursing, and, in the majority of states, national or state certification. Most graduate schools require RN nursing experience before admission. Specific requirements vary by state and the certifying board.
Graduate with a bachelor of science in nursing (BSN).
Some graduate schools offer bridge programs that combine BSN and master of science in nursing (MSN) studies for students with an ADN.
Pass the NCLEX-RN exam to receive RN licensure.
The National Council Licensure Examination for RNs (NCLEX-RN) takes up to six hours and covers clinical and other healthcare situations nurses are likely to encounter.
Explore different nursing specialty areas while gaining clinical experience.
Most specialty nursing entry-level positions include on the job training for that area. Clinical experience introduces nurses to work in specialties with different populations. Many graduate school programs require or prefer at least one year of clinical nursing experience.
Apply to an MSN-APRN or doctoral nursing program.
APRN programs typically take two years for a master's degree or 3-4 years for a doctor of nursing practice (DNP). Some specialties, such as the CRNA, require a board-certified program, while others require only an accredited program. Admission requirements usually include a GPA of at least 3.0, an essay or personal statement, and recommendations.
Graduate with an MSN or a DNP.
As far as degree level,
only the MSN
is required to become an advanced practice nurse and qualify for licensing and certification exams, but academic medical centers and teaching jobs often require or
prefer a DNP
.
Earn certification from an approved nursing specialty board.
Each board has its own requirements beyond passing the certification exam. These typically include an unencumbered RN license, application, and a submission of academic records. Often, earning certification is required before applying for the advanced practice nursing license.
Apply for state licensure.
State advanced practice nurse requirements may include background checks and verification of education and required clinical hours.
The Four Types of APRN Roles
How Much Do APRNs Make?
Advanced practice nurse salaries are considerably above the national median annual salary of $39,810. The highest paid APRN specialization is nurse anesthetist with a median annual salary of $174,790 and the lowest paid is clinical nurse specialist at an average $91,300 annual salary. The median salary for most APRNs is $115,800 and 90% earn between $82,460-$184,180.
Demand for advanced practice nurses is growing; the BLS projects 45% growth between 2019 and 2029 — a total of 117,770 new jobs.
Frequently Asked Questions
How long does it take to become an APRN?

true

It takes at least six years of education to become an advanced practice nurse and seven for the DNP option. Some graduate schools and certification boards require or prefer at least one or two years of clinical experience as an RN. A DNP typically requires three years, whereas an MSN takes two.
Do APRNs need to earn their doctorate?

true

A doctorate is not a degree requirement for any advanced practice nurse role. Some practitioners and organizations advocate for making the DNP the minimum academic degree for advanced practice nurses, but others fear this will further limit the number of APRNs, specifically nurse practitioners, and unnecessarily raise the cost of becoming an advanced practice nurse.
What is the highest paying APRN role?

true

Nurse anesthetists earn the highest advanced practice nurse salary at a median $174,790 annually. Other than the speciality, factors that affect advanced practice nurse salaries include geography, experience, and type of employer.
Is an APRN considered a medical doctor?

true

No, APRNs hold either an MSN or a DNP which are nonmedical degrees. An advanced practice nurse with a DNP degree is a doctor of nursing practice but not a medical doctor or physician. In many healthcare settings, only physicians are referred to as doctors.
Resources for APRNs
Related Pages
Reviewed by:
Nicole Galan is a registered nurse who earned a master's degree in nursing education from Capella University and currently works as a full-time freelance writer. Throughout her nursing career, Galan worked in a general medical/surgical care unit and then in infertility care. She has also worked for over 13 years as a freelance writer specializing in consumer health sites and educational materials for nursing students.
Galan is a paid member of our Healthcare Review Partner Network. Learn more about our review partners.
Featured Image: FatCamera / E+ / Getty Images
NurseJournal.org is an advertising-supported site. Featured or trusted partner programs and all school search, finder, or match results are for schools that compensate us. This compensation does not influence our school rankings, resource guides, or other editorially-independent information published on this site.
Are you ready to earn your online nursing degree?
Whether you're looking to get your pre-licensure degree or taking the next step in your career, the education you need could be more affordable than you think. Find the right nursing program for you.
Popular Resources
Resources and articles written by professionals and other nurses like you.