Advanced Practice Registered Nurse Career Overview
Reviewed by
Our Integrity Network
NurseJournal.org is committed to delivering content that is objective and actionable. To that end, we have built a network of industry professionals across higher education to review our content and ensure we are providing the most helpful information to our readers.
Drawing on their firsthand industry expertise, our Integrity Network members serve as an additional step in our editing process, helping us confirm our content is accurate and up to date. These contributors:
Suggest changes to inaccurate or misleading information.
Provide specific, corrective feedback.
Identify critical information that writers may have missed.
Integrity Network members typically work full time in their industry profession and review content for NurseJournal.org as a side project. All Integrity Network members are paid members of the Red Ventures Education Integrity Network.
An APRN is a clinician with a registered nurse (RN) license who has also earned a master's in nursing in one of the following specialities...Read More.
NurseJournal.org is an advertising-supported site. Featured or trusted partner programs and all school search, finder, or match results are for schools that compensate us. This compensation does not influence our school rankings, resource guides, or other editorially-independent information published on this site.
Are you ready to earn your online nursing degree?
Credit: FatCamera / E+ / Getty Images
What Does an APRN Do?
MSN required
certification optional
The role of an advanced practice registered nurse (APRN) falls between an RN and a physician in areas like training, independence, responsibilities, and earnings.
Advanced practice registered nurses have considerable autonomy since they can diagnose and treat conditions. They can also prescribe medications. In some states, they must work under the supervision of or in collaboration with a physician. They often supervise RNs.
APRNs typically hold the following key skills and responsibilities.
Primary Responsibilities
Primary care provider; provides patient education
Disease and condition management; makes diagnoses and orders treatment
Oversight of staff, including RNs
Key Skills
Empathy
Continual learner
Good decision-making under pressure
Scientific aptitude
Communication skills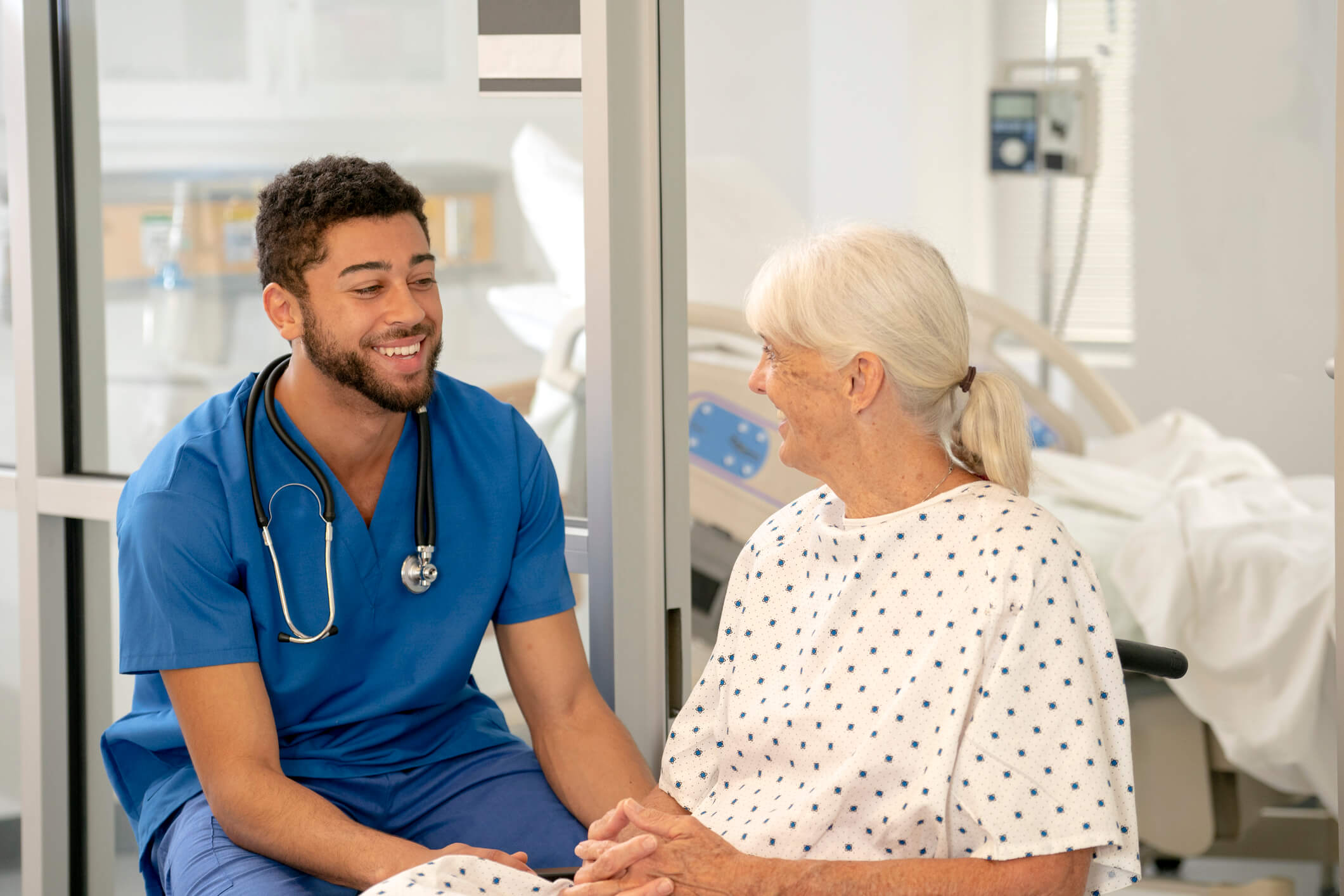 Credit: Ariel Skelley / Photodisc / Getty Images
Where Do APRNs Work?
Depending on their specialty, advanced practice nurses may work in hospitals, private physicians' offices, birth centers, surgical centers, clinics, or residential care settings.
APRNs might find work in these common settings.
Private Practices
APRNs can act as a primary care provider, diagnose and treat health conditions, and supervise RNs.
Hospitals
Advanced practice nurses might administer medication, lead nursing departments, and diagnose and treat health conditions.
Outpatient Care Facilities
APRNs, such as nurse practitioners (NPs), are valuable members of healthcare teams at outpatient care facilities and clinics where they may provide primary care services to patients.
Featured Online Nursing Programs
Learn about start dates, transferring credits, availability of financial aid, and more by contacting the universities below.
How to Become an APRN
Advanced practice nurses must have an RN license, a graduate degree in nursing, and, in the majority of states, national or state certification. Most graduate schools require RN experience before admission. Specific requirements vary by state and the certifying board.
Graduate with a bachelor of science in nursing (BSN).
Some graduate schools offer bridge programs that combine BSN and master of science in nursing (MSN) studies for students with an associate degree.
Pass the National Council Licensure Examination to receive RN licensure.
The National Council Licensure Examination for RNs (NCLEX-RN) takes up to six hours and covers clinical and other healthcare situations nurses are likely to encounter.
Explore different nursing specialty areas while gaining clinical experience.
Most specialty nursing entry-level positions include on-the-job training for that area. Clinical experience introduces nurses to work in specialties with different populations. Many graduate school programs require or prefer at least one year of clinical nursing experience.
Apply to an MSN-APRN or doctoral nursing program.
APRN programs typically take two years for a master's degree or 3-4 years for a doctor of nursing practice (DNP). Some specialties, such as the certified registered nurse anesthetist (CRNA), require a board-certified program, while others require only an accredited program. Admission requirements usually include a GPA of at least 3.0, an essay or personal statement, and recommendations.
Graduate with an MSN or a DNP.
As far as degree level,
only the MSN
is required to become an advanced practice nurse and qualify for licensing and certification exams, but academic medical centers and teaching jobs often require or
prefer a DNP
.
Earn certification from an approved nursing specialty board.
Each board has its own requirements beyond passing the certification exam. These typically include an unencumbered RN license, application, and a submission of academic records. Often, earning certification is required before applying for the advanced practice nursing license.
Apply for state licensure.
State advanced practice nurse requirements may include background checks and verification of education and required clinical hours.
Learn More About How To Become an APRN
The Four Types of APRN Roles
What Is the Average APRN Salary?
APRN salaries vary by specialization, experience, education, and certification. According to the U.S. Bureau of Labor Statistics (BLS), advanced practice nurse salaries are considerably above the national average annual salary of $75,330. The highest paid APRN specialization is nurse anesthetist with an average annual salary of $202,470. Nurse practitioners can earn an average annual salary of $118,040. The median salary for all APRNs is $117,670.
Demand for advanced practice nurses is growing. The BLS projects a 45% growth between 2020 and 2030.
Find State-Specific Salary Data
What Is the Difference Between an APRN and RN?
APRN
High levels of autonomy; can practice independently in most states with limited physician supervision in others

Can make diagnoses and order treatments

Can prescribe medications, including controlled substances

Minimum six years of college with master's degree in nursing

Requires education and certification beyond RN
RN
Limited autonomy and independence; must practice under direct supervision of a physician or an APRN

Cannot diagnose conditions or prescribe medications; carries out physician or APRN treatment plans

Minimum two years of college with an associate degree in nursing

Can be an entry-level position
Advanced Practice Nurse versus Nurse Practitioner
A nurse practitioner is a type of APRN. An APRN is a nurse who holds at least an MSN degree in an APRN specialty. APRN specializations include nurse practitioners, certified nurse midwives, certified registered nurse anesthetists, and clinical nurse specialists.
APRNs, including NPs, may work across various healthcare settings, including hospitals, ambulatory clinics, or long-term care facilities.
Nurse practitioners are APRNs who are independent, organized, and want to work closely with patients, often seeing the same families over the span of many years. Nurse practitioners may also specialize further in a specific population such as women, infants, or adults throughout their lifespans.
The following table includes important differences between the two.
NPs vs. APRNs
Nurse Practitioner
Advanced Nurse Practitioner
Education
Currently an MSN is required at minimum. A DNP may be required in the future.
APRNs must have at least a master's degree to sit for one of the APRN specialization exams.
Typical duties

Take health histories
Assess, diagnose, and treat acute and chronic illnesses, often acting as primary care medical provider
Offer referrals for specialized care

Typical APRN duties vary depending on the nurse's specialization. Nurse midwives, for example, focus on women's healthcare, while nurse anesthetists work primarily in surgical settings.
Can prescribe medications?
Yes, but the types of medicines and level of supervision is determined by state laws.
Some, but not all, APRNs have prescriptive authority depending on their specialization and the state where they work.
Common practice settings

Private practice
Ambulatory clinics
Long-term care facilities
Community clinics

Any healthcare setting including hospitals, private practice clinics, and long-term care facilities. APRNs may also work in educational or healthcare policy settings.
Licensing and certification
Certification for nurse practitioners in various specialties is available through both the American Nurses Credentialing Center (ANCC) and the American Academy of Nurse Practitioners (AANP). Nurses must also register with their state board of nursing in the state where they choose to work.
Certification for nurse practitioners and clinical nurse specialists is available through the American Nurses Credentialing Center. Certification for nurse anesthetists is available from the National Board of Certification & Recertification for Nurse Anesthetists. Certification for nurse midwives is available through the American Midwifery Certification Board.
Continuing education requirements
NPs must recertify with AANP every five years. Recertification requires at least 1,000 hours of clinical practice over the past five years and 75 contact hours of continuing education for nurses, relevant to the NP's role and focus. This means an NP who works in pediatrics must focus their continuing education on that population. ANCC recertification is also required every five years. As of 2018, the ANCC requires 150 continuing education hours, including at least 51% directly related to the NP's focus and at least 25 hours in pharmacotherapeutics.
The continuing education requirements for APRNs depends on the nurse's specialization. To recertify in any specialty there will be both clinical and classroom work in that nurse's specialty.
Specialization or population focus

Adult-gerontology acute care
Adult-gerontology primary care
Psychiatric mental health
Family health
Neonatal
Pediatric acute care
Pediatric primary care
Women's health and gender-related

The four main APRN roles are CRNA, certified nurse midwife, clinical nurse specialist, and nurse practitioner. Every NP is an APRN but the opposite is not true. The clinical nurse specialist may specialize like an NP and shares some of the same specializations (pediatric and adult gerontology being the most common).
Successful personalities
Like all nurses, NPs are dedicated to patient care. In many states, NPs are free to work without the direct supervision of a physician, meaning the most successful NPs are independent and organized. Patient communication is also integral to an NP's job. These skills, along with empathy and the ability to interact with a diverse population, are also important.
An APRN must be committed to providing excellent patient care. Some APRNs work in patient-facing positions, and others work in policy or educational settings. In all roles, patient communication skills are essential. This means the ability to consult with a patient and families on sensitive and emotional subjects. APRNs are most successful when they are organized and can handle stress without becoming overwhelmed.
Common clinical collaborators
Some NPs must have collaborative agreements with physicians (e.g., medical doctor or doctor of osteopathic medicine) to practice in some states. Whether or not this supervision is required depends on the state in which they practice.
In the hospital setting, APRNs will collaborate with other nurses and physicians as well as hospital administrators. APRNs have more professional autonomy in full-practice authority states.
Frequently Asked Questions About APRNs
How long does it take to become an APRN?
It takes at least six years of education to become an advanced practice nurse and seven for the DNP option. Some graduate schools and certification boards require or prefer at least 1-2 years of clinical experience as an RN.
A DNP typically requires three years, whereas an MSN takes two.
Do APRNs need to earn their doctorate?
A doctorate is not a degree requirement for most advanced practice nurse roles. To become a CRNA, the minimum degree requirement is a DNP or doctor of nurse anesthesia practice.
Some practitioners and organizations support making the DNP the minimum academic degree for all advanced practice nurses. Some fear this will further limit the number of APRNs, specifically nurse practitioners, and raise the cost of becoming an advanced practice nurse.
What is the highest-paying APRN role?
Nurse anesthetists earn the highest advanced practice nurse salary at a median $183,580 annually. Other than the speciality, factors that affect advanced practice nurse salaries include geography, experience, and type of employer.
Is an APRN considered a medical doctor?
No, APRNs hold either an MSN or a DNP which are nonmedical degrees. An advanced practice nurse with a DNP is a doctor of nursing practice but not a medical doctor or physician. In many healthcare settings, only physicians are referred to as doctors.
Resources for APRNs
The ANA offers professional education; issues credentials; publishes books, journals, and newsletters; engages in advocacy for nurses and healthcare reform; and offers networking opportunities. Full membership is open to RNs, and students and others can join as subscribers.
At 118,000 members, the AANP is the largest professional association for NPs in the United States. It offers professional education, including an annual conference, engages in advocacy, and issues scholarly journals, newsletters, and other publications. Membership is open to NPs, students, retirees, and affiliate members.
The ACNM provides professional education, including a conference, publishes newsletters and a journal, promotes the profession of midwifery, and conducts advocacy. Certified midwives and nurse midwives can be full members; students and others can join as nonvoting members.
The AANA serves around 54,000 nurse anesthetists with newsletters and scholarly publications, networking opportunities, professional education in several formats, recognition programs, and malpractice insurance. Membership is open to nurse anesthetists and students.
The NACNS offers publications, toolkits, and clinical resources; provides scholarship and awards programs; conducts research on the profession and clinical nursing standards; and engages in advocacy. Membership is open to individuals and institutions.
---
Page last reviewed November 23, 2021
NurseJournal.org is an advertising-supported site. Featured or trusted partner programs and all school search, finder, or match results are for schools that compensate us. This compensation does not influence our school rankings, resource guides, or other editorially-independent information published on this site.
Are you ready to earn your online nursing degree?
Whether you're looking to get your pre-licensure degree or taking the next step in your career, the education you need could be more affordable than you think. Find the right nursing program for you.
Popular Resources
Resources and articles written by professionals and other nurses like you.