Doctor of Nursing Practice (DNP) Degree Overview
February 17, 2022 , Updated on June 9, 2022 · 6 Min Read
Reviewed by
Anna-Lise Krippaehne
Our Review Network
NurseJournal is committed to delivering content that is objective and accurate. We have built a network of industry professionals across healthcare and education to review our content and ensure we are providing the best information to our readers.
With their first-hand industry experience, our reviewers provide an extra step in our editing process. These experts:
Suggest changes to inaccurate or misleading information.
Provide specific, corrective feedback.
Identify critical information that writers may have missed.
Reviewers typically work full time in their industry profession and review content for NurseJournal as a side project. Our reviewers are members of the Red Ventures Education Freelance Review Network and are paid for their contributions.
Doctor of nursing practice programs confer the highest clinical degrees in nursing, leading to lucrative, high-level careers in the profession. Read on for details on careers, salaries, and education.
NurseJournal.org is an advertising-supported site. Featured or trusted partner programs and all school search, finder, or match results are for schools that compensate us. This compensation does not influence our school rankings, resource guides, or other editorially-independent information published on this site.
Are you ready to earn your online nursing degree?
A DNP offers the highest level of clinical nursing education available. On this page, find everything you need to know about these rewarding programs.
Opportunities With a DNP
partial online offering
clinical hours required
Marketability
Those with a DNP will assume roles previously held by physicians as our healthcare system changes.
Leadership
A DNP is generally employed in leadership in large healthcare organizations or healthcare facilities.
Higher pay
Skills Learned
Attention to detail, communication, compassion,
critical thinking
, leadership, and resourcefulness.
Featured Online DNP Programs
Featured DNP Specialties
As the highest level of clinical nursing education, DNP degrees prepare registered nurses (RNs) to pursue licensure and careers as advanced practice nurses (APRNs). Students pursuing DNP degrees can choose from many lucrative career options. The following section explores some of the top-paying APRN clinical practice and research paths.
*SOURCE: U.S. Bureau of Labor Statistics, PayScale
How Much Will I Make With a DNP?
*SOURCE: PayScale.com
Learn More About DNP Salaries and Careers
How to Get a Doctor of Nursing Practice Degree
Decide Type of DNP Program
DNP programs can differ based on your educational background. Figure out what type of program works best for you.
Find DNP Program
After deciding which factors are important to you in a school, use our
degree finder
to find programs that fit your criteria.
Apply to DNP Programs
Common application requirements include prerequisite credits, transcripts, RN licensure, GPA, test scores, resumes, and letters of recommendation.
Secure Funding for DNP Programs
There are many ways to finance your degree, including financial aid, grants, scholarships, loans, and employer tuition reimbursement programs.
Attend DNP Classes
Online courses receive the same training as on-campus courses, but clinical hours must be completed in person and often can be completed at your current workplace.
Graduate with a DNP
Congrats on earning your degree! Now you can begin your career in your specialization.
Types of Doctor of Nursing Practice Programs
Admission Requirements for a DNP Program
While admission criteria vary by program, nursing schools typically require:
Prerequisite Credits: Each applicant must hold a bachelor of science in nursing with coursework in nursing research and statistics.
Transcripts: Candidates submit official transcripts of all undergraduate and graduate work.
Application Materials: Most programs require personal statements, resumes, and three letters of recommendation.
Licensure: A DNP applicant must hold an active, unencumbered RN license.
GPA: DNP programs commonly require a minimum 3.0 GPA.
Test Scores: Most nursing schools require GRE scores.
DNP students should expect to spend 3-4 years of full-time study. Part-time learners may take longer, but most programs allow 6-7 years for completion.
Core Concepts in a DNP Program
According to the American Association of Colleges of Nursing, DNP programs provide an alternative terminal degree to the academic and research-focused Ph.D. for nurses interested in clinical practice, research, nursing policy, and advocacy.
The curriculum focuses on competencies in these areas:
Advanced nursing practice
Clinical prevention and population health
Evidence-based practice
Healthcare policy for advocacy
Information systems and patient care technology
Interprofessional collaboration
Quality improvement
Scientific underpinnings for practice
Systems and organizational leadership
DNP degree plans vary according to specialization, but common courses include:
Advanced pathophysiology/physiology
Advanced pharmacology
Advanced health assessment
Contemporary issues in advanced nursing practice
Healthcare economics and finance
Healthcare informatics
Investigation, discovery, and integration
Principles of epidemiology
Qualitative methods in research
Social ethics and health policy
Clinical and Lab Components in a DNP Program
DNP programs require experiential learning both on campus and at hospitals or other healthcare facilities under the supervision of licensed professionals.
Programs may require one or more of the following types of clinical experiences:
Campus immersions
Clinical internships
Clinical rotations
Lab simulations
Practicums
Precepted training
Projects and presentations
Residencies
Seminars
Clinical requirements vary widely, depending on specialization area and program. Requirements for state licensure and national certification criteria, with most including 500-1,000 hours.
What to Expect From an Online DNP Program
Online DNP degree programs often include asynchronous or synchronous coursework and on-site experiential learning. Asynchronous course delivery allows students to access their course materials and recorded lectures on their own schedules. Synchronous classes mimic the on-campus experience through live, interactive webcasts. Hybrid programs combine virtual class formats with on-campus instruction.
Online students can interact with their classmates and professors through discussion boards and synchronous sessions. On-campus orientations or immersions typically occur, particularly in cohort-based programs.
Distance learners can often complete their on-site clinical hours at their current workplaces or healthcare facilities in their home communities.
Should I Get a Doctor of Nursing Practice Degree?
As the U.S. healthcare system continues to evolve, DNPs in clinical practice continue to take on more significant roles in problem-solving and advocacy. This heightened responsibility comes with higher pay rates and opportunities for advancement, especially as current DNP degree-holders start to retire.
Advantages to a DNP
Marketability, while already superior for doctoral-level nursing professionals, will only improve as our healthcare system allows more nurses to assume roles previously held by physicians.
CNMs, NPs, and CRNAs will eventually require a DNP, as opposed to an MSN, which is currently required for credentialing.
Intensive clinical practicum requirements in DNP programs provide opportunities for advanced training in a clinical environment.
Disadvantages to a DNP
Lengthy time to completion, particularly if the student continues working full time.
May lead to positions in academia, but tenure-track positions are generally reserved for Ph.D. degree-holders.
Division within the nursing industry around the ethical nature, necessity, and staying power of the DNP degree.
What's the Difference Between a DNP and a Nursing Ph.D.?
DNP
The DNP emphasizes higher-level skills in the practice of nursing. DNPs strive to improve patient outcomes.
The curriculum in a DNP program centers on leadership in healthcare, evidence-based practice decisions, and advanced specialty practice nursing. Coursework covers statistics, clinical diagnosis and disease management, budget planning and admin, healthcare policy, and the transformation of our healthcare system.
Teaching is optional for DNP students. A DNP candidate, however, must complete up to 1,000 clinical hours of practical experience requirements.
The DNP requires students to complete capstone projects. Many schools offer DNP programs online, allowing working nurses to maintain their employment.
DNP degree-holders generally find employment in leadership in large healthcare organizations or healthcare facilities. Other roles include expert clinicians or academic positions that emphasize clinical practice and education.
Nursing Ph.D.
The Ph.D. in nursing is focused on scholarly inquiry and research. A Ph.D. seeks to enlarge and further the body of nursing knowledge.
Nursing Ph.D. students study illness trajectories and the care systems we use to treat them. Ph.D. in nursing coursework includes advanced theory, research methodology, data analysis, chronic illness issues, and care systems.
Teaching is required for a nursing Ph.D., but these students do not need to participate in clinical components.
Nursing Ph.D. candidates are expected to complete senior thesis projects. These programs generally take place in traditional brick-and-mortar classrooms and typically do not suit working students.
Ph.D. degree-holders most commonly move into academic, tenure-track positions or serve in management roles conducting research.
Explore DNP Programs
Reviewed by: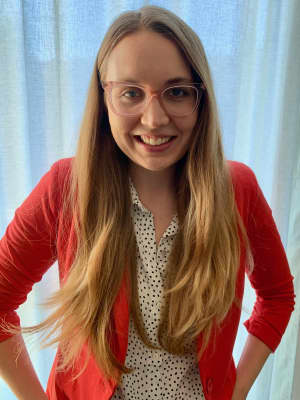 Anna-Lise Krippaehne, DNP, FNP-BC
Anna-Lise Krippaehne is a recent graduate from the University of Portland's doctor of nursing practice program. She received her bachelor's in nursing science from the University of Portland in 2012, and worked in acute care providing bedside nursing care on a general surgical unit for eight years at Swedish Medical Center in Seattle, Washington before pursuing her doctorate.
There, she also assisted in teaching new graduate nurses through simulation experiences with Swedish's Nurse Residency Program, in addition to contributing to several quality improvement projects during her tenure. She will soon begin her first position on faculty as a board-certified family nurse practitioner at Oregon Health & Science University's Family Practice Department in Portland, Oregon.
NurseJournal.org is an advertising-supported site. Featured or trusted partner programs and all school search, finder, or match results are for schools that compensate us. This compensation does not influence our school rankings, resource guides, or other editorially-independent information published on this site.
Are you ready to earn your online nursing degree?
Whether you're looking to get your pre-licensure degree or taking the next step in your career, the education you need could be more affordable than you think. Find the right nursing program for you.
Popular Resources
Resources and articles written by professionals and other nurses like you.