CDC: Burnout Keeps Rising for Nurses and Other Healthcare Workers
Nurses' mental health deteriorated during the COVID-19 pandemic. Learn about the CDC's new healthier workplace initiative to help combat burnout.
According to recent federal data, healthcare workers experienced more mental health declines between 2018 and 2022 than workers in other sectors.

Health workers reported fewer mental health problems when they worked in supportive environments.

The CDC has designed a new intervention to create healthier healthcare workplaces called Impact Wellbeing.
A new study from the Centers for Disease Control and Prevention (CDC) found that nurse burnout is on the rise, with significantly more nurses and other healthcare workers reporting burnout in 2022 compared with 2018.
At the same time, a new federal campaign, Impact Wellbeing, is designed to help foster healthier healthcare workplaces. While the COVID-19 pandemic undoubtedly increased nurse burnout, experts noted that the problem persists even as the pandemic subsides. Interventions are needed to improve working conditions in healthcare.
"We designed this study to assess the current state of the mental health of the U.S. health workforce and to further examine whether working conditions might contribute to health workers' well-being," said first study author Jeannie Nigam, MS, to NurseJournal. Nigram is a research psychologist and coordinator of healthy work design and well-being at the National Institute for Occupational Safety and Health (NIOSH), an agency within the CDC. "We sought to understand how and whether health workers differ from other workers before and during the pandemic. … We should be doing what we can to create a work environment that helps [healthcare workers] do their jobs well and promotes their safety, health, and well-being."
Nurse Burnout and Mental Decline During COVID-19
The report, published in the CDC's Morbidity and Mortality Weekly Report, was based on survey data collected in 2018 and 2022. Investigators found that health workers experienced a more significant mental decline during these four years than non-healthcare workers included in the survey. Of the 551 healthcare workers who responded to the surveys, 27% were nurses.
The study began before the 2020 onset of the COVID-19 pandemic that overwhelmed many facets of the healthcare system with a massive influx of highly contagious and seriously ill patients. Health workers were forced to adapt quickly, without proper training or adequate supplies, and care for patients for extended periods in isolation.
In 2022, the study looked at healthcare workers, non-healthcare essential workers, and other workers four years after the initial survey began and two years after the start of the pandemic.
Over those four years, nurses and other healthcare workers reported worsening outcomes in various mental health domains — including symptoms of burnout — than non-healthcare workers.
Key Findings From the CDC Study on Burnout
Some key findings from the CDC research include:
Nearly half of health workers reported often feeling burned out in 2022, up from 32% in 2018.

1 in 4 U.S. essential workers (including healthcare professionals) received a mental health diagnosis since the pandemic's onset.

Favorable working conditions, such as trust in management and supervisor support, were associated with lower odds of burnout and overall poor mental health.

Healthcare workers reported less burnout when they had enough time to complete their work and be productive.

The number of health workers who reported harassment (e.g., bullying, verbal abuse) more than doubled from 2018 to 2022.

Feelings of harassment at work increased feelings of anxiety, depression, and burnout.

In 2022, almost half of the surveyed health workers planned to look for a new job.

From 2018 to 2022, health workers reported an increase of 1.2 days of poor mental health during the previous 30 days (from 3.3 to 4.5 days)

The percentage of health workers who reported feeling burnout very often increased from 11.6% to 19.0%.
Nurse Burnout: What Experts Recommend
"Being creative and working together with the workers to come up with solutions to help them better manage the work environment and their reaction is a good approach," Nigam told NurseJournal. "Certainly, we should not be telling workers to buck up and be more resilient."
Prevention is vital to nurse burnout, Nigam said. NIOSH has developed prevention training for supervisors of public health workers to improve their work environment. In 2022, NIOSH investigated health workers' anxiety, depression, and burnout to create potential prevention strategies.
"NIOSH is very committed to helping hospitals in the U.S. tackle the root causes of health care worker mental health and burnout because it's supposed to address the root cause, with intentions to make changes," Nigam said.
NIOSH's Impact Wellbeing toolkit offers multiple ways for employers to improve workplace wellness, including:
Primary prevention strategies include having workers participate in the department's decisions. Additional strategies endorsed include supportive supervision and increased psychological safety (being able to speak up without fear of consequences) when seeking help.
Frequently Asked Questions About Nurse Burnout
What Causes Nurse Burnout?
The World Health Organization defines burnout as an occupational phenomenon created from chronic workplace stress that has not been managed effectively.
Burned-out nurses may feel physical, mental, and emotional exhaustion from job stress.
Risk factors for increased nurse burnout include:
Younger age

Decreased social support

Limited family and colleagues' ability to cope with a pandemic

Increased perceived threat of COVID-19

Longer working time in quarantine or isolation rooms

Working in a high-risk environment

Working in hospitals with inadequate and lack of supplies and resources
Is Nurse burnout the same as compassion fatigue?
Many nurses also experience compassion fatigue. Compassion fatigue is different from burnout: It is the diminished ability to provide empathetic and compassionate care due to the mental and emotional strain of caring for suffering patients.
COVID-19 left many patients and family feeling frightened and fearing death. Nurses exposed to frequent human suffering can become detached from their patients and take on a tasks-only role.
Why Did the COVID-19 Pandemic Make Nurse Burnout Worse?
The pandemic pushed extraordinary challenges and fears on healthcare workers that couldn't be disguised.
A comprehensive systematic review and meta‐analysis found that in the U.S., within the first year of the pandemic, 143 out of 448 hospital healthcare workers who died were nurses.
Nurses who were exposed or in contact with suspected or verified positive COVID‐19 patients were more often distressed. Many were worried about taking the virus home to their families.
Nurses also experienced other adverse effects, such as:
Anxiety

Depression

Psychological distress

Sleep disturbances

Insomnia

Post‐traumatic stress disorder (PTSD)
How Do We Fix Nurse Burnout?
Psychologically safe workplaces can help to promote well-being. Health workers reported fewer mental health issues when they said they work in supportive environments.
Impact Wellbeing is one example of a workplace intervention. Some other clinician-ranked burnout interventions include:
Having uninterrupted breaks

Increased scheduling control

Additional resources for new-to-practice clinicians

Less required documentation

Creating a quiet space designated for meditation or reflection

Electronic health records systems improvement

Team communication improvement
You might be interested in
Tips From Nurses on Dealing With Burnout
Check out these tips from nursing experts on how to prevent and recover from nurse burnout and compassion fatigue.
Reviewed by
Our Integrity Network
NurseJournal.org is committed to delivering content that is objective and actionable. To that end, we have built a network of industry professionals across higher education to review our content and ensure we are providing the most helpful information to our readers.
Drawing on their firsthand industry expertise, our Integrity Network members serve as an additional step in our editing process, helping us confirm our content is accurate and up to date. These contributors:
Suggest changes to inaccurate or misleading information.
Provide specific, corrective feedback.
Identify critical information that writers may have missed.
Integrity Network members typically work full time in their industry profession and review content for NurseJournal.org as a side project. All Integrity Network members are paid members of the Red Ventures Education Integrity Network.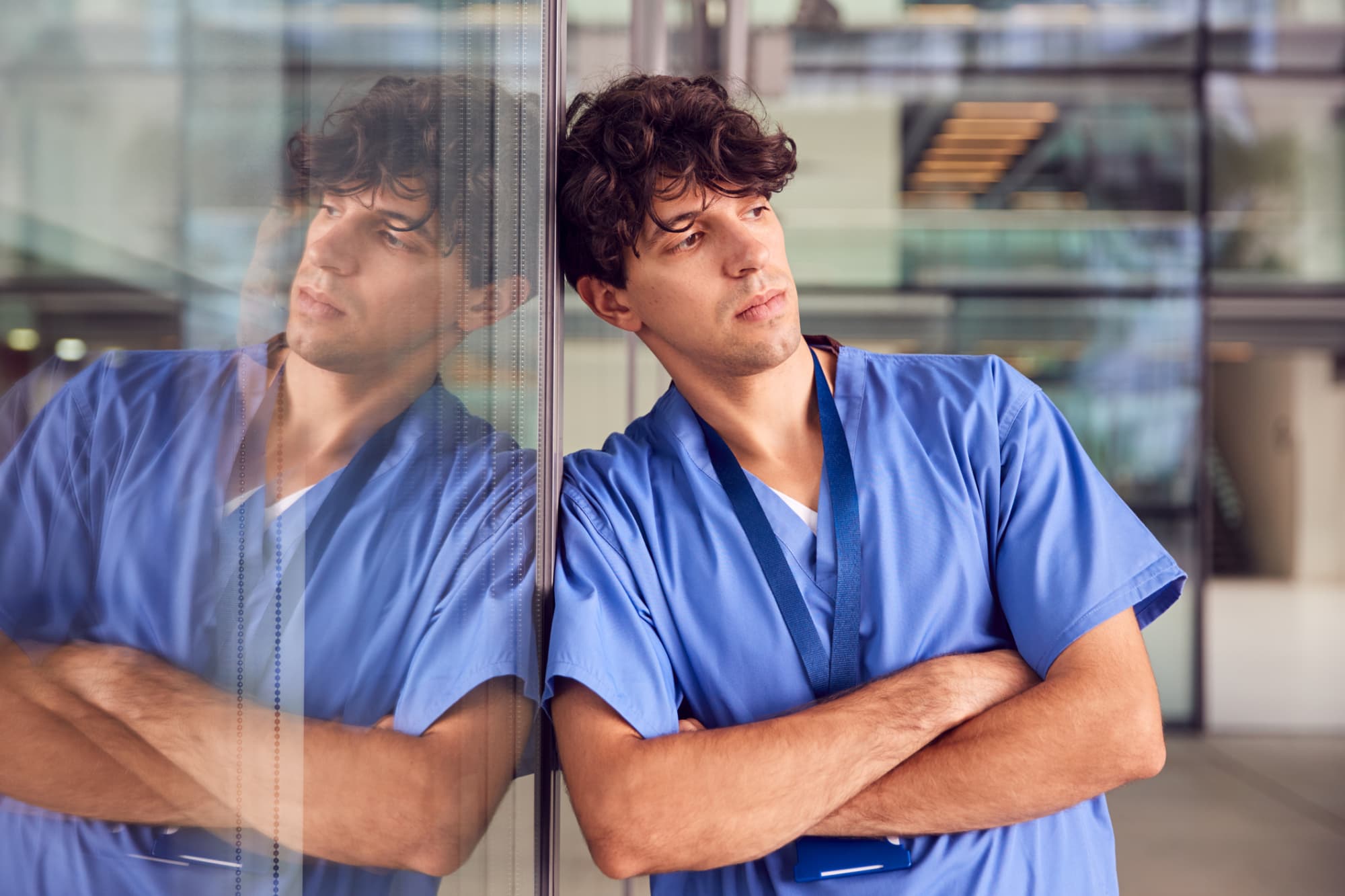 Tips on Dealing With Burnout in Nursing School
Nursing faces a burnout crisis, and even nursing students feel the effects. Discover four strategies to combat burnout in nursing school and beyond.
NurseJournal.org is an advertising-supported site. Featured or trusted partner programs and all school search, finder, or match results are for schools that compensate us. This compensation does not influence our school rankings, resource guides, or other editorially-independent information published on this site.
Are you ready to earn your online nursing degree?
Whether you're looking to get your pre-licensure degree or taking the next step in your career, the education you need could be more affordable than you think. Find the right nursing program for you.