NurseJournal.org is an advertising-supported site. Featured or trusted partner programs and all school search, finder, or match results are for schools that compensate us. This compensation does not influence our school rankings, resource guides, or other editorially-independent information published on this site.
Are you ready to earn your online nursing degree?
Credit: FatCamera / E+ / Getty Images
This page explores the current status of college and university mandates regarding COVID-19 vaccinations for students returning to campus. Because requirements differ among states and institutions, you should confirm the policies at your school or program.
---
Schools May Require COVID-19 Vaccines for Returning Students
According to University Business, colleges and universities in 36 states plan to require students to return to campus this fall fully vaccinated against COVID-19. Some schools will require faculty to be vaccinated too, while others will only impose the vaccination requirement on students who live on campus.
These states have the highest number of colleges and universities mandating vaccinations:
California, including its University of California and California State University systems.
Massachusetts, with vaccine requirements at about 50 schools.
At the other end of the spectrum, no Arizona schools plan to require vaccination, although Arizona State University has encouraged that returning students be vaccinated.
Is It Legal for Schools to Require Vaccinations?
According to a Kaiser Family Foundation post, the evolving legal landscape regarding COVID-19 vaccination requirements contains numerous uncertainties. The federal government has limited authority to require vaccines, but states have long mandated immunization to protect public health.
Today, all states require vaccines for K-12 school attendance, with exemptions for medical issues and religious objections. Select states impose adult vaccinations on healthcare staff and patients in healthcare facilities but not the general public.
Private employers can require vaccination, but some states are restricting vaccine mandates as a condition of employment, allowing employees to opt out.
What does this mean for colleges and universities that plan to impose vaccination requirements? Public institutions that institute COVID-19 vaccine mandates may be subject to state lawsuits or legislative action.
State and Federal Mandates Play a Role Too
There is no settled legal precedent on requiring vaccines that have been FDA approved for emergency use only. As more courts review the issue, institutions of higher learning should receive clearer guidance.
However, nursing programs may fall within a gray area between academia and healthcare settings during their clinical rotations.
Nicholas McGowan, a critical care registered nurse and nurse educator, predicts that as long as the COVID-19 vaccine remains under emergency use authorization, mandating vaccines at public nursing schools will likely be unenforceable legally. But McGowan thinks that private colleges and university requirements might be upheld.
Popular RN-to-BSN Programs
Learn about start dates, transferring credits, availability of financial aid, and more by contacting the universities below.
Nursing Students May Face Stricter Vaccine Requirements
Clinical requirements in nursing schools have changed in response to COVID-19. Some states, including California and Wisconsin, established emergency waivers that reduced the required clinical hours for graduation. Individual nursing schools initiated solutions limiting students' face-to-face contact with patients, such as participation in virtual simulations, COVID-19 call centers, and telehealth.
More widespread immunization rates could enable nursing students to see patients in person, but healthcare professionals anticipate that vaccine mandates will be strictly enforced.
"There is the concern from clinical partners about staff and students who are working with patients and the potential for the spread of COVID-19 and other pathogens," explains Audrey Auer, Ph.D., a nursing education director.
Jenna Liphart Rhoads, Ph.D, a nurse educator and freelance author, agrees that "nursing programs would want to mitigate the risks of nursing students exposing patients and other healthcare workers to COVID-19."
Vaccine Requirements Have Always Been Stricter for Nursing Students
Even before the COVID-19 pandemic, nursing students have been held to stricter vaccination standards, particularly since they work directly with patients at clinical training sites.
McGowan adds, "Clinical sites are historically very difficult to secure and with strict visitor restrictions already in place at most healthcare facilities, I expect many nursing schools will continue to be strained with providing clinical experiences this fall ... especially for unvaccinated nursing students."
Additionally, the Centers for Disease Control and Prevention recommend several vaccines for healthcare workers and students, including hepatitis B, influenza, chickenpox, and meningitis, among others.
"Nurses are educated under the scientific model, and the eradication of disease through vaccination is a classic application of this model," Auer says. "As nurses, we facilitate childhood vaccination programs, seasonal influenza campaigns, and shingles and Pneumovax vaccines for the elderly."
Who Might Be Exempt From Vaccine Requirements?
Religious exemptions from vaccinations apply in 44 states and Washington D.C. Fifteen states allow exemptions for personal, moral, and other beliefs. And all states permit medical exemptions for those who cannot tolerate vaccinations due to health reasons.
Most colleges and universities that plan to require COVID-19 vaccines will allow exemptions based on their state laws.
While exemptions may reduce the number of vaccinated college students returning to campus, pre-COVID exemptions in 2018-2019 among kindergartners totaled just 2.5% for at least one vaccine. If higher education trends follow, the majority of on-campus learners will not receive exemptions.
COVID-19 Vaccination Requirements Remain in Flux
The current situation remains uncertain and subject to change as the current COVID-19 vaccination process continues.
While most state laws do not yet fully address whether public schools or programs can legally enforce vaccinations, in states where mandatory vaccination has not been prohibited, lawsuits may still arise on a case-by-case basis.
This uncertainty underscores the importance of checking with your school or program about updated vaccination requirements.
Meet Our Contributors
Audrey Auer, Ph.D., MSN, RN
Audrey Auer, Ph.D., MSN, RN, is the director of nursing education services at Nightingale College. She has an extensive background teaching in nursing education, having launched and led prelicensure and master's-level nursing programs.
Auer possesses a clinical background in infusion therapy, critical care, and rural hospice and home healthcare. Auer currently lives in Nashville, Tennessee.
Jenna Liphart Rhoads, Ph.D., MSN, RN
Jenna Liphart Rhoads, Ph.D., MSN, RN, is a nurse educator, freelance author, and editor. She earned a BSN from Saint Francis Medical Center College of Nursing, an MSN from Northern Illinois University, and a doctorate from Capella University.
Her clinical background includes surgical/trauma adult critical care and interventional radiology procedures. She currently resides in Wisconsin with her husband and two children.
Nicholas McGowan
Nicholas McGowan, BSN, RN, CCRN, has 10 years of experience in cardiovascular care, surgical intensive care, and neurological trauma nursing. McGowan also applies a background in education, leadership, and public speaking to help other nurses. In addition, McGowan hosts an online course at Critical Care Academy to help nurses achieve CCRN certification.
You might be interested in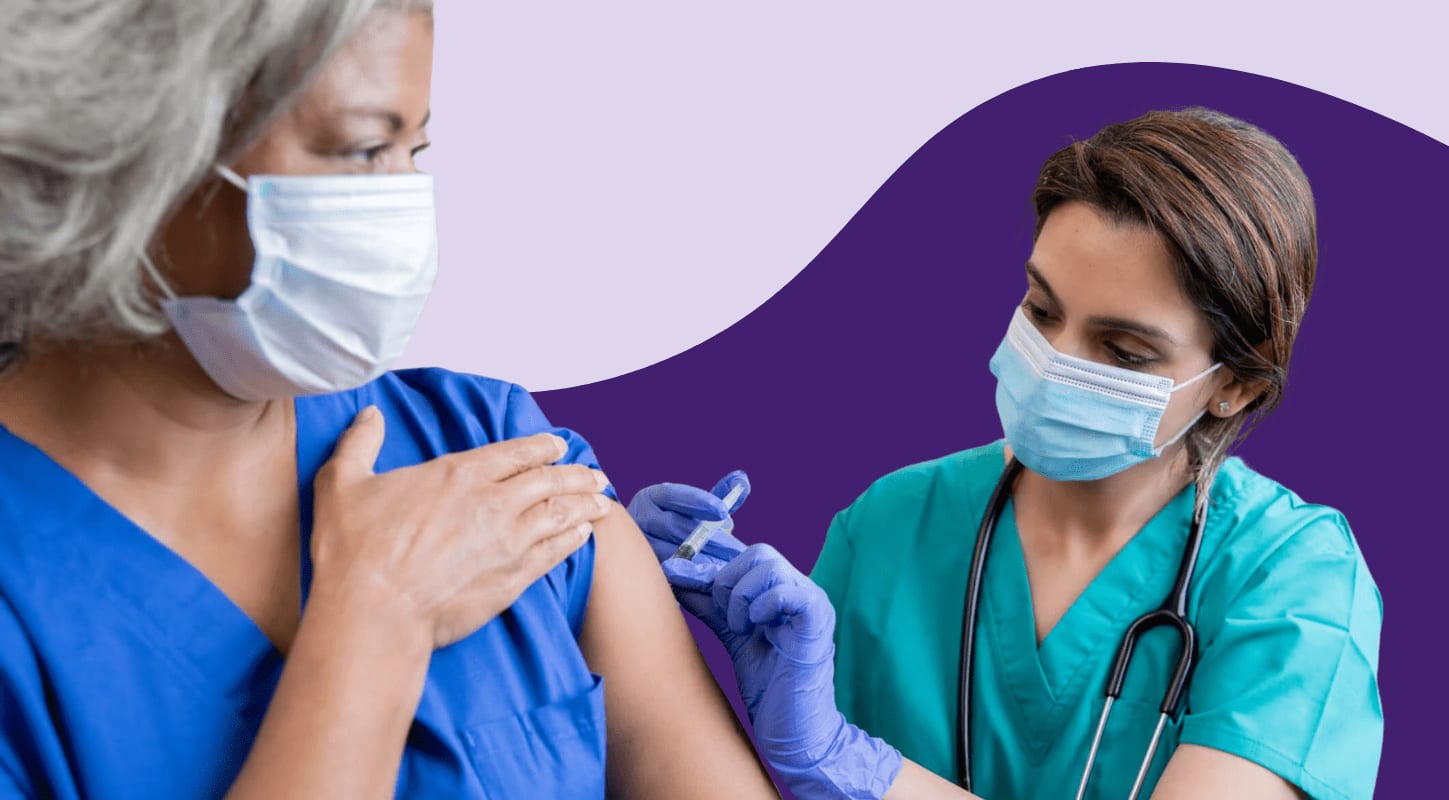 COVID-19 Vaccination Hesitancy Among the Nursing Community
COVID-19 vaccine skepticism is fueled by rumors and conspiracy theories, and sometimes nurses can be duped too. Here's how to fight vaccine distrust in the…
NurseJournal.org is an advertising-supported site. Featured or trusted partner programs and all school search, finder, or match results are for schools that compensate us. This compensation does not influence our school rankings, resource guides, or other editorially-independent information published on this site.
Are you ready to earn your online nursing degree?
Whether you're looking to get your pre-licensure degree or taking the next step in your career, the education you need could be more affordable than you think. Find the right nursing program for you.