NurseJournal.org is an advertising-supported site. Featured or trusted partner programs and all school search, finder, or match results are for schools that compensate us. This compensation does not influence our school rankings, resource guides, or other editorially-independent information published on this site.
Are you ready to earn your online nursing degree?
Credit: Thurtell / Getty Images
Nursing school can be costly, stressful, and time-consuming, which means students need the right type of part-time job to help pay the bills and get industry experience.

Easy jobs while in nursing school should have flexible schedules, be low-stress positions, and ideally have understanding managers.

These seven jobs for nursing students can help nursing candidates gain experience while in school.
Let's face it — nursing school can be expensive and take up a lot of time. Therefore, nursing students looking for jobs need a position that pays but also fits within their schedule.
Nursing students must juggle studying, classes, exams, and clinicals, which can make it difficult to find the perfect job. Dive in and explore some jobs students can work while in nursing school.
What to Look for in a Job for Nursing Students
Nursing is a lifelong learning experience and nurses can benefit greatly by taking on a part-time job during their nursing program. This not only helps them pay for school but also gives them the experience and skills necessary to start their new career.
There are several qualities to look for in a job for a nursing student:
Low-stress working environment

Schedule flexibility

Understanding management
The job should be low stress since your nursing program is likely the source of most of your anxiety and stress. Because your schedule usually changes from semester to semester, it's helpful to have a flexible schedule and a manager who understands your school obligations.
A job that supports your clinical skills raises your hours of experience, which can increase your confidence level and make you more marketable after graduation. Nursing candidates who are not traditional students may find working part time at their current job improves their pay, but it may not have the flexibility to accommodate their school schedule.
Working part time in the healthcare industry may include tuition reimbursement for nursing degrees, which is an added benefit. Just be aware of your obligations after graduation as many employers expect you to work there for a specific number of years.
7 Jobs Nursing Students Can Work While in School
As you're searching for a part-time job during your nursing program that meets your needs, consider the following seven jobs for nursing students.
1 |

Nursing Companion

Most senior citizens prefer to live at home. Yet, even when they are physically independent, families may find their loved one needs emotional companionship. Nursing companions are primarily an emotional support system, providing nonmedical, in-home care services to senior citizens and individuals with disabilities.

While certified home health aides typically perform hands-on care, companion caregivers are hired to keep an individual company. It requires a person with a big heart and the ability to provide emotional support. Most companies want companions to know cardiopulmonary resuscitation, basic first aid, and emergency care, but no degree/certification is required.
2 |

Medical Interpreter or Translator

Nursing students who are fluent in a second language could consider working within a healthcare organization as a medical interpreter. Medical interpreters and translators help doctors and nurses communicate with patients who don't speak English. A medical translator also converts medical records for travelers or translates pharmaceutical materials.

Medical interpreters work in healthcare facilities or over video calls while translators can work at home. Nursing candidates who are considering medical translation work can sign up with an agency so they don't spend their time searching for new clients.
3 |

Phlebotomist

A phlebotomist works in a healthcare institution or laboratory where they collect blood samples from patients. In this position, nursing students have the opportunity to practice basic skills and interact with patients. Although it's not the same as starting an intravenous line (IV), learning how to draw blood makes starting IVs a lot easier.

As a phlebotomist, nursing candidates also learn how to calm patients before a procedure and have the added advantage of working in the healthcare system.
4 |

Emergency Medical Technician

Before attending nursing school, some nursing candidates first become emergency medical technicians (EMTs). The course is a minimum of 170 hours. Candidates learn to assess patients and administer some treatments. Eligibility requirements vary, but enrolling in an EMT course does not require previous medical experience.

The schedule is flexible, which can help accommodate your nursing school requirements. The experience you acquire as an EMT helps grow your confidence and makes you more marketable after graduation.
5 |

Telemetry Monitor Technician

Technicians are required to have a high school graduation and go through some training with the telemetry unit. The job entails watching cardiac monitors and reporting to the nurse when a patient shows an abnormal heart rhythm on the monitor. This is a good opportunity for nurses who believe they would like to work in an intensive care unit. However, it does require sitting in front of a screen during your shift, which can be tedious.
6 |

Nursing Assistant

Nursing assistants are expected to bathe, feed, and dress patients. They help nurses by taking vital signs and helping patients with their activities of daily living. Nursing assistants are also expected to listen to patients and communicate with their supervising nurse any information that may help provide excellent patient care. This gives nursing students first-hand experience in taking care of patients. While it is hard work, it can give you greater confidence as you learn and pick up skills that can help you in nursing school.
7 |

Hospital Clerk

Hospital clerks typically sit at the nurses' station and help doctors input orders into the electronic health record, answer questions from patients, answer the unit telephones, and provide other secretarial-type duties. It is often low stress, and the boss is typically very familiar with the challenges of nursing school.

The position also gives you the opportunity to work within the healthcare system and learn some of the behind-the-scenes activities that make a unit run smoothly.
Balancing School and Work
Working a part-time job while in nursing school is a balancing act. While income may be necessary, your mental health is critical. Remember good mental health doesn't just happen. It requires your care and attention in the same way that your physical health requires adequate sleep, good nutrition, and exercise.
It's easy to get bogged down in daily life stressors, which can lead to nursing students dropping out. It can also weaken your immune system long term and make you prone to physical health problems. Self-care is not selfish! As you seek a strong balance between school and work, it is vital you do not overdo it and make your mental health a priority.
You might be interested in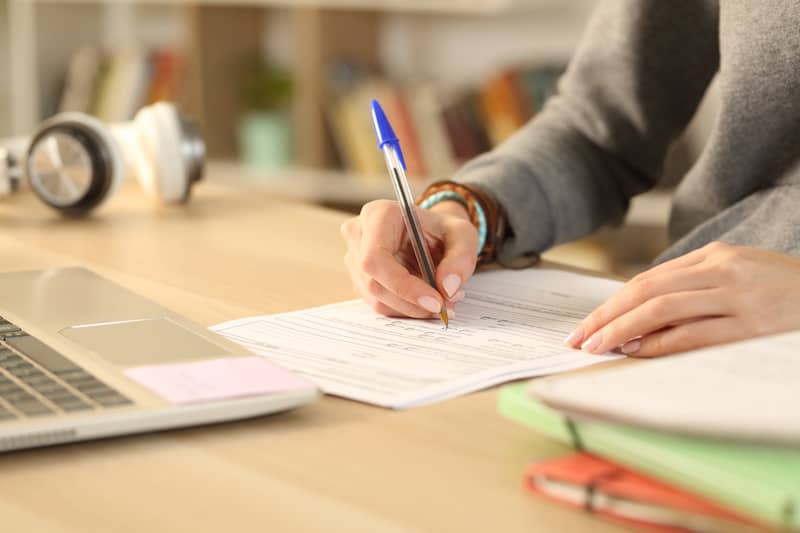 Financial Aid
Student Resources
Nursing Scholarships and Grants
Financial aid for your nursing degree can come in many forms. Check out the many scholarships and grants available to nursing students here.
Reviewed by
Our Integrity Network
NurseJournal.org is committed to delivering content that is objective and actionable. To that end, we have built a network of industry professionals across higher education to review our content and ensure we are providing the most helpful information to our readers.
Drawing on their firsthand industry expertise, our Integrity Network members serve as an additional step in our editing process, helping us confirm our content is accurate and up to date. These contributors:
Suggest changes to inaccurate or misleading information.
Provide specific, corrective feedback.
Identify critical information that writers may have missed.
Integrity Network members typically work full time in their industry profession and review content for NurseJournal.org as a side project. All Integrity Network members are paid members of the Red Ventures Education Integrity Network.
9 Tips to Help Nursing Students Stay Organized
Organization is one key to successfully completing nursing school. Review these nine tips to help students get and stay organized throughout the semester.
NurseJournal.org is an advertising-supported site. Featured or trusted partner programs and all school search, finder, or match results are for schools that compensate us. This compensation does not influence our school rankings, resource guides, or other editorially-independent information published on this site.
Are you ready to earn your online nursing degree?
Whether you're looking to get your pre-licensure degree or taking the next step in your career, the education you need could be more affordable than you think. Find the right nursing program for you.