Did You Know? 10 Healthcare Inventions by Nurses
Learn about nurses who changed standards of care with the healthcare inventions they created.
Nurses from around the world have made lasting impacts on nursing practice and patient outcomes.

Their healthcare innovations created new standards of care for cardiac arrest to ostomy care.

Just like these nurses, you can make an impact beyond bedside nursing by seeing a problem and finding a solution.
Nurses storing IV kits and emergency medications in the pockets of their scrubs and healthcare professionals running around trying to find the defibrillator: That's the scene nurse Anita Dorr saw every time a code blue happened in her hospital — until she invented the crash cart.
Dorr and the other nurses on this list did not set out to make nursing history. They set out to solve a problem they saw in their nursing practice. Find out how these 10 inventions changed standards of care for nurses, led to improved versions, and are still widely used today.
Popular Online RN-to-BSN Programs
Learn about start dates, transferring credits, availability of financial aid, and more by contacting the universities below.
10 Healthcare Inventions by Nurses
1947 |

Disposable Liners for Baby Bottles

Not only would baby bottles decrease the stream of milk a baby drank, but they also increased the amount of air a baby ingested and also led to exhaustion. Noticing the stomach upset and exhaustion, Adda M. Allen created a disposable plastic liner that could be sealed to let out all the air before the baby ingested it. The sides of the liners closed in on each other as the babies drank. This design reduced the work babies do while they drink from bottles and improved symptoms.
1952 |

Feeding Tubes

After World War II, the U.S. Army tried to develop a device for veterans with paralysis or amputated upper limbs to feed themselves. A physician who worked with Bessie Blount Griffin came to her and said if she really wanted to help veterans, she'd find a way for them to feed themselves.

Griffin worked for 10 months in her kitchen to create a tube that allowed soldiers to control their own feeding when they bit down on the spoon-shaped tube. The U.S. Army refused to manufacture the device, so Griffin had it manufactured in Canada. The Veterans Administration rejected her idea because they thought it was impractical and unnecessary. She gave it to the French government free of charge because she wanted the focus to be on her invention and not on her.
1954 |

Ostomy Bags

After ostomy surgery, people used to fear and avoid going out because of the smell and potential for leaks the ostomy equipment created. Nurse Elise Sørensen's sister, Thora, felt the same when she had an ostomy at 32. Sørensen was determined to find a solution for her sister. The ostomy pouch she created does not allow air or liquid in or out and clings to the skin.

After several manufacturers refused to make the product, it was a fellow nurse, Johanne Louis-Hansen, who convinced her husband, a plastics manufacturer, to produce them. Today, ostomy bags are the standard of care for ostomy patients, and they have been since 1954.
1958 |

Neonatal Phototherapy

Babies used to receive blood transfusions for jaundice until Sister Jean Ward discovered all they needed was some sunshine. She would take premature babies on walks around the hospital courtyard without the physicians' permission because she noticed that they were visibly better after being outside.

One day, a physician who worked with Ward, Dr. Dobbs noticed that the skin under a blanket looked more yellow than the skin that had been exposed to the sun. Now, phototherapy is the most common treatment for neonatal jaundice.
1964 |

Snugli Baby Carrier

Peace Corps nurse Ann Moore not only invented the first baby carrier on the American market, but some credit her for the lifestyle that went with it. Before the Snugli baby carrier, American mothers carried their babies in plastic baby seats that did not allow for human connection or warmth.

When Ann Moore's daughter, Mandela, was born, Moore wanted the same closeness with her baby that she saw in Togo between the mothers and their babies while she was in the Peace Corps. She and her mother created a pouch so Moore could bond with her baby on her back while she went about her daily tasks. The earliest advertising came from people asking Moore about the pouch when she was out with her daughter until, in 1976, a consumer report said it was the baby carrier to own.
1968 |

Crash Cart

Code blues once involved healthcare professionals running around looking for needles, IV kits, emergency medication, and the defibrillator. Then nurse Anita Dorr created the crash cart, originally called the crisis cart.

Dorr created the first crisis cart in her basement and organized all the necessary supplies in the drawers of a rolling cart so the most important items were within reach at the top. She had her husband paint the cart red to complete the first of many crash carts.
1983 |

The Wong-Baker FACES® Pain Rating Scale

Young children cannot understand words like pulsing, throbbing, or pounding to describe when they're in pain. And they often have trouble understanding how to rank their pain numerically. They understand when they're hurt a little, a lot, or not at all. As a pediatric nurse consultant, Donna Wong knew this.

Wong worked with child life specialist, Connie Baker, to create a pain scale that children could understand and use. They researched pain assessment and management, asked children for input on the facial expressions used on the scale, and tested the scale on grade-school-aged children. Now, the scale is widely used for patients three and older.
1990 |

Bili Bonnet

Phototherapy worked well for neonatal jaundice, but the eyes of premature babies could not tolerate the light. For nearly thirty years, healthcare professionals fashioned glasses out of whatever they could find to protect the babies' eyes.

After caring for these babies in the NICU, Sharon Rogue created the Bili Bonnet, a mask that covered the babies' eyes and was secured to their heads with a mesh bonnet to protect them while receiving phototherapy. The Bili-Bonnet was her first healthcare innovation that started her company, Small Beginnings.
2003 |

Color-Coded IV Lines

Color coding clear plastic IV lines with tape seems like a great idea until it's an emergency. You need to quickly find the correct line to inject the medication without causing side effects, but the tape snags on the bed rails. Teri Barton-Salinas, a labor and delivery nurse, realized this while working with babies.

Barton-Salinas came up with the idea for color-coded IV lines that could be quickly distinguished in an emergency and reduce IV medication errors. She brought it to her sister, and fellow nurse, Gail Barton-Hay. Together, they decided to bring the idea of ColorSafe IV lines to a patent attorney and received a patent in 2003.
2013 |

GoGown

When trash cans overflow with used gloves and isolation gowns, they can spread more infections than they prevent. To limit this spread of infection, nurse entrepreneur, Ginny Porowski, created her GoGown with a self-containing compact design.

Nurses can remove their gloves and gown and wrap them into a self-sealing and self-contained wrapper panel. The patented wrapper panel can be added to any size or style of isolation gown during manufacturing. Now, the GoGown is the standard in isolation gowns to prevent the spread of infection and reduce waste.

You do not have to be the next Florence Nightingale to create a healthcare innovation or find a solution for nurses. None of these nurses expected to be on the list of nurses championing new standards of care when they started. All you need is to observe a problem and use your nursing expertise to help you find the solution. By doing those two steps, these nurses created new standards of care for:
Newborn jaundice

Ostomy care

Infection control

Infant feeding

Pain assessment

Cardiac arrest
You might be interested in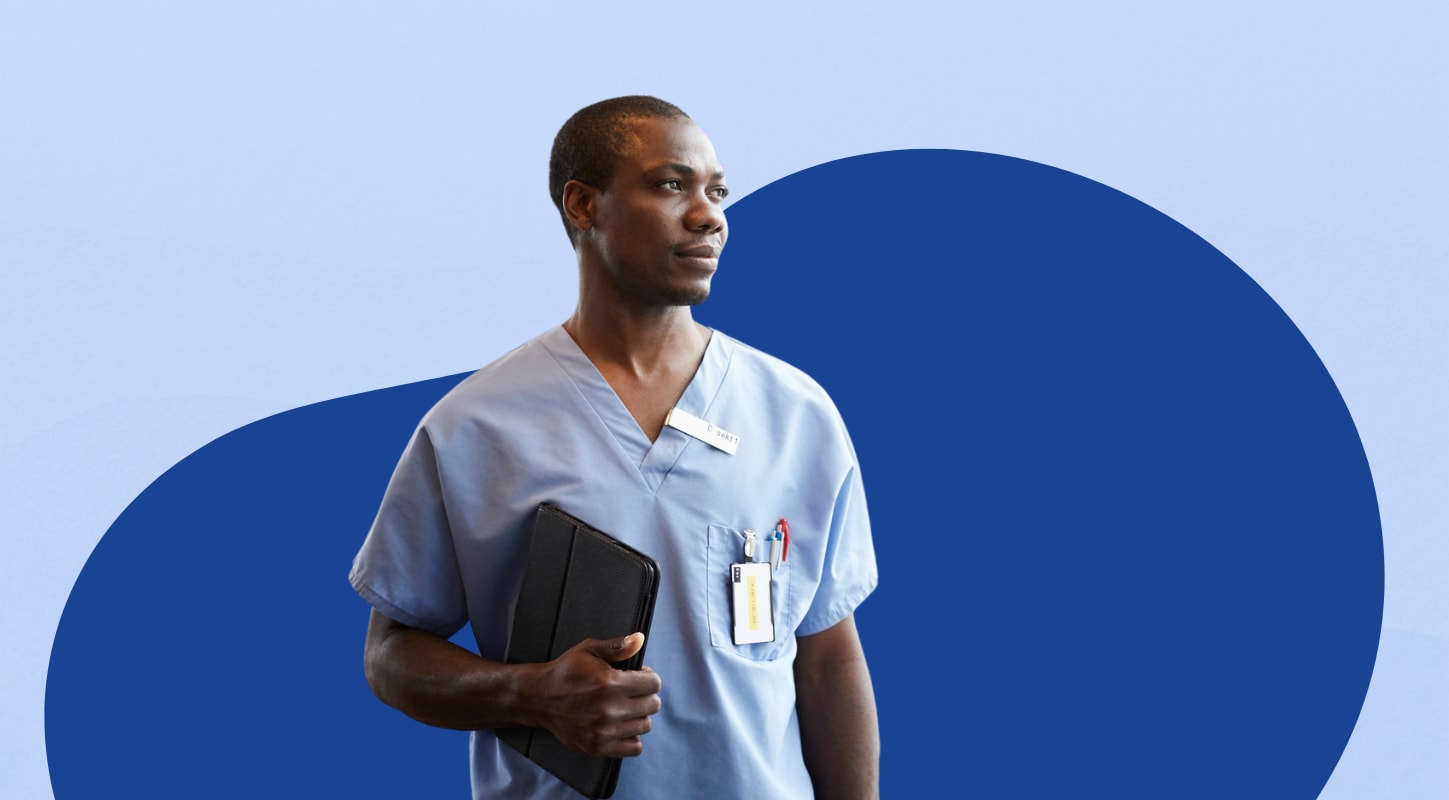 How Technology Has Changed the Role of Nursing
Learn how nurses use technology to enhance the level of care they deliver to patients and future technology trends in healthcare.
Meet Three Nursing Innovators Finding Ways to Combat the Nursing Shortage
Learn how individuals in healthcare are coming up with their own ways to combat the nursing shortage.
NurseJournal.org is an advertising-supported site. Featured or trusted partner programs and all school search, finder, or match results are for schools that compensate us. This compensation does not influence our school rankings, resource guides, or other editorially-independent information published on this site.
Are you ready to earn your online nursing degree?
Whether you're looking to get your pre-licensure degree or taking the next step in your career, the education you need could be more affordable than you think. Find the right nursing program for you.