Registered Nursing Salaries by State in 2022
Registered nurses (RNs) are dedicated professionals serving citizens across the lifespan. Beyond the satisfaction of doing such honorable work, nurses deserve to earn a salary equal to their knowledge, skill, and experience.
Keeping track of changes in national and local nurse salary data can help professionals make good career choices in terms of where to live and work. It may also provide insights to help you negotiate higher pay.
This article covers newly released data from the U.S. Bureau of Labor Statistics (BLS) as of March 2022. Read on to discover the latest nurse salary data and which states pay nurses the most.
What Is the Average Nursing Salary in 2022?
The average annual RN salary is $82,750, or $39.78 an hour
In the last year, the average annual RN salaries increased by 3.4%
The median annual RN salary is $77,600
The average annual nurse practitioner (NP) salary is $118,040, or $56.75 an hour
In the last year, the average annual NP salary increased by 3.1%
The median annual NP salary is $120,680
Source: BLS, 2022
Registered Nursing Salaries by State
The interactive map below displays average annual RN salaries, according to the BLS. As you can see, RN salaries vary by state. You can also expect nurse salary differences between various metropolitan areas and facilities in the same city or neighborhood.
Using the map, hover over any state for more detailed information, including median annual salary and cost-of-living index score.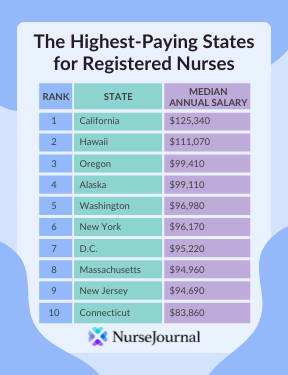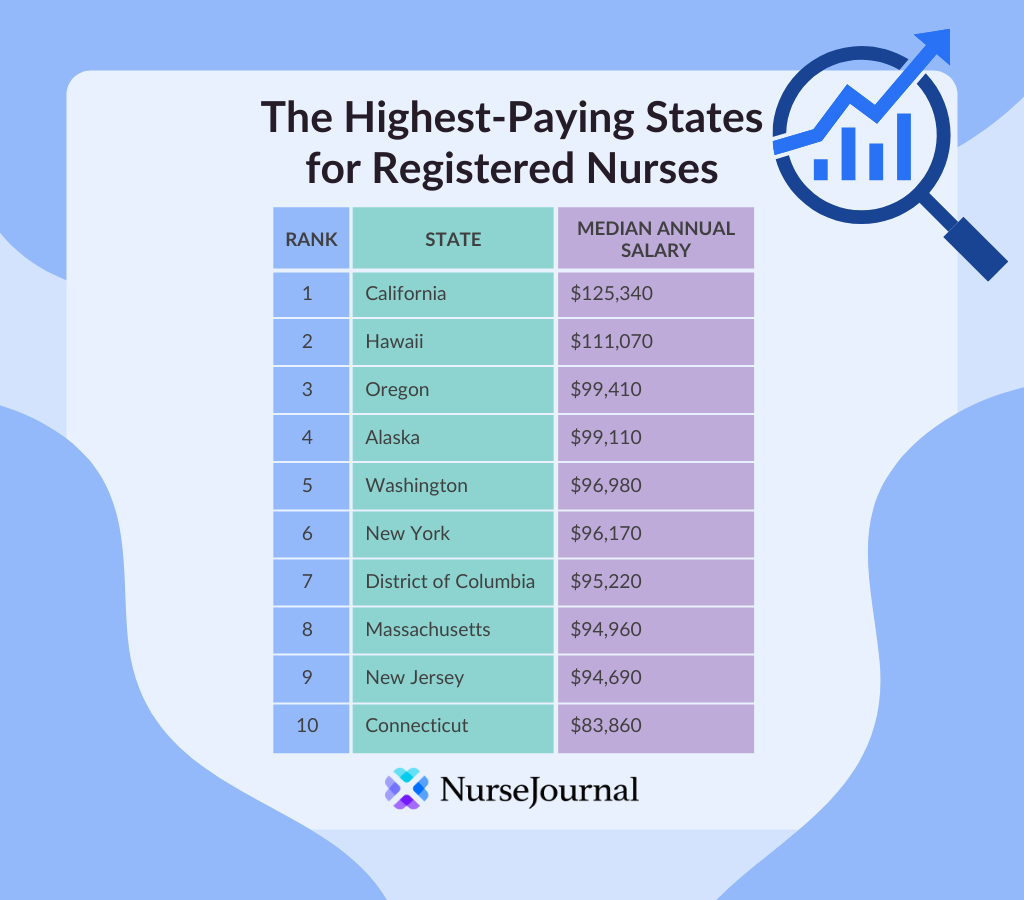 Source: Bureau of Labor Statistics, March 31st, 2022
The Highest-Paying States for RNs
California ($125,340)
Hawaii ($111,070)
Oregon ($99,410)
Alaska ($99,910)
Washington ($96,980)
The Lowest-Paying States for RNs
South Dakota ($60,540)
Alabama ($61,920)
Mississippi ($63,130)
Iowa ($64,990)
Arkansas ($65,810)
Nurses who have previously monitored salary information by state will recognize some familiar names among this list. Nine out of ten of this year's top-paying states made last year's list as well. New to the list of top-paying states in 2022 is Connecticut, which rose two spots from the previous year.
You might notice that there is a stark contrast between the median annual RN salary in California ($125,3400) compared to Alabama ($60,510). That said, California's cost-of-living index score is 110.4, compared to Alabama's 89.3. The cost-of-living index measures the amount you need to spend to reach a certain standard of living, where 100 equals the national average.
It should be noted that registered nursing salaries can vary significantly by education and experience. For example, according to the BLS, the bottom 10% of registered nurses report a median annual salary of $59,450. The top 10% of registered nurses earn a median annual salary of $120,250.
The Highest-Paying States Adjusted for Cost of Living
When we adjust for cost of living, RN salaries by state and their relative earning power change. In the BLS data, salaries in the top 10 states were adjusted for cost of living according to the cost-of-living index, or regional price parity (RPP), by state from the Bureau of Economic Analysis (BEA).
RPP demonstrates how far your dollars go in each state. Even after adjusting for cost of living, the top 10 states remain relatively the same, with two significant changes: New Mexico ranks within the top 10, and Connecticut falls to 17th position after adjusting.
Top and Bottom States by Change in Nursing Salary
Awareness of significant increases or decreases in median annual RN salaries can help you choose the right location for your career. No economist can truly tell us where salaries might be heading, but trends are worth paying attention to.
States With the Largest Percentage Increase in Median Annual Salary
Utah: 11.6%
New Jersey: 11.4%
Florida: 11.1%
South Carolina: 10%
Ohio: 9.6%
States With the Largest Percentage Decrease in Median Annual Salary
Nevada: -9.8%
Nebraska: -5.9%
Oklahoma: -5.3%
Rhode Island: -5.0%
Indiana: -4.0%
The states with the largest increase in median annual salary for RNs were Utah, New Jersey, Florida, South Carolina, and Ohio. Demand may drive changes, as can increased employer competition due to regional nursing shortages. Changing demographics, such as an aging population caused by an influx of retired people moving from other states can also impact salary variants.
Decreasing nurse median annual salaries in Nevada, Nebraska, Oklahoma, Rhode Island, and Indiana could perhaps point to economic uncertainty in those states, as well as demographic changes that negatively impact the demand for skilled healthcare workers.
If you're a nurse considering relocation, explore the area's wages, cost of living, job opportunities, and economic projections into the future. Take into consideration the quality of schools if you have children, access to nature, air and water quality, the level of sprawl and growth, crime, and other statistics. After all, a higher salary will not improve your life if you don't like the overall environment and location.
Complete List of States by 2022 Registered Nursing Salary
If you're looking for more information on RN salaries in all 50 states and the District of Columbia, the following table is a helpful resource that includes adjustments for cost of living. Find your state, a state where you previously lived, or perhaps a state where you might wish to relocate, and compare the data to your personal economic reality, desired lifestyle, and what that state has to offer you and your family.
You might be interested in
NurseJournal.org is an advertising-supported site. Featured or trusted partner programs and all school search, finder, or match results are for schools that compensate us. This compensation does not influence our school rankings, resource guides, or other editorially-independent information published on this site.
Are you ready to earn your online nursing degree?
Whether you're looking to get your pre-licensure degree or taking the next step in your career, the education you need could be more affordable than you think. Find the right nursing program for you.