What the Dr. Lorna Breen Health Care Provider Protection Act Means for Nurses
Reviewed by
Our Integrity Network
NurseJournal.org is committed to delivering content that is objective and actionable. To that end, we have built a network of industry professionals across higher education to review our content and ensure we are providing the most helpful information to our readers.
Drawing on their firsthand industry expertise, our Integrity Network members serve as an additional step in our editing process, helping us confirm our content is accurate and up to date. These contributors:
Suggest changes to inaccurate or misleading information.
Provide specific, corrective feedback.
Identify critical information that writers may have missed.
Integrity Network members typically work full time in their industry profession and review content for NurseJournal.org as a side project. All Integrity Network members are paid members of the Red Ventures Education Integrity Network.
The Dr. Lorna Breen Health Care Provider Protection Act was signed into law in March 2022. Find out how it aims to improve mental health among healthcare professionals.
Disclaimer: If you or someone you know is considering suicide, please contact the National Suicide Prevention Lifeline: 1-800-273-TALK (8255), available 24 hours a day, seven days a week. All calls are confidential, and anyone can use this service. (For more information, see: https://suicidepreventionlifeline.org/.)
Based on findings from a study done between 2007 and 2018, nurses and physicians are at much greater risk for suicide than the general population. The study, which was concluded before the COVID-19 pandemic, correlated suicide rates to high-stress working conditions and stigma around mental health treatment.
As we await updated data for mental health conditions and suicide rates among healthcare workers in the aftermath of the pandemic, here's one thing we know: Change is on the way.
The Dr. Lorna Breen Health Care Provider Protection Act is in motion to save lives. Discover how the act aims to promote mental healthcare and prevent suicide among healthcare professionals.
What Is the Dr. Lorna Breen Health Care Provider Protection Act?
Dr. Lorna Breen was a daughter, sister, aunt, and an emergency physician at the height of the COVID-19 pandemic in New York. She died by suicide on April 26, 2020.
Breen was the director of an emergency department at New York-Presbyterian Allen Hospital during the initial surge of COVID-19. Between chaotic working conditions and lack of resources, it's apparent that she reached a point of exhaustion from which she couldn't return.
It wasn't until after her death that Dr. Breen's family discovered the stigma around mental health conditions and healthcare professionals. They discovered physician licensing boards require a history of mental health treatment as part of their credentialing process. These requirements often lead to stigma around mental health treatment, and self-care is often viewed as selfish.
The Dr. Lora Breen Health Care Provider Protection Act was created to normalize and prioritize mental healthcare for healthcare workers.
On March 18, 2022, President Biden signed the act into law. According to the act, the government must provide a framework and funding for programs that improve mental health among healthcare professionals.
Provisions of the Dr. Lora Breen Health Care Provider Protection Act include:
Education about suicide prevention, burnout, substance misuse, and mental health conditions

Peer support and behavioral health treatment

National education and public education campaigns about mental health awareness

National campaigns encouraging healthcare workers to get help
The act states that federal funding should be given to hospitals and healthcare associations to develop training and educational programs about mental health. The Department of Health and Human Services (HHS) must develop policy guidelines backed by research to inform these programs.
By 2024 HHS will be responsible for measuring the outcomes of these programs. This will include reporting rates of mental health conditions, substance use disorder, and death by suicide among healthcare professionals.
Provisions of the Act
The Dr. Lorna Breen Health Care Provider Protection Act provides certain requirements, including how and when each will be met.
2024

HHS must "identify and disseminate" evidence-based research to improve mental health and resiliency for healthcare professionals.

Education and awareness programs will be carried out to focus on reducing the stigma around mental health and encouraging healthcare providers to seek help.

Mental health education programs will be rolled out to teach healthcare professionals ways to improve mental health.
2025

HHS will review the programs' outcomes. They'll provide data measuring healthcare professionals' mental health after the training programs.
2026

The comptroller general will submit a Government Accountability Office report. This will show how effective the grant programs were at addressing mental health among healthcare professionals.
What Does the Dr. Lorna Breen Health Care Provider Protection Act Mean for Nurses?
If you're a nurse working in a healthcare facility, expect to receive mental health training in the next two years. According to the act, you should receive education about:
You should also expect to see public education about mental health for healthcare professionals. The act covers funding for public awareness campaigns to recognize and prevent mental health conditions and suicide among healthcare professionals.
What Responsibilities Are Placed on Healthcare Entities?
Healthcare employers are now mandated by law to develop and carry out training programs for suicide prevention and mental health awareness for staff. With federal funding available to support the initiative, nurses should expect to undergo mental health training at their facilities.
An overarching goal of the Dr. Lora Breen Health Care Provider Protection Act is to reduce the stigma around healthcare professionals and mental health. Nurses may see more conversations about suicide prevention and mental well-being at staff meetings and hospital forums.
Healthcare facilities may also choose to take a root-cause approach to improving nurses' mental health and well-being. They may consider enacting nurse-to-patient ratios to address staffing shortages in healthcare facilities and create safer work environments for nurses.
Healthcare facilities may also supply nurses with resources to safely deliver care, such as adequate personal protective equipment during an outbreak.
How to Ensure You're Taking Care of Your Mental Health
As a nurse, remember to check in with yourself to see how you're doing mentally, emotionally, and physically. The past two years have been exhausting, so ask yourself how you are feeling. How can you overcome the nurse burnout you're experiencing?
Here are some ways you can practice self-care for nurses and increase your mental well-being as the Dr. Lora Breen Health Care Provider Protection Act is carried out across healthcare facilities.
Take Care of Your Body
As a nurse, you're managing the physical and emotional strain from working in a high-stress environment. Taking care of your body is essential to promoting mental well-being. Find an exercise regimen that you enjoy and a diet regimen that works for you.
No matter how drained you feel on your days off, remember to go outside at least once a day to get some sunshine.
Speak to Someone
It may seem like your family and friends outside of work have moved on from the pandemic while you're left with its lasting impact. If this is the case, speaking to a therapist can help. You can engage in app-based therapy or use discounts from professional healthcare and nursing organizations listed below.
Having emotional support outside of work or therapy is important too, so reach out to family to let them know if you're struggling.
Be a Part of the Change
The founders of the Dr. Lorna Breen Heroes' Foundation are working to prevent other healthcare professionals from succumbing to suicide. As training programs begin to roll out, you can be a part of the change by being an active participant.
Engage in conversation with colleagues and be honest about how you're doing. This is the most effective way to reduce the stigma around mental health in medicine.
Mental Health Resources for Healthcare Providers
In addition to the Dr. Lorna Breen Heroes' Foundation, national organizations have developed programs to support healthcare professionals in response to the COVID-19 pandemic. Here are some mental health resources available to healthcare professionals.
You might be interested in
Utah Nurse Practitioners Granted Full-Practice Authority
Utah passes legislation that grants full-practice authority to nurse practitioners. Discover how this change impacts healthcare.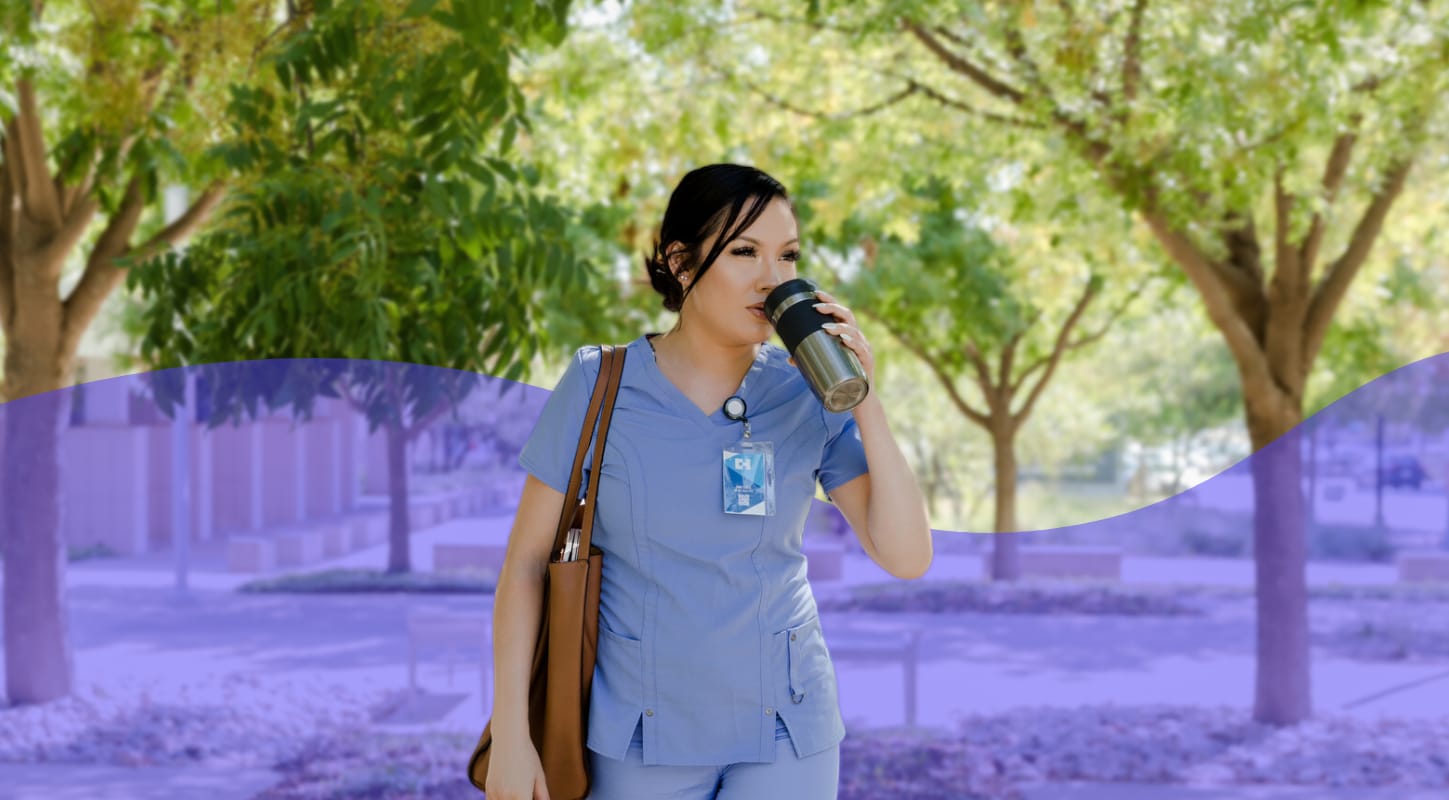 Top States for Travel Nurses (Summer)
Travel nurse assignments are adventurous and offer a competitive salary. Consider these nine best states for travel nurses in the summer.
NurseJournal.org is an advertising-supported site. Featured or trusted partner programs and all school search, finder, or match results are for schools that compensate us. This compensation does not influence our school rankings, resource guides, or other editorially-independent information published on this site.
Are you ready to earn your online nursing degree?
Whether you're looking to get your pre-licensure degree or taking the next step in your career, the education you need could be more affordable than you think. Find the right nursing program for you.