How Do I Become a Locum Tenens Nurse Practitioner?
Locum tenens nurse practitioners enjoy the flexibility of contracts within different specialties without having to be on staff. Learn more about what a locum tenens NP is, how to become one, and the pros and cons.
Locum tenens nurse practitioners fill in for colleagues who may be sick or temporarily absent.

Contracts or assignments may vary from a few days to a full year.

To become a locum tenens NP, you must be adaptable, comfortable with change, and able to learn new skills quickly.
Locum tenens NPs are on the rise. Latin for "to take the place of," locum tenens NPs fill in for colleagues who may be sick or absent for long periods, including for reasons like parental leave. Assignments range from a few days to a year. Third-party agencies typically manage the arrangements, matching client nurses with the facilities that need them.
"The recent rise in locum tenens assignments can be due to a shortage of healthcare providers, simplified credentialing processes, and the ease of licensing across multiple states, especially in compact states," said Chris McDermott, APRN.
McDermott completed locum tenens assignments early in his career and is a certified advanced practice registered nurse (APRN) in Florida. He believes that the growing demand for locum tenens NPs is driven by facilities catering to older patients and the need to maintain continuity of care during the absence of permanent staff.
Locum tenens provide a different kind of work option for the nurse practitioner and the institution.
NPs are attracted to locum tenens contracts for the freedom to enjoy different assignments and make their own schedules. Locum tenens NPs are also attracted to contracts for their higher wages. Locum tenens staffing agencies are a multibillion-dollar industry.
The difference in pay may vary depending on:
Specialty

Location

Urgency of need

Terms of agreement
"Some locum tenens providers can earn 30%-50% more than salaried counterparts on an hourly or daily basis, but this doesn't account for the benefits that salaried positions might offer," McDermott says.
Becoming a locum tenens isn't for the faint of heart. You have to be adaptable and a quick learner, or you may find it difficult to adjust.
Learn more about what is a locum tenens nurse practitioner, the pros and cons of becoming one, and all you need to know to decide if it's right for you.
Popular Online RN-to-BSN Programs
Learn about start dates, transferring credits, availability of financial aid, and more by contacting the universities below.
What is a locum tenens nurse practitioner?
Locum tenens nurse practitioners take the place of or fill in for nurse practitioners who are absent from their employment.
There are several reasons why a healthcare facility would need a locum tenens nurse practitioner, including:
To fill an empty position until it is filled.

To temporarily fill in for staff that left the facility.

To fill in for nurse practitioners who are absent because of extended illness, parental leave, travel, or another reason.

To help a busy practice.
Ebony Thyme, FNP-C, a locum tenens NP, was attracted to the lifestyle since she was in nursing school.
"We had a job fair, and the only table I was attracted to was the one that provided me with freedom, flexibility, and the ability to maximize my pay," Thyme says.
The practice of locum tenens was originally used for temporary staffing needs by physicians. But, with nurse practitioners filling the gap in healthcare due to the physician shortage, locum tenens nurse practitioners are in high demand and have plenty of positions to choose from.
"If someone is interested in doing contract work, they can search locum websites for job openings and apply," says Sara Hunt, a locum tenens nurse practitioner with VISTA Staffing Solutions, a third-party nurse contractor located in Cottonwood Heights, Utah.
"Typically, I usually see contracts ranging from 8 weeks to 6 months," Hunt says.
Once you find a contract that you like, the next step is to apply. A person from the staffing agency will help set up the next steps, such as interviews.
"If the interview is successful, then the staffing agency can assist with questions related to things like housing and travel," Hunt says.
The Difference Between Locum Tenens, 1099 Contractor and Travel Nursing
It's worth explaining the difference between locum tenens contracts, a 1099 contractor nurse practitioner, and travel nursing. Some may use the terms interchangeably, but they are quite different, and all three have pros and cons.
In addition to being a locum tenens nurse, Thyme now helps train locum tenens NPs. She is also the founder of The Locum Tenen Guide, a framework for NPs looking to transition into the locum tenens or independent contracting route through her guided framework.
According to Thyme, nurses interested in the locum tenens lifestyle should be aware of the following details:
Most assignments for locum tenens are for doctors, nurse practitioners, physician assistants, midwives and certified registered nurse anesthetists (CRNAs).

Locum tenens and travel nursing contracts use third-party agencies.

With locum contracts, most agencies cover housing and transportation and operate as a business structure. This means the healthcare professional can use their license to operate as a locum business.

With 1099 contracts, there is a direct relationship between the employee, and the hospital or facility. You get paid as a 1099 contractor, meaning you work for yourself.

"As a 1099 contractor NP, you are responsible for paying your own taxes, health insurance and retirement plans," Thyme says.

W2 locum agencies are responsible for your taxes. They typically also provide you with housing and transportation.

The way locums and travel nurses are taxed is different as well. While there are some W-2 locum contracts, most are 1099. With travel nursing, most are W-2 contracts.

Since most travel nursing contracts are W2s, it is difficult for travel nurses to utilize their licenses to operate as a business.

The way locum tenens contracts are structured is different from travel nursing. Most travel nursing contracts are 13 weeks. Locum contracts can be as short as one day, one week, five times a month, or 13 weeks.
Although becoming a locum tenens NP brings flexibility and a promise of work/life balance, it's best to gain some clinical experience before applying.
How do I become a locum tenens nurse practitioner?
Becoming a locum tenens nurse practitioner is pretty straightforward. But you need to take a few steps to find a contract that is right for you.
Here are five steps McDermott advises you to take before landing your first contract.
Become licensed in the state where you intend to take the locum tenens or travel nursing assignment. This can speed up the process of accepting your assignment.
Research and identify reputable locum tenens agencies in your specialty or desired practice area.
Once you have contacted the agency, interviewed, and are selected, you must complete any facility paperwork and undergo the credentialing process.
Research and understand the regulations and guidelines specific to your practice area.
Review the state's board of nursing requirements to protect your license.
Lastly, McDermott explains the agency will coordinate the logistics and details of each assignment, including travel arrangements, housing, and health benefits if required.
Is locum tenens NP for me?
There are many reasons why becoming a locum tenens NP may be right for you. However, experts agree it's not for everyone.
"It depends on individual preferences, career goals, and personal circumstances," McDermott says. You also have to be comfortable with change and learning new skills quickly since assignments can be as short as one day."
Still, many are attracted to the diversity in work opportunities. Locum tenens contracts allow the opportunity to learn new skills and sharpen professional skills. It can be exciting and rewarding. But some people can find the day-to-day jarring and very stressful.
Here are some pros and cons of becoming a locum tenens NP:
Pros
Freedom

You have the freedom to take assignments wherever. "If you like the winter wonderland, you can choose a place like New York City. If you want beachy weather, someplace like Hawaii or Cali will best suit you," Thyme says. Once a contract ends, you can vacation, rest, or take another assignment.

Flexibility

Hunt points out that you can do locum work and be a regular W2 employee at another company. "This is especially good for people who don't like to feel 'tied down' and who like to change things up a lot." It can also provide valuable flexibility for parents and those with other obligations or commitments outside of the primary workplace.

Perks

There are perks to becoming a locum tenens NP, including travel points, free car rentals, car rental lodging, and mileage reimbursement. Remember, you may also be able to negotiate higher pay.

Professional Growth and Networking

Moving to different locations often allows you to meet new people and network for other possible opportunities.
Cons
Lack of standard benefits

Some companies offer substantial benefits in addition to regular wages to their W2 employees, so a locum worker should consider the trade-off, Hunt says. Your wages may be high, but your benefits may differ from what you need and want.

Bookkeeping

Since your contracts change often, keeping track of your wages and tax forms can be complicated. So it's important to stay organized.

Uncertainty and inconsistent work

The unknown with different assignments can even make the most professional locum tenens a bit nervous. Some assignments can be great, while others can be challenging. However, the good part about the assignments is that you can cancel if it doesn't suit you, Thyme points out.

Frequent travel

The frequent relocations can disrupt personal relationships, family life, and social connections, McDermott says.

Brief Orientation

"The acclimation to the new facility is more of a cliff than a gradual slope," Hunt warns.
Advice For Nurses Looking To Become A Locum Tenens NP
Those curious about becoming locum tenens NPs should explore their options and be open-minded about potential assignments.
"Keep your options open, be flexible, and make sure you understand how to operate as a [locum tenens] or 1099 contractor before seeking positions," Thyme advises.
Hunt says that working in different places and specialties and with so many different people makes the job unpredictable but exciting. But remember to take care of yourself as a locum tenens.
"Work can be demanding both physically and emotionally," McDermott warns. Self-care is a must.
Lastly, to become a locum tenens, you have to be adaptable. Locum tenens work requires you to be flexible and learn quickly. You have to remember there is always a patient at the other end. Safety always comes first.
"If you prefer a stable routine or find it challenging to adapt quickly, there may be better choices than this," McDermott says.
Nurses should also be honest with themselves about what they really want to do.
"Do not take a locum job just because it pays well. There should be another reason. You'll burn out fast if you're not enjoying your work," Hunt says.
Meet Our Contributors
Sara Hunt, FNP, PHN
Sara Hunt is a doctorally-prepared family nurse practitioner (FNP), public health nurse (PHN), and medical writer from northern California. She was the spring 2015 Health Policy Fellow in Washington DC at the American Association of Nurse Practitioners, and served on the Health Policy and Practice Committee for the California Association for Nurse Practitioners (CANP) and American Nurses Association (ANA) Barriers to RN Scope of Practice Panel. Her passions include lifestyle medicine, wellness, and fitness. Out side of work, she loves doing pilates, barre, swimming and doing other outdoor activities with her husband and two young children.
Chris McDermott, APRN
Chris McDermott is a practicing clinician by day and a life care planner by night. He is a Certified Advanced Practice Registered Nurse with Autonomous Practice in Florida and holds a certification in Adult-Gerontology Primary Care as well as a Certified Life Care Planner.
Ebony Thyme, FNP-C
Ebony Thyme, FNP-C is a full time Locum Tenen Nurse Practitioner, full time remote NP, with a vast amount of experience in the locum industry. Over the last four years she has worked in various health care settings including, primary care, urgent care, employee health, occupational health and have specialized in HIV/infectious diseases & hormone replacement. She is the founder of The Locum Tenen Guide which is a framework for Nurse Practitioners looking to transition into the locum tenen/independent contracting route through her guided framework.
You might be interested in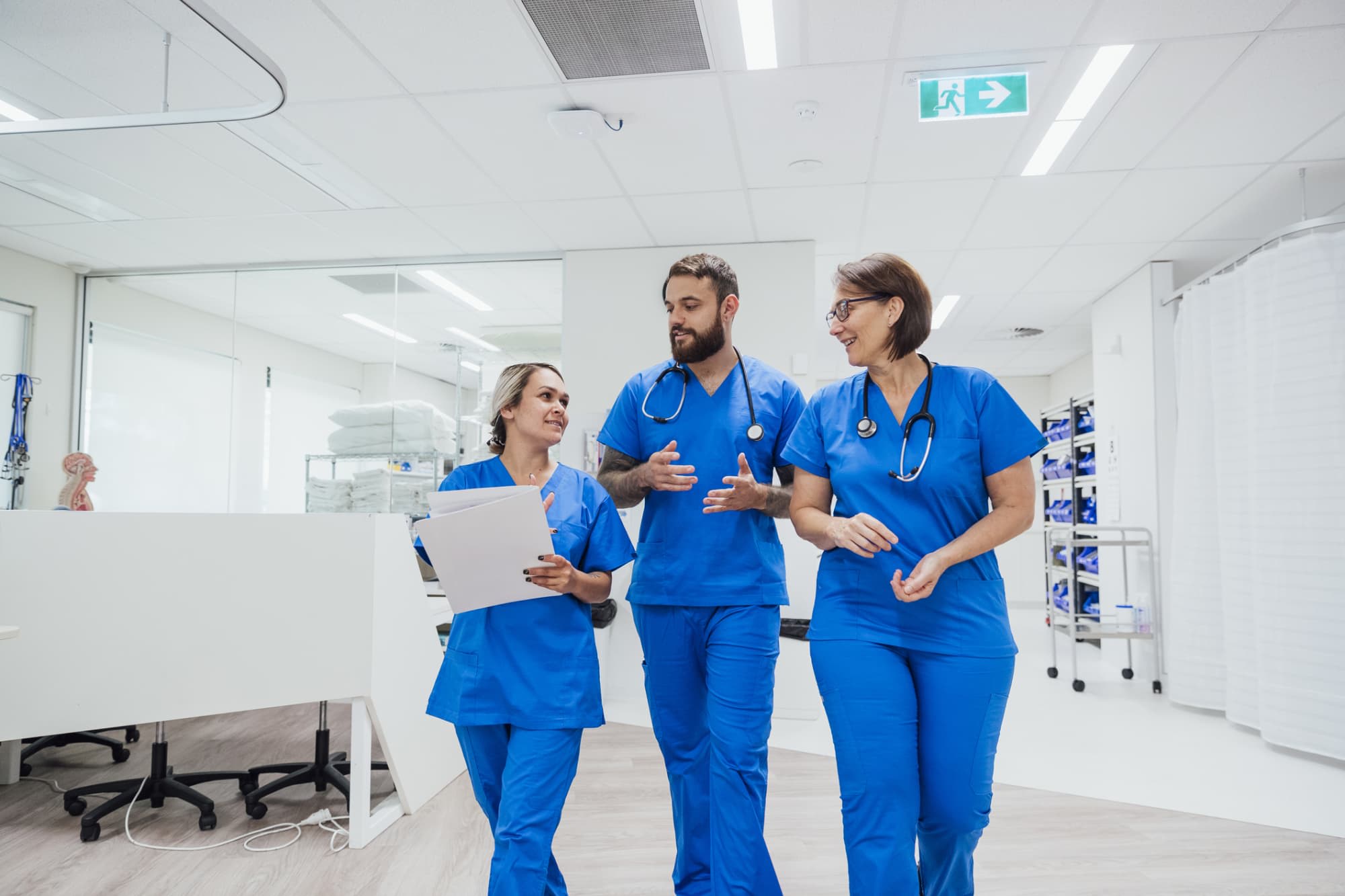 How Many Nursing Jobs Are There in the US?
Nursing is the largest healthcare profession. Discover the number of nursing jobs in the U.S. and learn how to become an RN.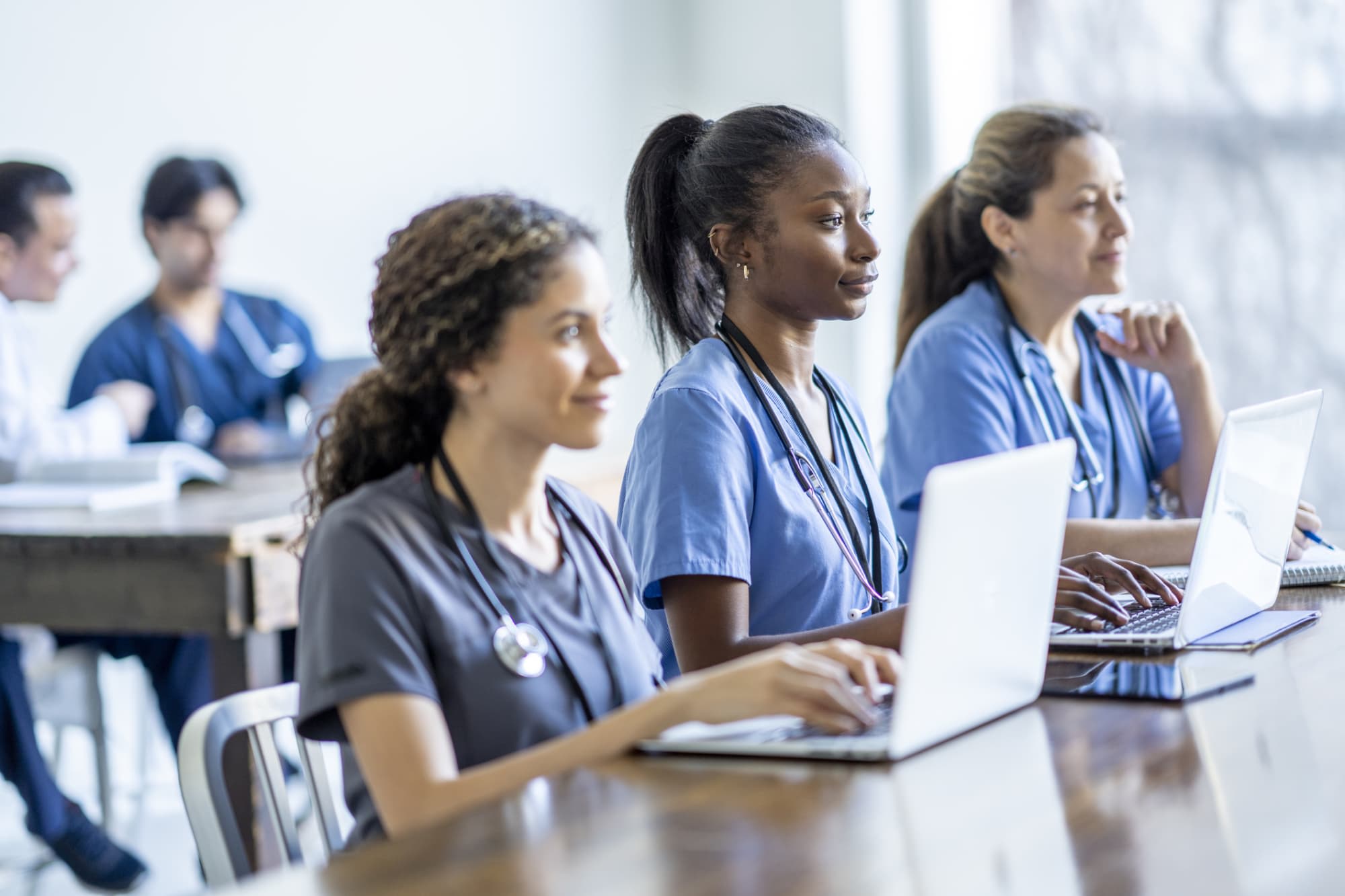 Free Nursing School: What You Should Know About the Nurse Corps Scholarship Program for 2024
Nursing students with limited financial options might consider the HRSA Nurse Corps Program for free nursing school and a two-year work commitment.
NurseJournal.org is an advertising-supported site. Featured or trusted partner programs and all school search, finder, or match results are for schools that compensate us. This compensation does not influence our school rankings, resource guides, or other editorially-independent information published on this site.
Are you ready to earn your online nursing degree?
Whether you're looking to get your pre-licensure degree or taking the next step in your career, the education you need could be more affordable than you think. Find the right nursing program for you.