Nurse Practitioners #1 Fastest-Growing Occupation in the U.S.
Discover why nurse practitioners have become the fastest-growing occupation in the U.S.
The U.S. Bureau of Labor Statistics (BLS) projects that nurse practitioners (NPs) will be the No. 1 fastest-growing occupation in the U.S. over the next decade.

Employment of NPs, nurse anesthetists, and nurse midwives is expected to grow 40% from 2021 to 2031, much faster than the average for all occupations.

An average of 30,200 openings for nurse anesthetists, nurse midwives, and nurse practitioners are projected to open each year over the decade.
---
Earlier this month, the BLS released new projections for the fastest-growing occupations between 2021 and 2031, putting NPs at the top of the list.
The projected growth rate of NP positions actually declined slightly this year from 52% to 46% — likely because of an overall decline in national employment projections. But even so, the role of NPs rose three rankings and represents the highest median salary among the other top 10 fastest-growing professions.
The BLS creates annual demand reports based on data provided by employers and projects demand based on the current labor force and employment openings by occupation.
Why Are NPs in Such High Demand?
As the baby boomer generation ages, hospitals and other care centers will need a significant number of new healthcare professionals filling many roles. This is a large reason why the healthcare sector is expected to grow faster than any other industry, adding about 2.6 million jobs over the 10-year period.
But NPs are in especially high demand for a number of reasons. One is the shortage of physicians. The U.S. will see a deficit of 37,800-124,000 physicians within 12 years, according to a 2021 report from the Association of American Medical Colleges.
In many states, advanced practice registered nurses (APRNs) like NPs can provide the same essential services as physicians, such as writing prescriptions. In other states, NPs are actively advocating for prescriptive authority, so more may join the list in coming years.
Healthcare centers are using team-based healthcare models more, which position NPs to provide patient care that doctors have traditionally provided. According to the BLS, APRNs will increasingly be employed in hospitals, physicians' offices, clinics, and other ambulatory care settings as primary care providers.
Research from the American Association of Nurse Practitioners shows that NPs provide primary care without any statistically significant differences in patient health outcomes. In some cases, NPs demonstrate better outcomes, resulting in fewer patient hospitalizations and higher satisfaction rates.
NPs make an average of $120,680 per year with the highest-employing states being Texas, California, New York, Florida, and Tennessee.
Sources
---
Economic news release. (2022). https://www.bls.gov/news.release/ecopro.toc.htm
Employment projections methods overview. (2022). https://www.bls.gov/emp/documentation/projections-methods.htm
Fastest growing occupations. (2022). https://www.bls.gov/ooh/fastest-growing.htm
Physician workforce projections. (2021). https://www.aamc.org/data-reports/workforce/data/complexities-physician-supply-and-demand-projections-2019-2034
U.S. Bureau of Labor Statistics, Occupational Outlook Handbook. (2022). Nurse anesthetists, nurse midwives, and nurse practitioners. https://www.bls.gov/ooh/healthcare/nurse-anesthetists-nurse-midwives-and-nurse-practitioners.htm
Quality of nurse practitioner practice. (2020). https://www.aanp.org/advocacy/advocacy-resource/position-statements/quality-of-nurse-practitioner-practice
You might be interested in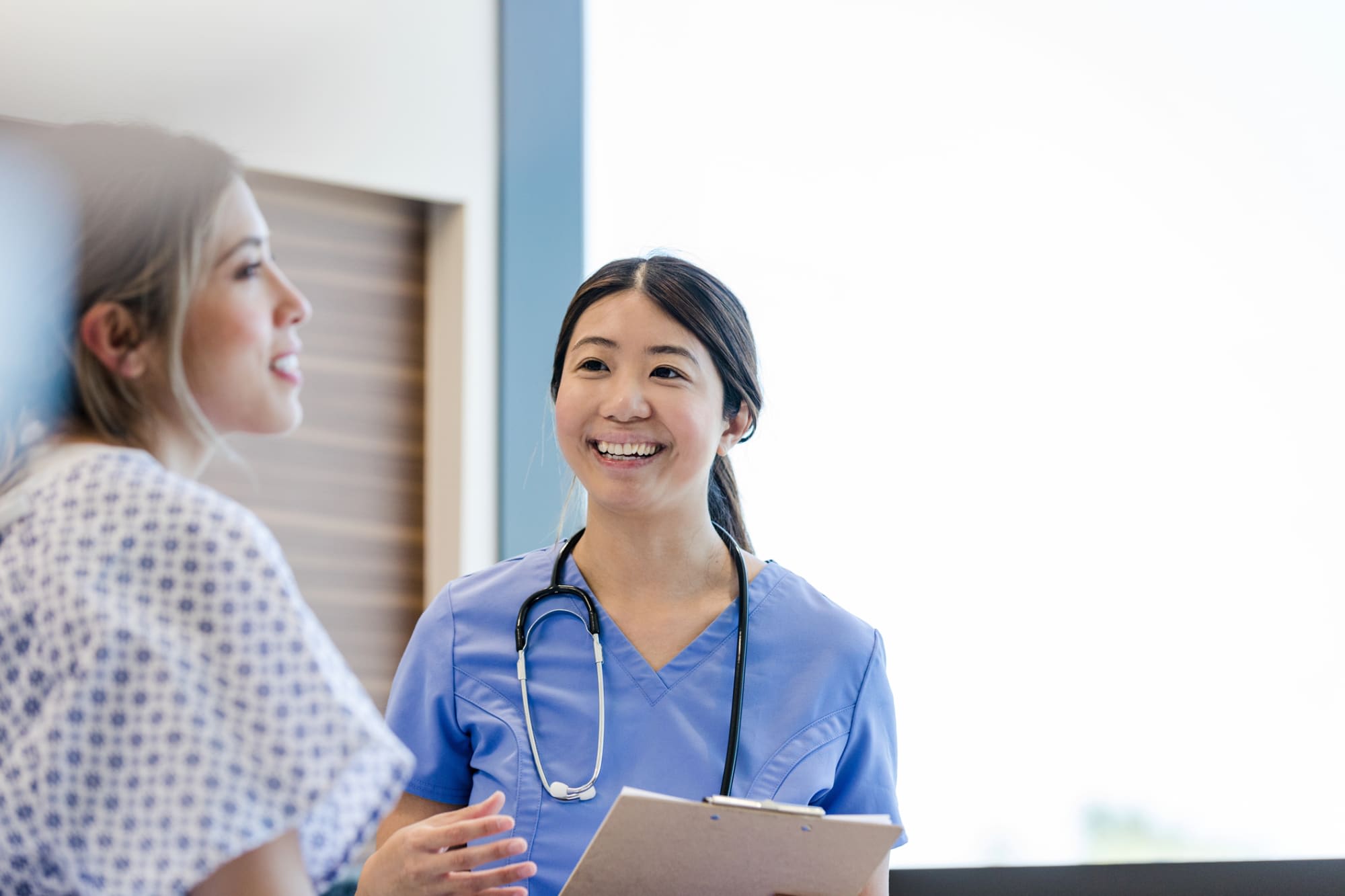 How Much Does a Nurse Practitioner Make?
This guide covers what you need to know about nurse practitioner salaries, including average NP salary and variations based on practice area, education, and geography.
Differences Between a Nurse Practitioner and a Doctor
Nurse practitioners and doctors might have similar responsibilities, but the requirements to enter each career can vary significantly. Learn about their differences in this guide.
Reviewed by
Our Integrity Network
NurseJournal.org is committed to delivering content that is objective and actionable. To that end, we have built a network of industry professionals across higher education to review our content and ensure we are providing the most helpful information to our readers.
Drawing on their firsthand industry expertise, our Integrity Network members serve as an additional step in our editing process, helping us confirm our content is accurate and up to date. These contributors:
Suggest changes to inaccurate or misleading information.
Provide specific, corrective feedback.
Identify critical information that writers may have missed.
Integrity Network members typically work full time in their industry profession and review content for NurseJournal.org as a side project. All Integrity Network members are paid members of the Red Ventures Education Integrity Network.
NurseJournal.org is an advertising-supported site. Featured or trusted partner programs and all school search, finder, or match results are for schools that compensate us. This compensation does not influence our school rankings, resource guides, or other editorially-independent information published on this site.
Are you ready to earn your online nursing degree?
Whether you're looking to get your pre-licensure degree or taking the next step in your career, the education you need could be more affordable than you think. Find the right nursing program for you.