7 Tips for Using Social Media as a Nursing Professional
Social media is a daily part of life. Yet, even seemingly harmless posts or images can lead to termination. Consider these social media guidelines.
It's important to know when and how to properly use social media as a nursing professional.

Nurses are obligated to protect patient privacy.

Following these social media guidelines for nurses can help prevent negative consequences for your patients and your career.
Social media has become a daily part of nearly everyone's life. The explosion of electronic communication has led to almost instantaneous information sharing. With this power comes great responsibility, which can impact your professional and personal life.
Review these important social media guidelines for nurses to help you protect and advance your career.
7 Important Tips for Nurses Using Social Media
When used appropriately, nurses may benefit from education or networking that leads to career advancement. However, some posts may tank your career, as a nurse in Florida found out after being fired for posting pictures of a baby with a congenital disability.
One nurse in New York was fired after reposting a doctor's picture of an empty trauma room. Another nurse was fired after posting a picture of an unarmed Black man who was shot by police and commenting that he "deserved it."
In each case, the nurses violated patient rights and the Health Insurance Portability and Accountability Act of 1996 (HIPAA) rules. And in each case, the nurse suffered long-lasting consequences that inevitably cost them their job.
When used correctly, social media is a powerful professional tool. But when you make the wrong decision, it can destroy your career.
Even some of the most seemingly harmless images or videos at work can violate corporate social media policies or a patient's right to privacy. In an age of rapid digital communication, nurses must continue providing competent care and protecting patients' rights.
Keep these tips in mind to help guide your use of social media platforms.
1. Protect Patient Privacy
HIPAA rules were enacted before social media existed. However, HIPAA privacy rules still apply. There is considerable potential for nurses and other healthcare providers to violate patient privacy on social media.
Any exposure on social media requires written consent from the patient. In 2015, ProPublica investigated social media violations by nurses and other healthcare workers. They uncovered 47 reported violations that resulted in disciplinary action or termination.
Several of these violations also resulted in criminal charges. The boundaries between personal and professional social media use can sometimes blur. Social media posts that violated patient rights and HIPAA rules in this investigation included:
Images and videos without a patient's written consent

Patient gossip

Information that could lead to patient identification

Photos or videos inside a healthcare facility where patients or health information are visible
Even when this information is shared on social media within a private group, it violates HIPAA rules. Nurses are in a special position of trust and should remember that posts can be misinterpreted.
Other unintended consequences of patient privacy violations include administrative penalties against the organization and civil liability. A nurse's professional code of ethics and confidentiality should be well ingrained in their practice.
Yet, since social media is relatively new, it may require nurses to think twice before posting images or text. It's especially true for nursing students who use social media who may not know HIPAA regulations as well as seasoned nurses.
2. Never Disclose Your Personal Information
In the same way that you should not disclose information about your patients, nurses should take care not to post their personal information.
While cell phones and cameras are a part of everyday life, and many people enjoy sharing photos and status updates, it doesn't take much for scammers to gather enough information to hack your accounts. For example, pictures from your yearbook give them the year you were born, the high school you attended, your age, and the town where you lived.
Hackers can infer this and other information, which are often security questions on your credit cards and bank accounts. They may also use the information to hack your social media accounts and spear phish your contacts.
Many people believe it couldn't happen to them until it does. Posting personal information may not feel like a big deal because others are doing it. Some social apps even encourage the behavior.
For example, posting where you're eating dinner or traveling lets people know you aren't home. Posting your relationship status may indicate you live alone. Complaining about your boss can cost you your job.
3. Know Your Employer's Social Media Use Policy
Your employer also likely has a policy about social media and nursing. Employers cannot legally prevent employees from posting complaints about their job or company policies.
However, the repercussions from such posts can lead to disciplinary actions or termination. You must know the specifics of your employer's social media policies. Unfortunately, while HIPAA provides for patient privacy, other social media rules are not as well defined.
4. Separate Your Online Personal and Professional Information
In an era where 40-60% of managers use social media to screen applicants, it pays to separate your personal and professional life online. In 2015, public relations experts recommended creating a line between personal and professional by posting personal content to your personal profile, and vice versa.
Yet, by 2022, this strategy is not as effective since searching social media has become more sophisticated, and your boss can likely find every personal rant you post. Separating your posts between Facebook and LinkedIn may work, as long as someone doesn't search all your social media accounts for incriminating information.
Another option is to use a professional Facebook page where anyone can follow your posts. Here you can network with other nursing professionals and post thought-provoking ideas, while keeping your personal Facebook profile open only to friends and family.
Any way you engage on social media, you must protect your (and your patient's) privacy.
5. If You Post It, It's Permanent
Another factor to remember is that everything you post, even after you delete it, is permanent. The information remains on the social media platform's servers. This means an attorney with a subpoena can retrieve anything you have ever posted.
Suppose you are involved in a medical malpractice lawsuit or personal injury lawsuit. Or law enforcement believes you may have engaged in illegal activity. In that case, all your social media posts can be retrieved.
6. Misuse Has an Effect on Team-Based Care
The National Council of State Boards of Nursing also warns that misuse of social
media can harm team-based care. Negative or abusive online comments about coworkers can be classified as cyberbullying.
This is a viable concern for your current and future employers seeking nurses who can integrate well into a team. It puts patient safety at risk and can harm a cohesive team.
The legal ramifications of the First Amendment right to free speech and an employer's expectations have yet to be fully defined. Bullying behavior in nurses is not unusual in healthcare, and the fallout can be significant.
Bullying leads to high absenteeism, staff turnover, and low staff morale. The long-term consequences include the potential that nursing loses credibility with patients as bullying behavior erodes patient confidence.
7. Participate in Organizational Social Media Policy Development
The best way to know and understand your organization's social media and nursing policies is to participate in their creation and management. The nursing profession is inherently an advocacy role. Participating in policy development is one step toward advocating for your profession and patients.
How to Use Social Media to Your Advantage
Following these social media guidelines for nurses can help prevent negative consequences for your patients and your career. But you don't have to steer clear of social media because there are ways to use it to your advantage.
Nurses can find help with professional development, support, and information. They can also stay up to date with current treatment options. For example, nursing researchers often publish current data on social media even before it's published in journals.
Staying current on trends and issues on social media also gives nurses a platform to discuss and collaborate. Nurses can follow social media accounts that offer various professional development resources.
Specialty groups offer a wealth of information for nurses. Nursing blogs allow nurses to join a community of like-minded individuals and connect with others. Nursing communities advocate for health equity and offer readers a chance to participate in organized advocacy.
For more nursing-related content and resources, consider following our social media accounts:
You might be interested in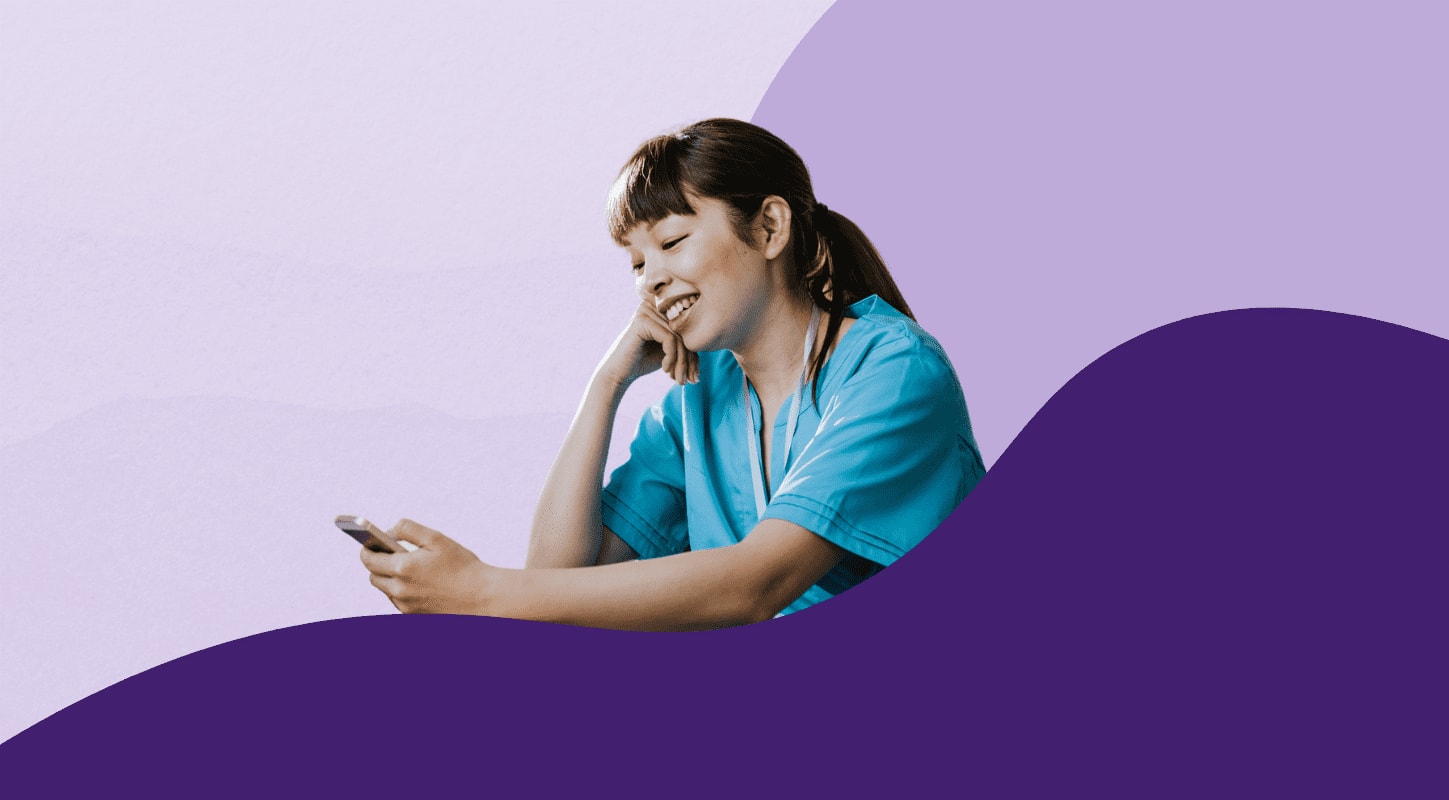 10 Influential AAPI Nurses to Follow on Social Media
Find out which Asian American and Pacific Islander nurses are paving the way for cultural awareness in nursing on social media.
Nursing Disciplinary Action Explained
How does nursing disciplinary action work? What are the types of disciplinary actions? This guide answers your questions about complaints against nurses and how they…
Reviewed by
Our Integrity Network
NurseJournal.org is committed to delivering content that is objective and actionable. To that end, we have built a network of industry professionals across higher education to review our content and ensure we are providing the most helpful information to our readers.
Drawing on their firsthand industry expertise, our Integrity Network members serve as an additional step in our editing process, helping us confirm our content is accurate and up to date. These contributors:
Suggest changes to inaccurate or misleading information.
Provide specific, corrective feedback.
Identify critical information that writers may have missed.
Integrity Network members typically work full time in their industry profession and review content for NurseJournal.org as a side project. All Integrity Network members are paid members of the Red Ventures Education Integrity Network.
NurseJournal.org is an advertising-supported site. Featured or trusted partner programs and all school search, finder, or match results are for schools that compensate us. This compensation does not influence our school rankings, resource guides, or other editorially-independent information published on this site.
Are you ready to earn your online nursing degree?
Whether you're looking to get your pre-licensure degree or taking the next step in your career, the education you need could be more affordable than you think. Find the right nursing program for you.