Credit: RichLegg / Getty Images
In our Ask a Nurse series, experienced nurses provide an insider look at the nursing profession by answering your questions about nursing careers, degrees, and resources.
---
Question: I am a 16-year-old girl in 11th grade. Do you think it would be a good idea if I started going to college early so I can get my associate degree because I want to be a registered nurse (RN)?
This is a great question! It is more important than ever for high schoolers to have an education plan. In July 2020, Pew Research Center found that 52% of young adults were living with their parents.
The highest level before July 2020 was in the 1940s during the Great Depression when 48% of young adults lived with their parents. A faltering economy and an uncertain future are some of the driving forces behind a move back home.
You have a greater chance of successfully finding employment that pays your monthly bills or helps your family when you take steps to prepare for your career before you leave high school.
Should You Pursue an Associate or a Baccalaureate Degree?
To practice as an RN, entry-level registered nurses can graduate from either:
An associate degree in nursing (ADN) program, or

A bachelor of science in nursing (BSN) program
The program must be accredited to take the National Council Licensure Examination (NCLEX), which every state requires to get an RN license.
Nurses who graduate with a BSN typically enjoy greater responsibility and higher pay than candidates who graduate with an ADN. However, a BSN takes four years to complete and most ADN programs can be completed in two years.
Most employers prefer to hire nurses with a BSN degree. The American Association of Colleges of Nursing records a growing body of evidence that demonstrates a strong link between education level and patient outcomes.
However, it may not be possible for you to initially complete a four-year degree. If you start off with an ADN, pass the NCLEX, and earn your RN license, you can then attend one of the many RN-to-BSN or RN to master's in nursing program bridge programs while you are working. This means you can work while completing your education.
What Steps Can You Take to Pursue Your RN License in High School?
There are several ways high schoolers can prepare for a nursing career. The length of time it takes to complete an ADN program depends on the program. For some, you must complete prerequisite classes before entering the nursing program. Other schools include the prerequisite classes in the nursing program.
Here are seven steps you can take as a high schooler to get a head start on becoming a nurse.
1. Take AP Classes in High School
If your school offers advanced placement courses, try to get as many as possible to help with the prerequisite classes needed to enter the nursing program.
Your nursing career will rely heavily on science and math. To meet the college requirement for entrance into a nursing program, you'll need math and science classes.
2. Dual Enroll in a College
Consider taking college classes while you are in high school for dual credit. In some states, your high school will pay for the college classes! The course credit for these classes is used on your high school transcript to graduate and can replace prerequisites for your college program. If you choose to use dual-credit classes from college, check to ensure the credits will transfer to the ADN program you plan to attend.
Some community colleges offer dual programs with local high schools. This allows a student to graduate high school having completed many of the credits needed to graduate with an ADN. You will need to speak with the college counselor and your high school counselor to coordinate the classwork to accomplish your goal.
3. Volunteer at Local Hospitals or Medical Centers
Nursing programs love to see volunteer hours for high schoolers on their college application. Spend a couple of hours each week volunteering at a healthcare facility to learn more about your chosen profession and make sure it's a good fit.
Nursing internships for high school students may be available at your local hospital or medical center.
4. Seek Shadow Program Opportunities
If internships aren't available, look for job shadow programs that offer students the opportunity to observe a nurse or nurse practitioner for a full or half day.
5. Take a Basic Life Support and First Aid Program
You can register for a certificate program through the Red Cross. Students who complete this course receive certifications for basic life support and first aid, which are valid for two years. This also looks good on your college application.
6. Join HOSA-Future Health Professionals
Consider becoming a HOSA-Future Health Professionals member. Joining is a good opportunity for future nursing leaders to access professional and academic resources while still in high school. Additionally, the organization has scholarship opportunities that may help pay for your nursing program.
7. Set Yourself Apart
The shortage of registered nurses has also affected nursing programs, which often have openings for nurse educators and clinical preceptors. This shortage affects the number of applicants a school can admit. It is essential that your application is as attractive to the school as possible.
Research the program you hope to attend to learn what factors rank high in the admission process. It may be that the extra character reference or letter of recommendation from a community leader makes the difference between being admitted immediately or being put on the waiting list for a year.
Seek Out Support Through Mentorships
It can be challenging for high schoolers to start working toward their professional goals. Consider getting support from others who have gone before you. For example, as you are volunteering or doing an internship, look for a nurse who may be willing to be a mentor.
A mentor is a trusted advisor who offers you support to achieve your goals. A strong nursementor will support your journey and offer you advice on decisions that affect your professional development. As a HOSA-Future Health Professionals member, you have access to lists of internships available throughout the country, publications, and activities at the local level where you may find a strong mentor.
Nursing programs are interested in candidates with strong applications and a focus on completing their education. When you take steps in high school to meet the admission requirements, you increase the potential you'll be admitted into a program and have the opportunity to achieve your professional goals within your intended time limit.
Summary
High school students can improve their application by volunteering a couple of hours every week, completing dual-credit courses and/or advanced placement classes, working a nursing internship, and taking a basic life support class.

Find a nurse mentor who is a trusted advisor to offer you support to achieve your goals.

High school students may also become a HOSA-Future Health Professionals member. This offers access to professional and academic resources, local activities, scholarship opportunities, and lists of internships available throughout the country.

Students can consider an associate nursing degree or a BSN from an accredited program to take the NCLEX which is necessary to get a registered nurse license.
In our Ask a Nurse series, experienced nurses provide an insider look at the nursing profession by answering your questions about nursing careers, degrees, and resources. Read more or ask your own question.
You might be interested in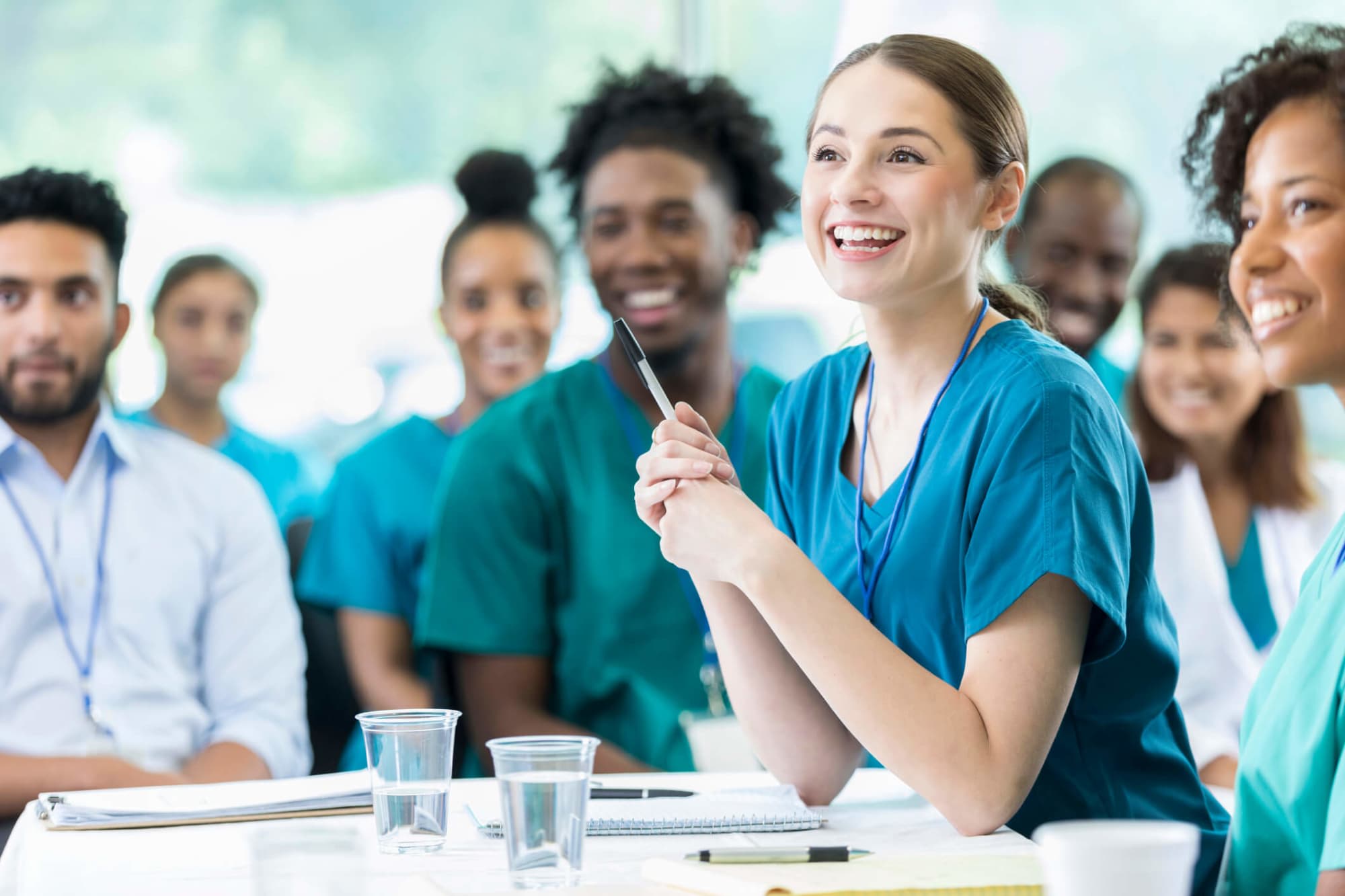 Types of Nursing Degrees and Levels
Learn about the types of nursing degrees available and how to launch your career in this field. Explore in-demand job opportunities and earning potential.
Reviewed by
Our Integrity Network
NurseJournal.org is committed to delivering content that is objective and actionable. To that end, we have built a network of industry professionals across higher education to review our content and ensure we are providing the most helpful information to our readers.
Drawing on their firsthand industry expertise, our Integrity Network members serve as an additional step in our editing process, helping us confirm our content is accurate and up to date. These contributors:
Suggest changes to inaccurate or misleading information.
Provide specific, corrective feedback.
Identify critical information that writers may have missed.
Integrity Network members typically work full time in their industry profession and review content for NurseJournal.org as a side project. All Integrity Network members are paid members of the Red Ventures Education Integrity Network.
NurseJournal.org is an advertising-supported site. Featured or trusted partner programs and all school search, finder, or match results are for schools that compensate us. This compensation does not influence our school rankings, resource guides, or other editorially-independent information published on this site.
Are you ready to earn your online nursing degree?
Whether you're looking to get your pre-licensure degree or taking the next step in your career, the education you need could be more affordable than you think. Find the right nursing program for you.