School Nurse Career Overview
| Kristen Hamlin
School nurses work in educational settings, providing care and treatment for any injuries and illnesses that might crop up during the school day. However, school nurses also provide guidance and program development related to health and wellness issues. This page provides a detailed overview of the role and covers responsibilities, education, training, job outlook, and earning information for this career.
School Nurse Career in Brief
BSN required
certification required
Many of us encountered the school nurse when we didn't feel well or needed ice for bumps and bruises on the playground. While providing first aid care is a key part of their duties, these highly trained healthcare professionals also coordinate with the school's healthcare team or health center to offer preventative care, health education, and counseling, among other services.
Typically employed by school systems, school nurses also work in private schools and college or university health centers. They might work for local boards of education, focusing on healthcare education. School nurse responsibilities include:
Primary Responsibilities
Providing direct care to students, including those with chronic conditions and disabilities that require care during the school day
Overseeing all health services within the school, including immunization and screening clinics
Developing health-related aspects of emergency response plans
Promoting a healthy school environment through program development, communication, information management, and reporting
Assisting with a holistic health curriculum
Contributing to health policies and programs within the school system
Serving as a liaison among the school and parent, doctors, case managers, teachers, and other stakeholders in child health
Supervising unlicensed members of the healthcare team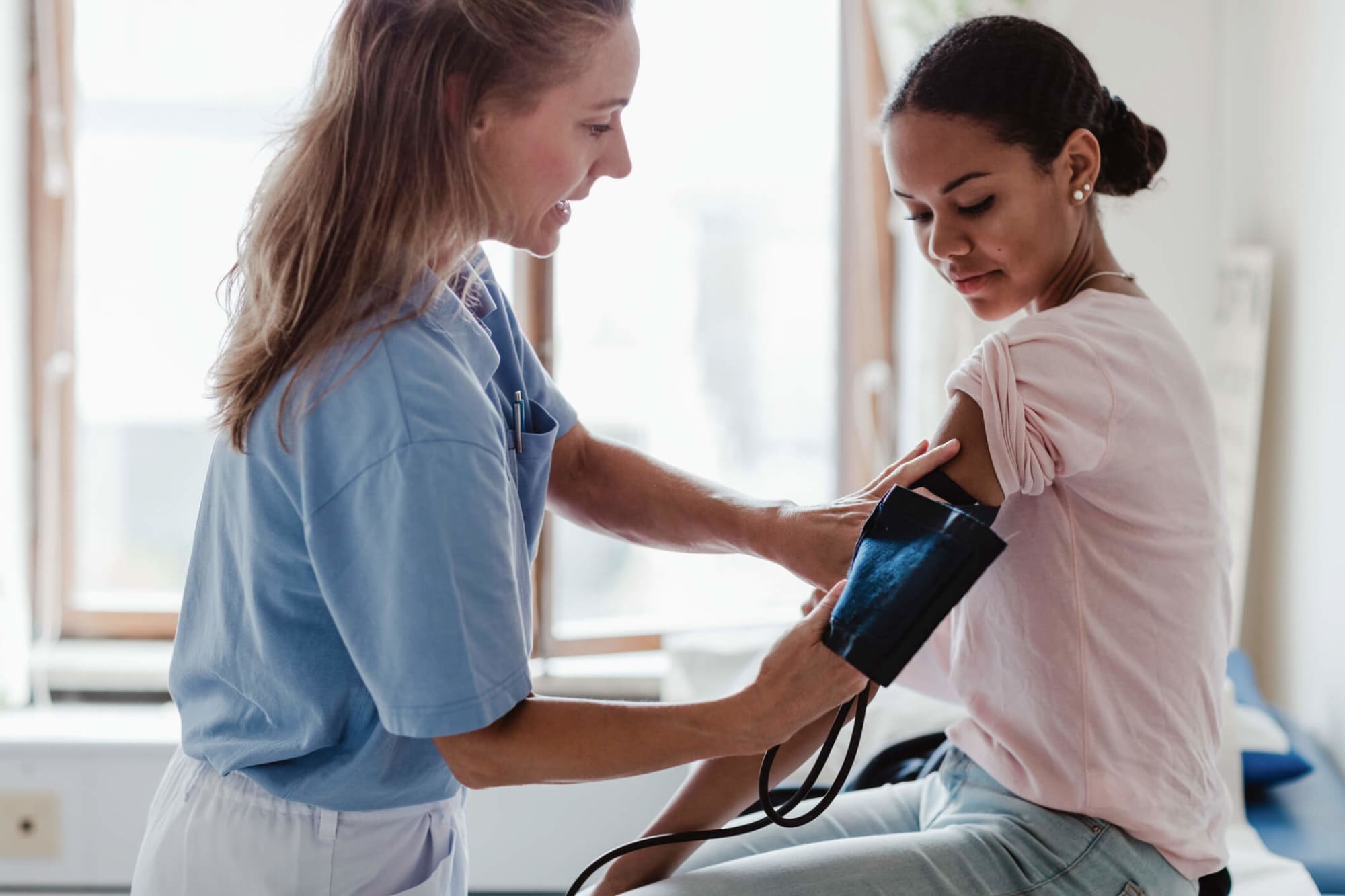 Featured Image: Maskot / Maskot / Getty Images
Where Do School Nurses Work?
The most common work setting for school nurses is an individual school. While many schools have at least one nurse on staff to manage healthcare on campus, the National Association of School Nurses reports a significant shortage of school nurses. Only about 40% of schools have a full-time RN on staff, 35% of schools employ a part-time nurse, and 25% do not have a nurse on staff.
School nurses may have different roles and responsibilities depending on where they work.
Public and Private Schools
---
School nurses typically provide first aid and acute care for children who become sick at school. They also provide the necessary healthcare resources to support student learning by developing programs, policies, and procedures to support overall health.
Colleges and Universities
---
Nurse roles in college and university health centers vary from providing first aid to full urgent care or acute/emergency care. They may also develop and implement public health initiatives, health promotion plans, and work to remove health barriers to student success.
Local Boards of Education
---
Nurses provide system-level leadership related to public health, such as vaccination management, healthcare delivery to underserved populations, infectious disease management, and increased access to health services.
Why Become a School Nurse?
Working as a school nurse is rewarding, but as with any healthcare career, there are pros and cons to the role. If you're thinking about going in this direction, consider some of these advantages and disadvantages.
Advantages to Becoming a School Nurse
---
Making a measurable difference in the lives of students and families
Being involved in multiple projects and initiatives to improve community health
Working hours that are consistent with the school calendar, allowing for holiday and summer breaks
Satisfying the increased demand for school nurses
Disadvantages to Becoming a School Nurse
---
Full-time work dependent on school budgets
Working and splitting time among multiple schools due to part-time status
Lower earning potential than other nursing specialties
How to Become a School Nurse
Although specific regulations and requirements vary by state, and in some cases, local school systems, the process of becoming a school nurse is consistent throughout the United States. At a minimum, a school nurse must be a licensed registered nurse (RN) and hold a bachelor of science in nursing (BSN).
Graduate with a BSN.
To become a school nurse, first complete a four-year BSN program and qualify for the National Council Licensure Exam for RNs (NCLEX-RN). Another option for licensed RNs is to complete an RN-to-BSN
bridge program,
which builds upon existing knowledge and skills.
Pass the NCLEX-RN to receive RN licensure.
To become a licensed RN, apply to your state licensing board for authorization to take the
NCLEX-RN
. When approved,
take the exam
to earn your license and practice as an RN.
Complete required nursing experience.
Depending on state and local regulations, you may need additional clinical experience or national certification before becoming a school nurse. To become a nationally certified school nurse, you need at least 1,000 hours of professional clinical experience.
Pass the National Certification Examination for School Nurses.
If you qualify to apply
for certification
based on your licensure and experience, the finalstep is to pass the nationally administered exam.
How Much Do School Nurses Make?
On average, school nurses earn $48,330 per year, according to PayScale. The U.S. Bureau of Labor Statistics projects a 7% employment growth rate for RNs between 2019-2029, which is faster than the average for other occupations.
Find State-Specific Salary Data Here
Frequently Asked Questions
---
How long does it take to become a school nurse?
School nurses are typically required to have a BSN, which traditionally takes four years to earn. However, there are different paths to earning the appropriate degree. An RN with an associate degree in nursing can complete an RN-to-BSN program in two years or an RN-to-MSN program in three years.
What does it mean to be a nationally certified school nurse (NCSN)?
An NCSN is an RN who has demonstrated experience, education, and professionalism and meets the professional standards for school nursing. An NCSN has at least a BSN from an accredited nursing education program,1,000 hours of clinical practical experience, and a passing score on the rigorous exam administered by the National Board for Certification of School Nurses.
Who do school nurses work with?
School nurses work directly with students of all ages. They also work with parents, guardians, and caregivers, as well as healthcare providers, therapists, and educational leaders. School nurses frequently collaborate with teachers to help develop individualized education plans for students who require special education or are living with chronic health conditions.
Is school nursing a good job?
As with any nursing role, school nurses have their challenges, and they earn less than other specialists. If you want to work with children or young adults outside of a hospital or medical office setting, it may be a good fit. The working hours are typically predictable, usually aligning with the school year calendar and guaranteeing holiday and summer breaks.
Resources for School Nurses
National Association of School Nurses

With 17,000 members and 50 affiliate organizations nationwide, NASN is a leading advocacy, education, and credentialing organization for school nurses. NASN oversees national certification for school nurses and publishes several journals. Membership is open to all school nurses, regardless of their license type.

National Association of State School Nurse Consultants

NASSNC members are registered nurses who work with state departments of education or health and serve as consultants on issues related to school health services. They are committed to improving the overall health of students through developing guidelines for school health programs, conducting research, and sharing information about the practice of school nursing.

National Association of School Nurses for the Deaf

NASND is the professional organization for licensed school nurses who work in schools for the deaf or in schools with programs specifically for deaf students. A smaller organization, they are committed to providing education, training, and advocacy for nurses working with students who live with hearing impairments.
Related Pages
Reviewed by:
Brandy Gleason is a nursing professional with nearly twenty years of varied nursing experience. Gleason currently teaches as an assistant professor of nursing within a prelicensure nursing program and coaches graduate students. Her passion and area of research centers around coaching nurses and nursing students to build resilience and avoid burnout.
Gleason is a paid member of our Healthcare Review Partner Network. Learn more about our review partners.
Featured Image: Cavan Images / Cavan / Getty Images
NurseJournal.org is an advertising-supported site. Featured or trusted partner programs and all school search, finder, or match results are for schools that compensate us. This compensation does not influence our school rankings, resource guides, or other editorially-independent information published on this site.
Are you ready to earn your online nursing degree?
Whether you're looking to get your pre-licensure degree or taking the next step in your career, the education you need could be more affordable than you think. Find the right nursing program for you.
Popular Resources
Resources and articles written by professionals and other Nurses like you.