Emergency Room (ER) Nurse Career Overview
Reviewed by
Our Integrity Network
NurseJournal.org is committed to delivering content that is objective and actionable. To that end, we have built a network of industry professionals across higher education to review our content and ensure we are providing the most helpful information to our readers.
Drawing on their firsthand industry expertise, our Integrity Network members serve as an additional step in our editing process, helping us confirm our content is accurate and up to date. These contributors:
Suggest changes to inaccurate or misleading information.
Provide specific, corrective feedback.
Identify critical information that writers may have missed.
Integrity Network members typically work full time in their industry profession and review content for NurseJournal.org as a side project. All Integrity Network members are paid members of the Red Ventures Education Integrity Network.
Learn about how to become an ER nurse, what ER nurse jobs are like, and ER nurse salary prospects.
NurseJournal.org is an advertising-supported site. Featured or trusted partner programs and all school search, finder, or match results are for schools that compensate us. This compensation does not influence our school rankings, resource guides, or other editorially-independent information published on this site.
Are you ready to earn your online nursing degree?
Credit: monkeybusinessimages / iStock / Getty Images Plus / Getty Images
Emergency Room Nurse
What Does an ER Nurse Do?
certification not required
What is an ER nurse? ER nurses treat people with serious illnesses and injuries when they arrive at the hospital. Many specialize in trauma, cardiac, pediatric, or geriatric emergency medicine. Nurse practitioners or physicians provide medical care and write orders for the ER nurses, who are tasked with supervising nursing assistants.
Key ER nurse responsibilities include the following:
Primary Responsibilities
Performing triage
Administering nursing or medical treatments
Monitoring vital signs and responding to changes
Documenting treatments
Recording care plans
Communicating with patients and families
Skills Learned
Quick thinking
Steadiness under pressure
Empathy
Adaptability
Stamina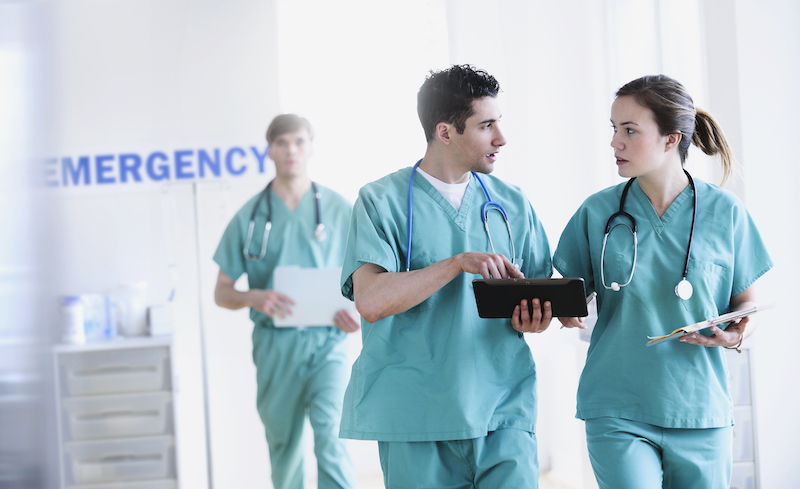 Credit: JGI/Tom Grill / Getty Images
Featured Online MSN Programs
Where Do ER Nurses Work?
ER nurses work in a variety of settings, each of which comes with different responsibilities.
Critical Access Hospital

ER nurses in critical access hospitals help stabilize patients for transfer and treat serious injuries. They often have fewer resources for treating patients.

Urban Hospital

Urban hospital ER nurses often respond to a variety of illnesses and injuries and sometimes assist in violence prevention.

Academic Medical Center/Teaching Hospital

In academic centers, ER nurses are most likely to boast specialties, use advanced equipment, and apply experimental treatments.
Why Become an ER Nurse?
ER nursing jobs can be tremendously gratifying, but they can also be physically and emotionally draining. Sometimes ER nurses experience trauma and even develop PTSD from incidents with multiple casualties, such as disease outbreaks, natural disasters, mass shootings, or terrorist attacks. Like most nurses, however, ER nurses enjoy salaries above the U.S. average for all occupations.
Advantages to Becoming an ER Nurse
---
Save lives and promote quality of life

Gain trust and respect in community

Opportunities for professional advancement

Above-average compensation
Disadvantages to Becoming an ER Nurse
---
Requires deep physical and emotional stamina for long periods

Emotional strain of witnessing trauma and losing patients

Families may unfairly blame hospital staff, including ER nurses, for bad outcomes
How To Become an ER Nurse
Graduate with a bachelor of science in nursing (BSN) or associate degree in nursing (ADN).
A four-year
BSN degree
will be required for more advanced nursing jobs such as nurse practitioner, but an
ADN degree
requires only two years of study.
Pass the NCLEX-RN exam to receive RN licensure.
The National Council Licensure Examination for Registered Nurses (NCLEX-RN) is the national exam to obtain RN licensure. The exam is computer adapted and can take up to six hours. The questions cover health conditions, treatment, nursing care, and ethics.
Gain experience in the emergency nurse specialty area.
Two years of experience is
recommended but not required
to sit for the certified emergency nurse (CEN) exam. Hospitals also provide on-the-job training and mentoring under experienced clinical staff.
Improve your job prospects by becoming a CEN.
While CEN credentials are not required for entry-level ER nurse jobs, certification offers an advantage in the initial hiring phase, along with career advancement.
Advance your career with a graduate degree.
ER nurses seeking greater responsibility, autonomy, or compensation may consider entering a master of science in nursing (MSN) or doctor of nursing practice (DNP) program and becoming certified emergency nurse practitioners.
How Much Do ER Nurses Make?
Demand is high for ER nurses. The Bureau of Labor Statistics projects a 7% job growth rate for RNs from 2019 to 2029, making ER nursing an attractive career. ER nurse salaries are well above the average national median salary of $51,920 and the national average salary of $34,250.
On average, nurse practitioners with ER skills earn $100,721 each year. The additional education and certification is a good investment for ER nurses seeking more compensation, responsibility, and autonomy.
Frequently Asked Questions About ER Nurses
---
How long does it take to become an ER nurse?
It takes two years to earn an ADN or four years to earn a BSN. Candidates must hold a BSN to secure some ER nurse jobs, especially at larger hospitals. A BSN is also necessary to pursue an advanced degree such as an MSN or DNP. In addition, many hospitals will require some nursing experience when hiring someone for the ER.
What specialties are available for emergency nurses?
The following includes common ER nurse specialties and special credentials:
Trauma ER nurse: treats severe trauma cases
Triage ER nurse: determines priorities based on urgency
Flight ER nurse: treats patients during emergency air transport (certified flight registered nurse credential required)
Pediatric ER nurse: treats children in the ER (certified pediatric emergency nurse credential required)
Transport ER nurse: cares for patients during transport from one facility to another (certified transport registered nurse credential required)
ER nurses treat patients when they arrive at the hospital and focus only on immediate treatment and stabilization. ICU nurses treat patients who are in critical condition, typically in special ICUs after initial emergency treatment.
What leadership roles are available for ER nurses?
ER nurses seeking advancement outside of administrative roles can become emergency nurse practitioners by earning an MSN and certification. On the administrative side, ER nurses can become charge nurses, who lead the entire nursing unit in an emergency department. These positions require considerable experience and may require a graduate degree.
Resources for ER Nurses
Emergency Nurses Association

ENA provides continuing education, professional publications, and recognition awards for ER nurses. Emergency RNs in the United States and their international equivalents can become full members. Others may join without voting privileges.

Board of Certification for Emergency Nursing

BCEN certifies five different emergency nurse specializations: certified emergency nurse, certified flight registered nurse, certified pediatric emergency nurse, certified transport registered nurse, and trauma certified registered nurse. The organization offers professional education and practice exams.

Society of Trauma Nurses

The STN mission is to assure that the most effective trauma care is available at a local to global level. The organization publishes research, offers mentor matching, and provides education information on improving trauma care. Licensed RNs can join as voting members and others as associate members.
---
---
Reviewed by:
Nicole Galan, RN, MSN
Nicole Galan is a registered nurse who earned a master's degree in nursing education from Capella University and currently works as a full-time freelance writer. Throughout her nursing career, Galan worked in a general medical/surgical care unit and then in infertility care. She has also worked for over 13 years as a freelance writer specializing in consumer health sites and educational materials for nursing students.
Galan is a paid member of our Healthcare Review Partner Network. Learn more about our review partners.
NurseJournal.org is an advertising-supported site. Featured or trusted partner programs and all school search, finder, or match results are for schools that compensate us. This compensation does not influence our school rankings, resource guides, or other editorially-independent information published on this site.
Are you ready to earn your online nursing degree?
Whether you're looking to get your pre-licensure degree or taking the next step in your career, the education you need could be more affordable than you think. Find the right nursing program for you.
Popular Resources
Resources and articles written by professionals and other nurses like you.