Nurse Case Manager Career Overview
Nurse case managers work with patients, providers, and sometimes insurers to create care plans for patients with serious or chronic conditions.
What Does a Nurse Case Manager Do?
ADN or BSN required
certification optional
Nurse case managers develop a plan for care in collaboration with all involved in the patient's well-being, including the patient themselves, clinicians, other providers, and insurers. Nurse case manager duties generally include:
Primary Responsibilities
Developing a care plan for the patient.
Considering the best value for the patient.
Coordinating the plan's execution with all relevant stakeholders.
Monitoring progress on the plan.
Communicating results and updates to all interested parties.
Skills Learned
Communication
Empathy
Collaboration
Resilience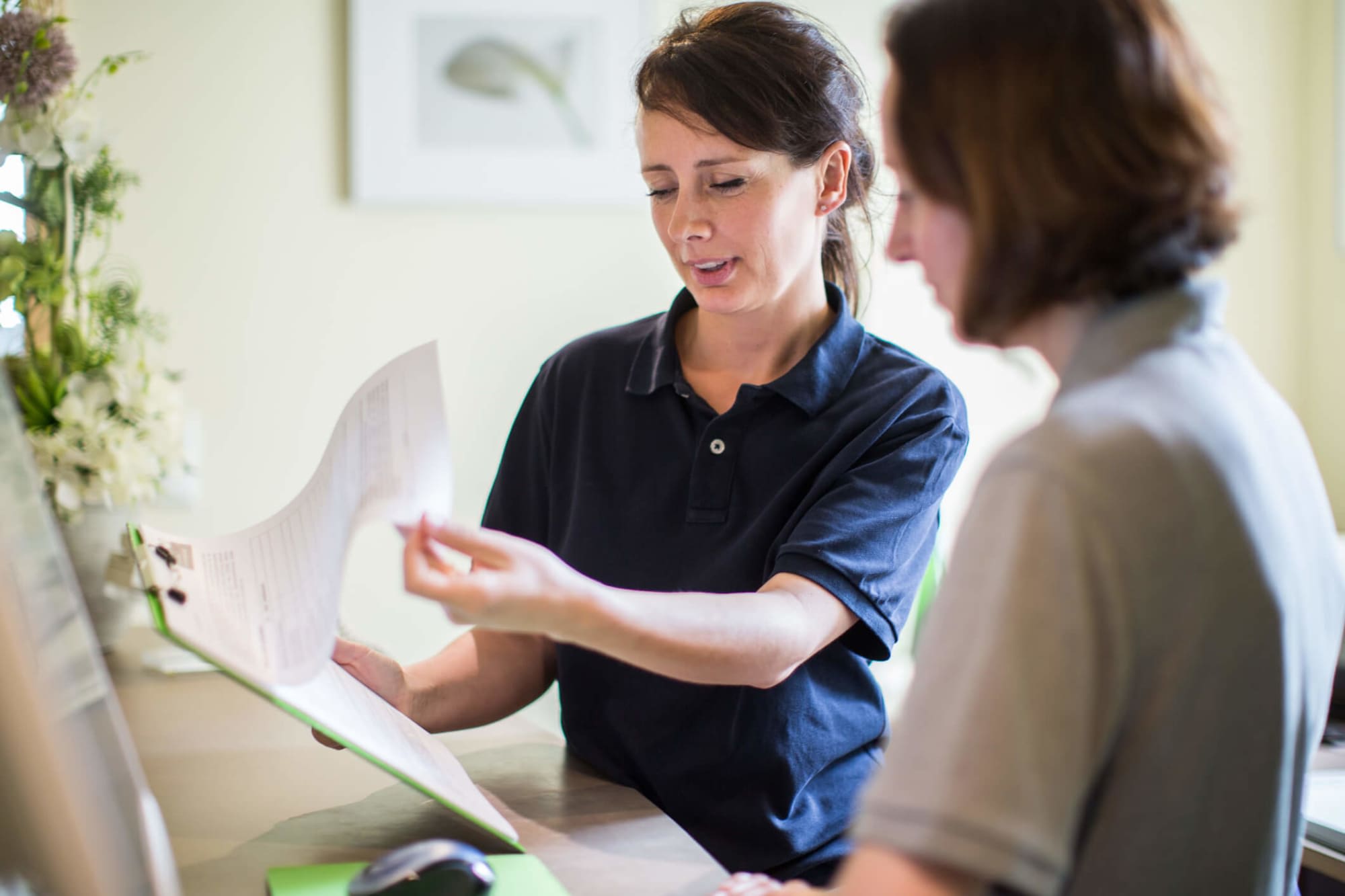 Luis Alvarez / DigitalVision / Getty Images
Where Do Nurse Case Managers Work?
Nurse case managers work in hospitals, residential care settings, including hospice and palliative care, and for other healthcare providers. They may also work for insurance companies and healthcare payers.
Nurse case managers might find work in these common settings:
Hospitals
---
Nurse case managers identify patients in need of case management, coordinate care with other clinicians, and create a discharge plan and arrange for follow-up care after the patient is released. Some managers also help determine cost efficient use of hospital resources, such as bed occupancy.
Residential Care
---
Nursing managers identify patient needs before or during the intake process, collaborate with the healthcare team, and monitor the patient's health and adjust plans as needed.
Insurance Providers
---
Nurse case managers review complex or ongoing cases, identify patients in need of care plans, and coordinate healthcare plans between providers and patients.
Why Become a Nurse Case Manager?
The nurse case manager role allows nurses to become more familiar with individual patients and their needs while providing holistic care. Nurse case managers must excel in collaboration and communication with other healthcare professionals and patients.
Advantages To Becoming a Nurse Case Manager
---
A deeper relationship with patients and more opportunities to see how they might affect patients' well-being
Less physically demanding than other nursing jobs
Work a regular schedule rather than 12-hour shifts
Salaries typically above the U.S. average
Disadvantages To Becoming a Nurse Case Manager
---
Longer involvement with emotionally difficult or frustrating cases
Developing relationships with terminal patients can be emotionally taxing
Often more paperwork and administration than other nursing roles
May need to negotiate conflicts among stakeholders
How To Become a Nurse Case Manager
Becoming a nurse case manager requires at least a registered nurse (RN) license. Switching to case management is more common later in the RN career. The managerial role requires experience with different disease processes in order to understand such components as surgical notes and recovery periods. While certification is not legally required, it is helpful for job placement and career advancement.
Earn a bachelor of science in nursing (BSN) or an associate degree in nursing (ADN).
Pass the NCLEX-RN to receive RN licensure.
The National Council Licensure Examination for RNs (NCLEX-RN) is a
national examination
that takes up to six hours to complete. It covers topics ranging from patient care to legal/ethical aspects of nursing.
Gain experience in nursing case management.
Nurses can begin case management in entry-level positions, working under experienced nurse case managers. For board certification, nurses need at least 2,000 hours of experience.
Consider becoming board certified in case management.
Certification is not a legal requirement for nurse case manager jobs, but certain jobs may demand it.
Nursing case management board certification
requires nursing experience as an RN, specifically in a nurse case manager role, and continuing education.
How Much Do Nurse Case Managers Make?
The median nurse case manager salary is $73,210, comparable to RN salaries in general. Total pay for nurse case managers, including base salary and bonuses, ranges from $57,000-$97,000, according to PayScale.
Nurse case manager job growth coincides with the 32% projected growth for all medical and health services managerial jobs between 2019 and 2029. However, as the U.S. population ages and becomes more likely to develop chronic health conditions, the demand for nurse case managers may increase faster than that baseline.
What Is the Difference Between a Nurse Case Manager and a Nurse Care Manager?
While both nurse case managers and nurse care managers work one-on-one with patients to plan care, case managers also consider resource allocation and the most cost-effective options for treatment.
Nurse Case Manager
---
Considers the most cost-effective outcomes for patients
Coordinates communication among clinical and nonclinical care providers and payers
May work for parties other than the care provider
Nurse Care Manager
---
Focuses almost entirely on clinical care
Coordinates communication among clinical and nonclinical care providers
Usually works for care providers
Frequently Asked Questions
---
How long does it take to become a nurse case manager?
Nurse case managers must hold RN licensure. It takes at least two years of education for the ADN degree or four years for the BSN. Certification requires experience as a nurse case manager.
What skills are important for nurse case managers?
Nurse case manager roles demand effective collaboration and communication skills. Nursing managers must be able to understand different perspectives and integrate them into a care plan that optimizes value to the patient.
What opportunities for advancement are available to nurse case managers?
Nurse case managers develop experience with clinical and nonclinical aspects of care, so they can have options for advancement on either side. For example, they may pursue additional education and certification to become nurse practitioners or explore opportunities in healthcare administration.
How do nurse case managers interact with patients and other healthcare professionals?
Nurse case managers work with patients and other healthcare professionals on developing and carrying out a care plan. They may provide education for the patient and their family, discuss treatment options with physicians and other clinicians, and coordinate nonclinical care with social workers, counselors, or other care providers.
Resources for Nurse Case Managers
Related Pages
Reviewed by:
Elizabeth Clarke (Poon) is a board-certified family nurse practitioner who provides primary and urgent care to pediatric populations. She earned a BSN and MSN from the University of Miami.
Clarke is a paid member of our Healthcare Review Partner Network. Learn more about our review partners.
Featured Image: SDI Productions / E+ / Getty Images
NurseJournal.org is an advertising-supported site. Featured or trusted partner programs and all school search, finder, or match results are for schools that compensate us. This compensation does not influence our school rankings, resource guides, or other editorially-independent information published on this site.
Are you ready to earn your online nursing degree?
Whether you're looking to get your pre-licensure degree or taking the next step in your career, the education you need could be more affordable than you think. Find the right nursing program for you.
Popular Resources
Resources and articles written by professionals and other nurses like you.