NurseJournal.org is an advertising-supported site. Featured or trusted partner programs and all school search, finder, or match results are for schools that compensate us. This compensation does not influence our school rankings, resource guides, or other editorially-independent information published on this site.
Are you ready to earn your online nursing degree?
Credit: Solskin / DigitalVision / Getty Images
What do you know about the transition from student to independent practitioner? Nurse practitioners (NPs) who have come before you call the first year a steep learning curve.
To get the most from your first year and improve your level of success, we talked with two nurse practitioners about what to expect in the first year out of school and what they wish they had been told to make the transition smoother.
On this page, our nurse contributors answer questions about the job search, what they miss most, and why patience is so important. Read on to benefit from two seasoned NPs' years of experience without the headache of learning it on your own.
What I Wish I Knew When I First Graduated
Stepping out of school and into the role of a nurse practitioner may deliver a significant real-world shock to your system. The following 17 tips from accomplished NPs can help reduce that shock for a successful year.
Set Up a Plan for Transitioning to Your NP Role
If you fail to plan, then you have planned to fail. The first step to transition into your role as a nurse practitioner is to pass your certification board examination. In your final semester, focus on:
What documentation is necessary to register for your examination
What is required in your state for licensure
How you'll be searching for an NP position
Gather the necessary books and study guides. Set up a study schedule for the certification exam. Stick with your schedule to improve your odds of success. Update your curriculum vitae and set up a professional social media profile, such as on LinkedIn to network with other nurses and your advanced practice organization.
Michele Pedulla, a part-time pediatric nurse practitioner, full-time professor, and the program director at Regis College, has been through this before.
"Having a timetable will help the new NP grad be successful in their transition from student to practitioner," Pedulla says.
Listen to Advice From Your Faculty and Alumni
Take the advice of those who have come before you. Take advantage of networking with your professors and alumni who have a wealth of information and advice for new graduates. They have traveled this path before you and know all the pitfalls. Take the time to connect with your professors and engage with alumni from your nursing program.
You may find that a mentorship in nursing naturally develops from these encounters. A mentor can offer you support during challenging times as you transition to your new role.
Keep Your Notes and Textbooks Handy
Keeping those heavy books you've been carrying around may have been the last thing on your mind. However, your textbooks and notes are excellent reference material as you study for your certification examination. Once you have passed and are practicing, you can determine how useful they might still be to your learning process.
Join Your Nurse Practitioner Specialty Organization as a Student to Avoid Fees
There are several excellent reasons to join your NP specialty organization. The best time to join is while you are still a student since you'll be charged a student rate the first year.
Membership gives you access to continuing education for nurses in your specialty, resources, and career assistance. However, what may be the most important resource from your professional nursing organizations is the networking opportunities you'll have across the country. When you have questions, need leads on a new job, or seek mentorship, you'll likely find it networking within your professional organization.
Getting Your First NP Job May Be Challenging
Leah Parker has been a nurse for over 20 years and currently practices as a travel family nurse practitioner. As an advanced practice nurse graduate, she wished she would've known how difficult it would be to land her first family nurse practitioner job.
"I thought my registered nurse (RN) experience and experience in clinicals for school would have made it a little easier to get a job than it actually was," Parker says.
It is important to have patience and keep applying for positions. The job outlook for NPs has grown significantly since Parker's job search. According to the U.S. Bureau of Labor Statistics, the job market for NPs is expected to grow faster than average, 45% by 2030.
Parker also advises to stay open to different experiences since finding your first job can be tricky if you don't have much experience.
"My first job was in an area I didn't expect to be in, which was psychiatry," Parker says. "That first office was willing to take a new graduate and train me, which I was very thankful for at the time."
Popular MSN Programs
Learn about start dates, transferring credits, availability of financial aid, and more by contacting the universities below.
Networking and Collaborating Is Invaluable to New NPs
As a new nurse practitioner, you learn how much you really don't know in your first year. Clinical decision-making may be riddled with doubt. Parker talks about the importance of collaborating with other healthcare practitioners during these moments.
"As a new grad and even as an experienced nurse practitioner, there's always going to be clinical situations in which you might need a second opinion," Parker says. "Having other nurse practitioners that you know that you can go to that you trust with their knowledge is invaluable."
Networking is another shortcut for new nurse practitioners in their first year. It can help build long-term relationships, broaden your knowledge, and be a pivotal strategy to your success. Parker emphasizes the importance of networking in her career, noting she's received jobs and clinical rotations based on her networking relationships.
Don't Be Afraid to Ask Questions
The basis of collaboration is the ability to ask your colleagues questions. It's always better to ask questions than to make a mistake. During school, it was important to use your books as resources. However, in a clinical setting, speed is often essential. You have patient appointments that are 15-30 minutes; you shouldn't spend half of that time looking things up.
As a younger, postgraduate NP, Parker spent much of her time looking up answers in books and journals rather than asking questions for fear of looking incompetent. If she could tell her younger self one thing, it would be to ask more questions.
"Over the years, I learned it's OK to ask questions," Parker says. "In fact, it's expected, as we don't know everything as healthcare providers."
Don't Be Afraid to Negotiate for a Fair Salary
As a new nurse practitioner, you have likely just walked out of the role of RN, where negotiating a salary wasn't an option. But as an NP, you have more control over negotiating salary, benefits, hours, and other compensation in your new role.
Many NPs are unprepared for this in their first role. Since many feel talking about money is taboo, many new nurse practitioners are ill-equipped for negotiation. But nurses offer several ways to negotiate a higher nursing salary with confidence.
You'll Probably Miss Bedside Nursing at First
Another aspect of an advanced practice role that surprises some new NPs is how much you may miss your role as a bedside nurse. As an RN, you spend 8-12 hours each day developing relationships with your patients. Parker says it was easy to feel like she was making a difference in a patient's life during that time.
However, the move to spending 15-30 minutes with a patient takes adjustment. It becomes necessary to relate to a patient quickly and learn the information required to make an accurate assessment and diagnosis. This is a learned skill that takes months, if not years, to perfect.
NP Orientation Is Much Less Rigorous Than RN Orientation
Another area of practice that surprises many nurse practitioners is the amount of time dedicated to orientation for a new nurse practitioner.
"As a nurse practitioner, it may be expected that there is very little orientation prior to seeing patients," Pedulla says.
As a new advanced practice registered nurse (APRN), you may spend several hours doing paperwork with human resources before seeing patients in the practice. This is much less preparation than a new RN, who may go through several days of classroom orientation and shadowing, before taking on a patient load with support from a mentor.
NPs Are Lifelong Learners
Nurse practitioners spend a rigorous two years in class and clinicals honing their skills and building on their knowledge gained as practicing RNs. However, on your first day as an APRN, you'll quickly learn that there is much more to learn.
"The last area of surprise was the amount of studying and learning that continues as a nurse practitioner, especially in the first year," Pedulla says. "Although one may think that the studying ends at graduation, it continues throughout your career."
APRNs are required to pass approved nursing continuing education contact hours to maintain their board certifications. This is one way professional associations demonstrate that lifelong learning is necessary in healthcare.
Be Patient Building Up Your Patient Load
As an RN, you walk into a full patient load on every shift. However, as a new nurse practitioner in an office or outpatient clinic, it can take some time to build the number of your own patients. Take advantage of the early slow days to help out colleagues, ask questions, and study. As your practice builds, there will be fewer and fewer slow days.
It's Important to Celebrate Your Accomplishments
Graduating from a nurse practitioner program is an accomplishment. As you will find in your new practice, celebrating your accomplishments, whether it's through buying yourself gifts for nurses or having a nice dinner, is an important step to preventing nurse burnout and lowering stress. APRNs are leaders in the healthcare market. This often means you see patients throughout the day and try to stay up to date on medical information at night.
When you take time to acknowledge your accomplishments, you're reinforcing what's working for yourself. Also, when you take time to celebrate your own achievements, you're more likely to celebrate with others.
The key to being a good leader is to look for colleagues who deserve the same acknowledgment. Celebrations pay dividends in your mental health and can help develop a stronger sense of team building with colleagues.
NP School Doesn't Always Match Up to the Reality of Being an NP
What happens at school doesn't always match the reality of your first job. This can sometimes depend on the specialty and, at other times, on the school you attend. Parker had the unique experience of being able to compare two different types of programs.
She first earned her family nurse practitioner degree at an on-site program. Eight years later she went back to an online program in psychiatry. In the first instance, she thought her on-site program stacked up well in the real world.
However, she couldn't say the same for the online experience. It left her feeling like she had to do a lot more independent work to prepare her for the psychiatric setting.
Find a Company That Aligns With Your Values
As you're looking for your first position, the practice should match your core values. Walk into the interview having a clear idea of the questions you'll ask. They should tell you how the organization values and uses the role of a nurse practitioner. The work culture will have a significant impact on your day-to-day life.
"If you have a choice in the matter, try to find a company ... that appreciates and understands truly the role of a nurse practitioner," Parker advises. "[Find] an establishment that respects you for the unique skill set that you are bringing to the table."
Remember to Look Over Contracts Before Accepting the Job
Your employment contract may be long and boring to read, but you must read it thoroughly. Your contract should cover your salary, benefits, expected hours, and whether you're expected to take an evening or weekend call. It will also likely include details you will need if you leave employment or want to negotiate with your employer in the coming years.
Parker also advises to review contracts for things like non-compete clauses and unusually long requirements of how far in advance you would need to submit a resignation notice.
Several factors may not be legally enforceable in the state where you're working. For instance, the California court system is hostile to agreements that include non-compete and non-solicit agreements.
"You don't want to get in a situation where you find that job is not a good fit and you are unhappy, but yet you are stuck," she says.
Enjoy Your Role as an NP!
After years of preparation that led to practice as an RN and then as an APRN, Parker recommends that you enjoy the journey of caring for patients who have placed their trust in you in an ever-changing healthcare system.
The COVID-19 pandemic revealed the many dysfunctional systems in healthcare. Nurse practitioners are in a unique position to impact practice and patient care.
"I truly believe we are the innovators and can use our skills and creativity to help what many believe to be a broken healthcare system," Parker says.
Meet Our Contributors
Michele Pedulla, DNP, APRN, CPNP-PC
Michele Pedulla, DNP, APRN, CPNP-PC, has been a nurse for 33 years. She spent most of her RN years in acute care, primarily pediatric hematology-oncology. The nurse practitioner role opened up a new world in primary care for children, from newborn to 21 years of age. Although Pedulla is a full-time professor and program director at Regis College, she continues to practice as a primary care PNP part time.
Leah Parker, FNP
Leah Parker, FNP, has been a nurse for over 20 years and is a travel family nurse practitioner throughout South Carolina. She received her undergraduate degree from Syracuse University, master's degree from SUNY Upstate Medical University, and a postmaster's certificate in psychiatry from the University of South Alabama. She prides herself on being a nurse business strategist empowering nurses and nurse practitioners.
You might be interested in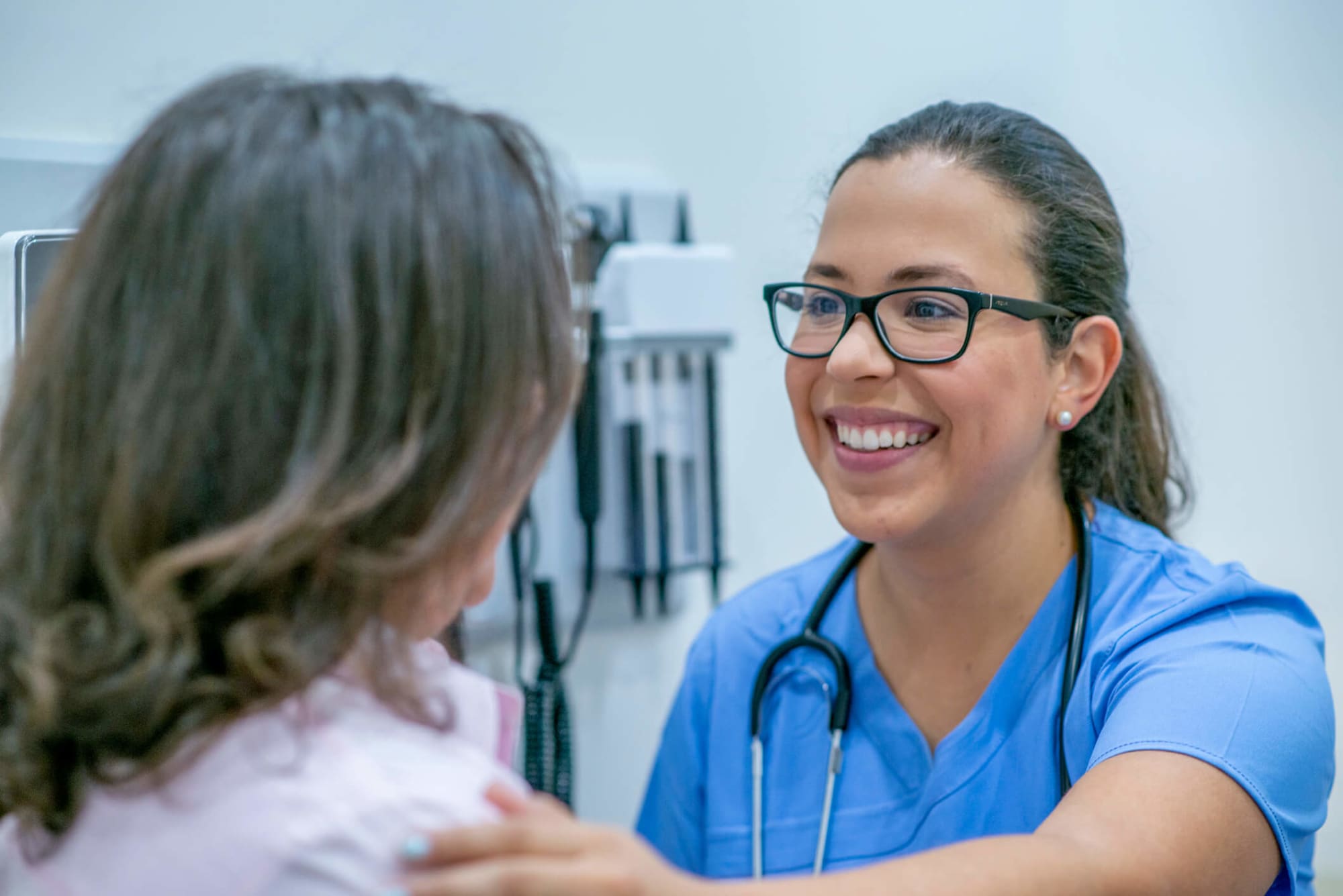 How to Choose the Right Nurse Practitioner as Your Primary Care Provider
Nurse practitioners are qualified medical professionals trained to diagnose and treat patients of all ages. Learn how to choose the best one for your needs.
Reviewed by
Our Integrity Network
NurseJournal.org is committed to delivering content that is objective and actionable. To that end, we have built a network of industry professionals across higher education to review our content and ensure we are providing the most helpful information to our readers.
Drawing on their firsthand industry expertise, our Integrity Network members serve as an additional step in our editing process, helping us confirm our content is accurate and up to date. These contributors:
Suggest changes to inaccurate or misleading information.
Provide specific, corrective feedback.
Identify critical information that writers may have missed.
Integrity Network members typically work full time in their industry profession and review content for NurseJournal.org as a side project. All Integrity Network members are paid members of the Red Ventures Education Integrity Network.
9 Future Job Trends for Nurse Practitioners
Nurse practitioners are key members of the healthcare team. Expect these APRN job trends in 2022.
NurseJournal.org is an advertising-supported site. Featured or trusted partner programs and all school search, finder, or match results are for schools that compensate us. This compensation does not influence our school rankings, resource guides, or other editorially-independent information published on this site.
Are you ready to earn your online nursing degree?
Whether you're looking to get your pre-licensure degree or taking the next step in your career, the education you need could be more affordable than you think. Find the right nursing program for you.