At Cedars-Sinai, Nurses Help Create Safe Space for High-Quality LGBTQ+ Care
Nurses at Cedars-Sinai's new LGBTQ+ Center receive specialized training to create a more welcoming and equitable healthcare experience for patients.
Nestled between West Hollywood, Hollywood, and Beverly Hills is a new healthcare center dedicated to serving the Los Angeles LGBTQ+ community. In May, the well-known Cedars-Sinai medical center announced the opening of the 4,400-square-foot LGBTQ+ Center. The center combines several established practices into a single facility staffed by nurses and physicians specializing in LGBTQ+ patient care and research. With the opening of the dedicated LGBTQ+ Center, Cedars-Sinai Hospital hopes to fill an important healthcare gap in its local community.
The new center opens amid sustained, even growing, politicization of LBGTQ+ healthcare. For example, 20 states have passed laws or policies restricting gender-affirming care, according to the Human Rights Campaign Foundation. In response to new restrictions, California introduced Senate Bill 107. The bill, which went into effect on January 1, 2023, prohibits out-of-state enforcement of restrictions on youth gender-affirming care. Although LGBTQ+ individuals in California may not be directly impacted by these new laws, the restrictions contribute to and underscore longstanding barriers to equitable, high-quality healthcare.
Health disparities like these have tangible impacts on health. A study from the Center for American Progress found that nearly half of transgender individuals have experienced at least one form of discrimination or mistreatment from a healthcare provider. As a result, 28% have avoided needed treatment medical care, and another 40% have avoided appointments for preventative screenings. These barriers, coupled with socioeconomic factors, can contribute to significantly poorer health outcomes for transgender individuals.
Cedars-Sinai has taken a step forward in recognizing the urgent need to address new and historical barriers. By establishing the center, Cedars-Sinai leaders say they are looking to reinstate confidence within the local LGBTQ+ community not only through state-of-the-art care but a friendly and inclusive environment.
"We have a very large LGBTQIA+ community right here in our backyard," says Nicole Mitchell, chief diversity and inclusion officer for Cedars-Sinai. "We not only wanted to make sure we were serving their needs, but they felt that they had a place they were seen, heard, and comfortable coming to Cedars-Sinai. So we created the LGBTQ+ center to pull together physicians care providers that are really trained or from the community who can answer questions and create that safe space."
A "One-Stop Shop"
Mitchell refers to the center as a "one-stop shop" for LBGTQ+ care in Los Angeles.
Visitors to the new center have access to a range of services and specialties tailored to the needs of LGBTQ+ individuals. Specialties include primary care, pediatrics, gender-affirming surgery, urology, HIV prevention and treatment, and anoscopy. Specialists at the facility also lead clinical research programs to advance LGBTQ+ health and address disparities.
Recognizing that the healthcare experience is not solely about physical health, Cedars-Sinai has taken several steps to ensure patients receive quality care in an inclusive and culturally sensitive setting.
At check-in, visitors have the opportunity to identify their pronouns. Gender-neutral bathrooms and exam rooms are available throughout the facility, and gender-neutral gowns are provided for all patients. These small but meaningful steps contribute to the center's larger goal of fostering inclusivity and respect. These actions acknowledge and affirm diverse gender identities, helping to alleviate the anxiety and discomfort that LGBTQ+ individuals may have experienced in healthcare settings.
Specialized LGBTQ+ Training for Nurses
Understanding how to interact with LGBTQ+ patients is crucial for nurses and physicians to provide effective and compassionate care. The healthcare experience can be deeply personal, and medical professionals play an important role in fostering an environment of trust and understanding.
Mitchell notes that nurses play a particularly important role in establishing patient trust. As the first medical professionals many patients see, nurses must evaluate and interact with patients through a lens of cultural competence.
"All of us aren't just one thing," Mitchell says. "And understanding that through DEI [diversity, equity, and inclusion] is important, particularly for our nurses, who are such a critical piece of patient care. So helping support them with those tools, that language, and that mindset is going to help them go far in their careers, which I think is really important."
Still, a 2021 study published in Nurse Education Today found that baccalaureate nursing programs in the U.S. cover an average of only two hours of LGBTQ+ content across an entire program. Cedars-Sinai is helping to fill in the gaps for their nurses and patients.
Mitchell highlights some of the proactive measures Cedars-Sinai has taken to educate and train their staff, including nurses, in providing inclusive care, including:
Annual mandatory unconscious bias training

LGBTQIA+ 101, focusing on proper pronoun usage

Discussions on the concept of the gender spectrum, encouraging staff members to explore and understand the diverse range of gender identities and expressions

Conversations For All, By All, an ongoing monthly series with employees and leaders highlighting stories from varied individual experiences
"When I first joined, I wanted to put a spotlight on leaders that came from diverse backgrounds. So we do something every month around whatever the diversity month is and allow people to tell their stories," Mitchell explains.
Nurses at the new LGBTQ+ Center also participate in a live transgender care simulation. Mitchell's team started the transgender care simulation through the Women's Guild Simulation Center at Cedars-Sinai, and the program has been active for over a year.
"We were starting to hear misgendering happening, pronouns not being used properly," Mitchell says. "So how do we create a space where folks can come and interact with somebody, go through a simulation where you're learning to understand pronouns and create that safe and affirming identity affirming environment, but then also think about how you bounce back if you make a mistake."
A Model for More Inclusive Care
When asked how other organizations can adopt similar practices, Mitchell emphasizes two key considerations: creating an environment that welcomes open discussion and utilizing data.
Mitchell's team hopes to foster an environment that welcomes open discussions and routinely receives input on initiatives or events that staff are eager to participate in.
"Sometimes I think we're all so busy and we're so used to going about our day that we forget that we have to take a step back and listen to what our people need and want." Mitchell explains. "Healthcare is data-driven. We use that to make decisions. What makes DEI any different?"
Cedars-Sinai joins a growing list of healthcare organizations offering dedicated services to the LGBTQ+ community. Nurses who are knowledgeable and trained in inclusive care practices will play a key role in helping to address barriers to care.
Mitchell is optimistic about these changes.
"If we don't have different voices at the table thinking and asking questions, how are we going to have amazing innovative outcomes?" she says. "We can, but when you have those different voices and different perspectives at the table, you're going to have even more innovation."
Meet Our Contributor
Nicole Mitchell, MBA, CDP
Nicole Mitchell is the inaugural chief diversity and inclusion officer at Cedars-Sinai. She is responsible for providing strategic leadership and developing and driving the implementation of programs and initiatives that promote a culture of diversity, inclusion and belonging. For over 10 years, Mitchell has been creating and driving culture change in both the for-profit and not-for-profit sectors. Prior to joining Cedars-Sinai, she held positions leading diversity and corporate social responsibility efforts with Kia Motors America and Honda Manufacturing of Indiana. She has developed multifaceted strategies for diversity and inclusion encompassing human resources, employee engagement, philanthropy, communications, and supplier diversity. She has also led executive-level diversity and inclusion committee activities.
You might be interested in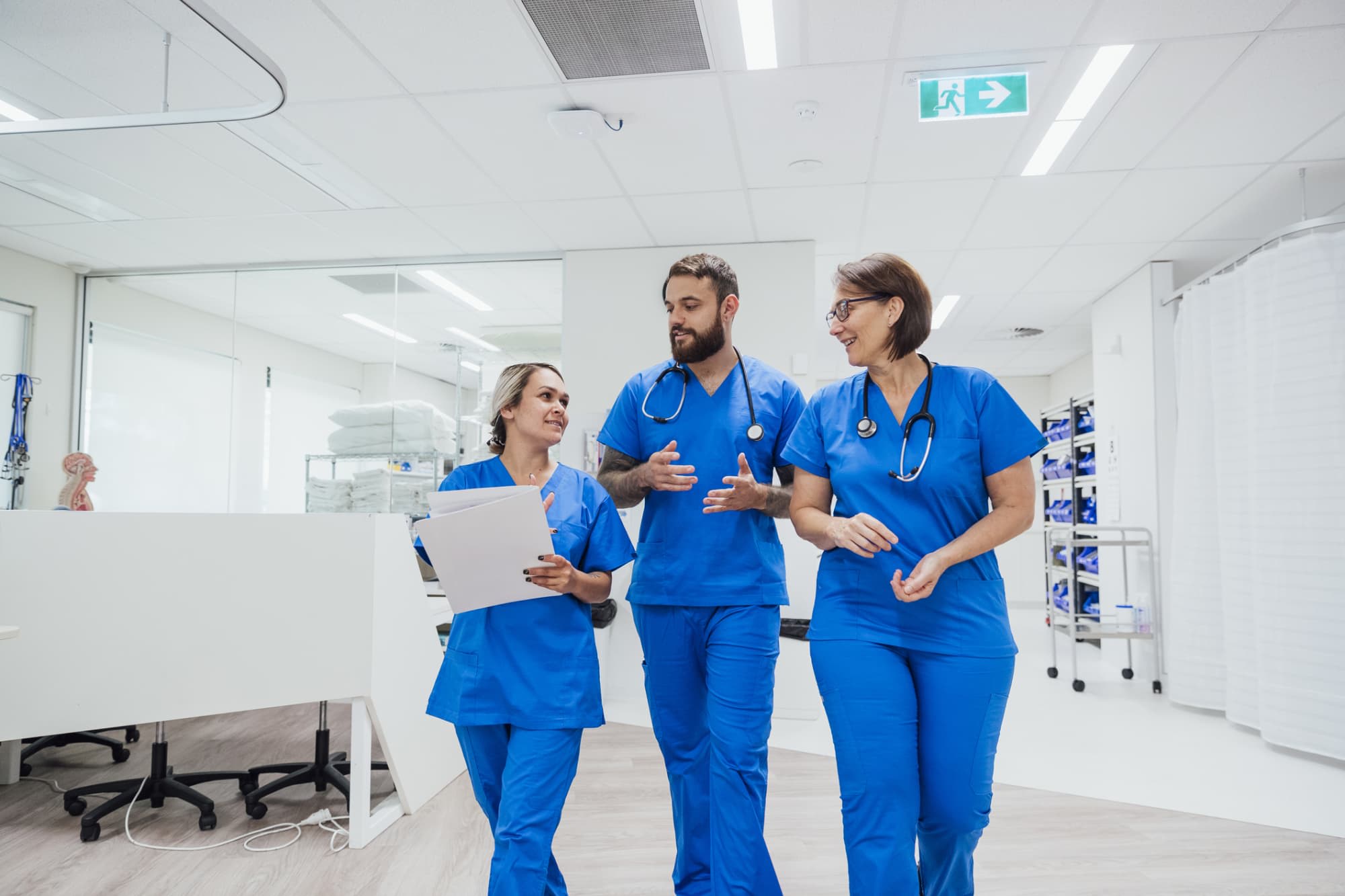 How Many Nursing Jobs Are There in the US?
Nursing is the largest healthcare profession. Discover the number of nursing jobs in the U.S. and learn how to become an RN.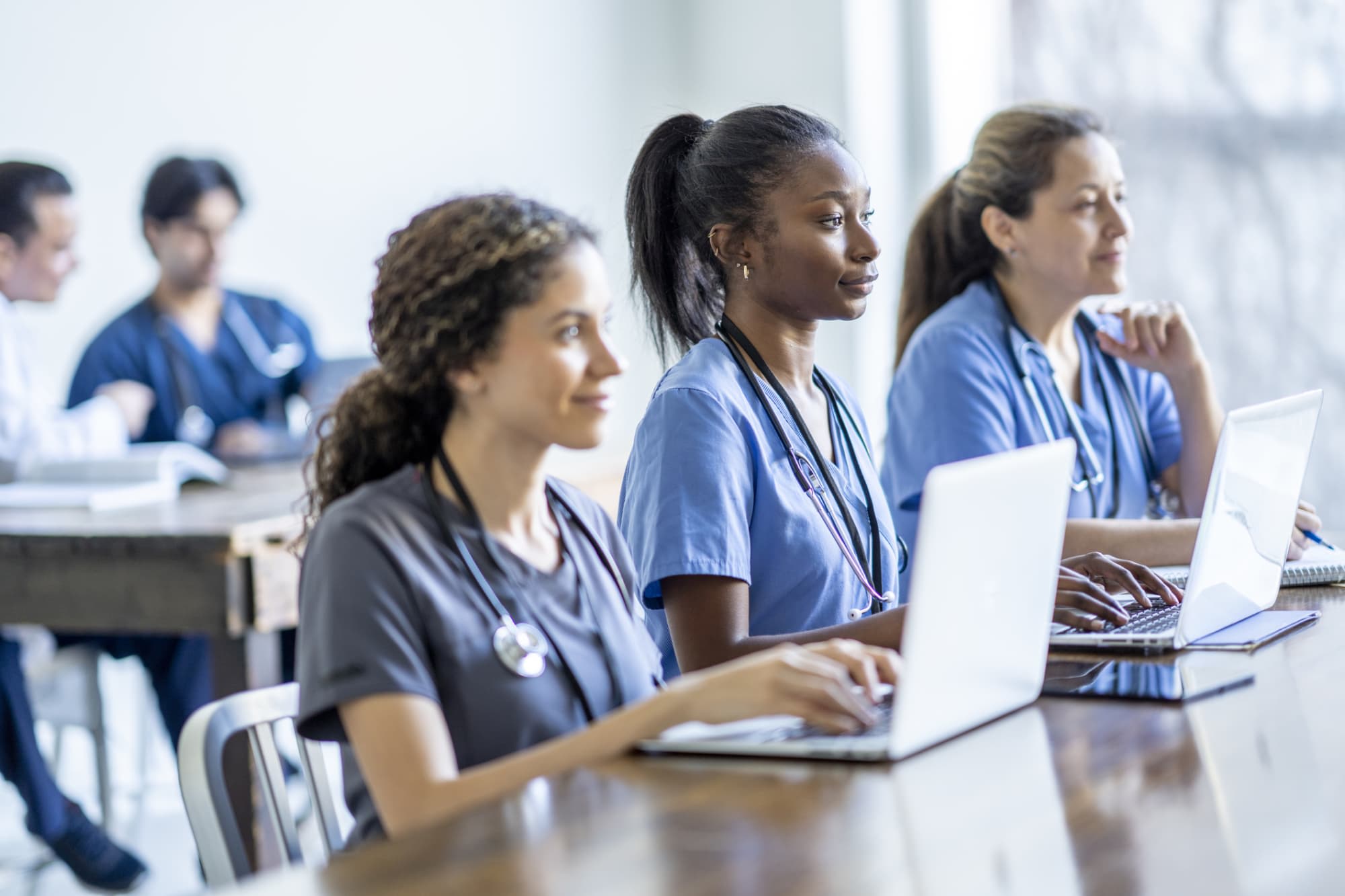 Free Nursing School: What You Should Know About the Nurse Corps Scholarship Program for 2024
Nursing students with limited financial options might consider the HRSA Nurse Corps Program for free nursing school and a two-year work commitment.
NurseJournal.org is an advertising-supported site. Featured or trusted partner programs and all school search, finder, or match results are for schools that compensate us. This compensation does not influence our school rankings, resource guides, or other editorially-independent information published on this site.
Are you ready to earn your online nursing degree?
Whether you're looking to get your pre-licensure degree or taking the next step in your career, the education you need could be more affordable than you think. Find the right nursing program for you.