Free Nursing School: What You Should Know About the Nurse Corps Scholarship Program for 2024
Nursing students with limited financial options might consider the HRSA Nurse Corps Program for free nursing school and a two-year work commitment.
The HRSA Nurse Corps Scholarship Program can pay for tuition and fees and provide a monthly stipend.

Applications are rigorous, and nurses must be willing to work full-time in a critical shortage area for two years to pay back the financial aid.

Graduates can apply for positions they choose in critical shortage facilities.
It's no surprise that higher education is not exactly cheap, and nursing school is no exception. The good news is there are ways to help offset these costs — or even attend nursing school at a greatly reduced cost or no cost at all.
One way to go to nursing school for free is through the Nurse Corps Scholarship Program.
Administered by the Health Resources and Services Administration (HRSA), the program pays tuition, fees, and other educational costs for accepted applicants. In return, students agree to work for two years or more in facilities where the nursing or overall healthcare workforce shortage is particularly acute. It can be challenging to gain acceptance, with a rigorous application process involved.
This historically underutilized program more than doubled participation during the COVID-19 pandemic, increasing from 227 accepted students in 2019 to 567 in 2022.
Applications recently closed for 2023, with no dates announced yet for 2024 application deadlines. But now is an ideal time to determine whether you might be a good fit for the program.
What Is The Nurse Corps Scholarship Program?
HRSA is a federal agency that helps provide quality healthcare to the highest-need communities and people, from patients in rural areas to those in need of a transplant.
The Nurse Corps scholarship program helps students attend free nursing school to address the nursing shortage in high-need areas or populations.
Graduates work in an HRSA-designated area of high need, including Health Professional Shortage Areas (HPSA), Maternity Care Target Areas (MCTA), or Medically Underserved Areas/Populations (MUA/P).
Nursing students must meet eligibility requirements to apply for the HRSA Nurse Corps Scholarship Program.
The scholarship pays for tuition and fees and offers a monthly stipend. The entire scholarship award is taxable. In exchange, recipients agree to work full-time in a critical shortage facility for two years after graduation. A critical shortage facility is located in, or designated as, an HPSA.
Am I Eligible to Apply for the Nurse Corps Scholarship Program?
Anyone is eligible to apply for the program if they meet the following criteria:
Are a United States citizen (born or naturalized), a national, or a lawful permanent resident

Are enrolled — or accepted for enrollment — in a professional nursing degree program at an accredited school of nursing in the U.S.

Begin classes no later than September 30

Have no federal judgment liens

Have no existing service commitment

Not be overdue on a federal debt
Applying to the Nurse Corps Scholarship Program: What to Know
The application process for 2023 has closed. You can sign up for an email notification when the 2024 application cycle opens. Preparing the application documentation can take weeks or months, so now is a good time to begin the process.
Before applying, here are some things to consider:
Are you willing and able to move to an underserved area and work in a critical shortage facility full-time for two years after graduating from nursing school?

Understand that you will be required to sign a contract that you will meet your obligations.

The minimum service obligation is two years full-time, but students who receive support beyond two years will have a longer service obligation.

Participants in the program can apply for open positions in critical shortage facilities they choose.

They will have up to nine months from graduation to get a permanent nursing license, accept an employment offer, and begin full-time work.

Some participants may be granted part-time status but must still fulfill two years of full-time work.

Students who begin the program but cannot continue can submit a written request to terminate the contract and are obligated to repay all money, including pre-tax tuition and stipends.
The application package consists of an online application and supporting documentation, including:
Eligibility screening

Confirmation the student will be full-time

General and background information including individual and family background, emergency contacts, and education

Two professional letters of recommendation:

One academic letter should be from a faculty advisor, department share, or faculty member attesting to the applicant's qualifications.

One non-academic letter of recommendation should be from an individual familiar with the applicant's community or civic activities, especially related to underserved communities.

Required supporting documents may include:

An authorization to release information form

Proof of status as a U.S. citizen or U.S. national

Verification of acceptance or enrollment form in an accredited nursing program

Current tuition and fee schedule

Completed essay question

Resume or curriculum vitae

Academic transcript

If students have an outstanding service obligation to another program, additional documentation may be required.
The Nurse Corps Scholarship program allows many nurse students to enter a professional career by reducing financial barriers while helping to alleviate the nursing shortage.
The program may be a good option for students who want to become nurses but have limited financial options. It may also be a good fit for nurses who prefer working off their loan obligation in 2-3 years at a critical shortage rather than spending nearly a decade paying back school loans.
You might be interested in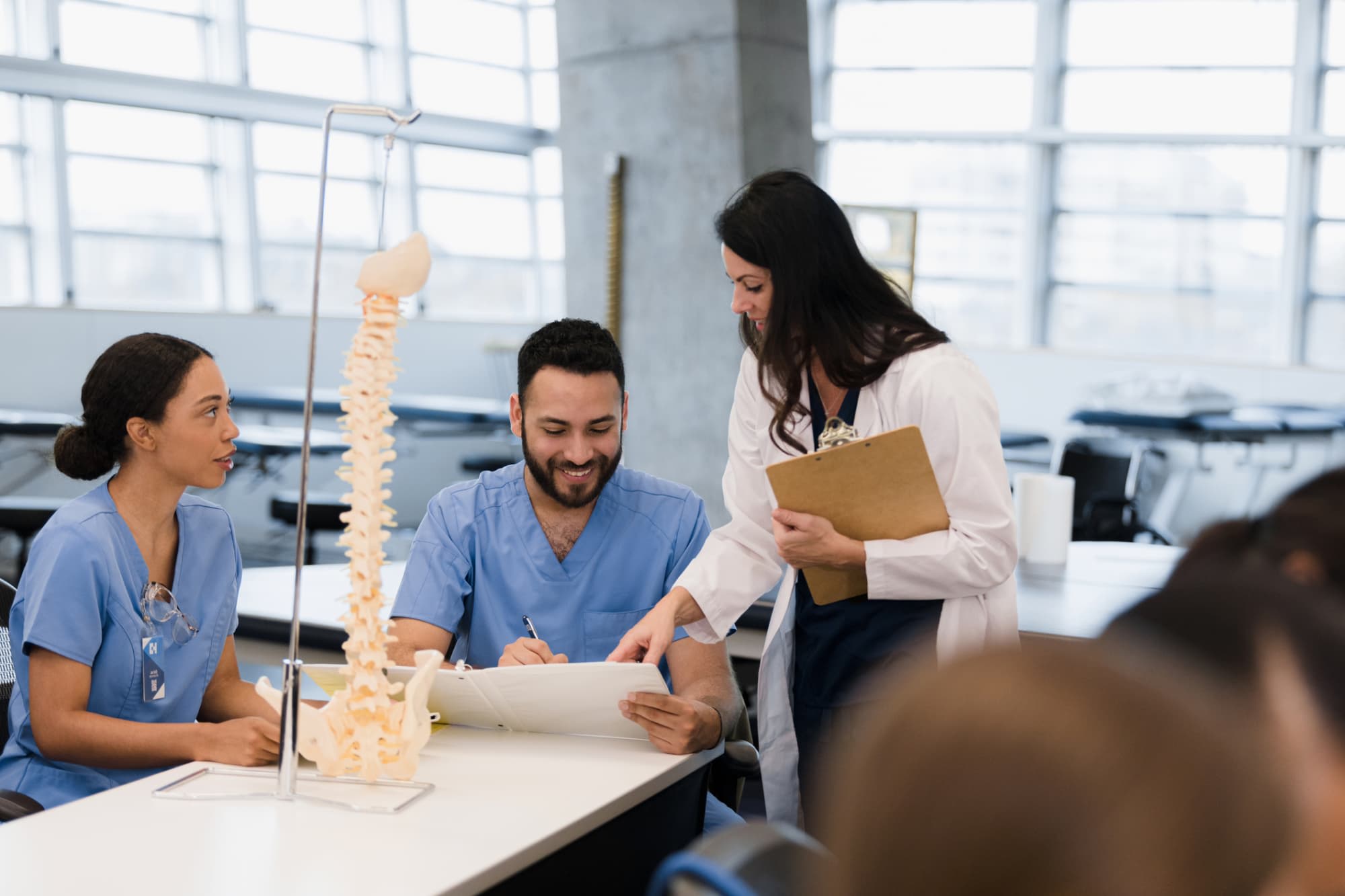 Applying to Nursing School
Are you considering a nursing career or wondering how to apply to nursing school? Now is a great time to get started. Read this guide…
Reviewed by
Our Integrity Network
NurseJournal.org is committed to delivering content that is objective and actionable. To that end, we have built a network of industry professionals across higher education to review our content and ensure we are providing the most helpful information to our readers.
Drawing on their firsthand industry expertise, our Integrity Network members serve as an additional step in our editing process, helping us confirm our content is accurate and up to date. These contributors:
Suggest changes to inaccurate or misleading information.
Provide specific, corrective feedback.
Identify critical information that writers may have missed.
Integrity Network members typically work full time in their industry profession and review content for NurseJournal.org as a side project. All Integrity Network members are paid members of the Red Ventures Education Integrity Network.
NurseJournal.org is an advertising-supported site. Featured or trusted partner programs and all school search, finder, or match results are for schools that compensate us. This compensation does not influence our school rankings, resource guides, or other editorially-independent information published on this site.
Are you ready to earn your online nursing degree?
Whether you're looking to get your pre-licensure degree or taking the next step in your career, the education you need could be more affordable than you think. Find the right nursing program for you.